The Tonfa (or Tong fa) is a traditional weapon deeply rooted in Okinawan martial arts practice. It's traditionally made of sturdy red or white oak and ranges from 15 to 20 inches long. The design features a perpendicular handle, offering the user flexible offensive and defensive strategies.
Originating as a simple grain-grinding stone handle, it was easily detached and was wielded in pairs or as an effective self-defense tool when needed. Today, the tonfa stands out for its ability to incapacitate an opponent with just one accurate strike, earning recognition as one of the most versatile martial- weapons.
Besides wood, modern variations also include tonfas made of polymer.
Historical Origin of the Tonfa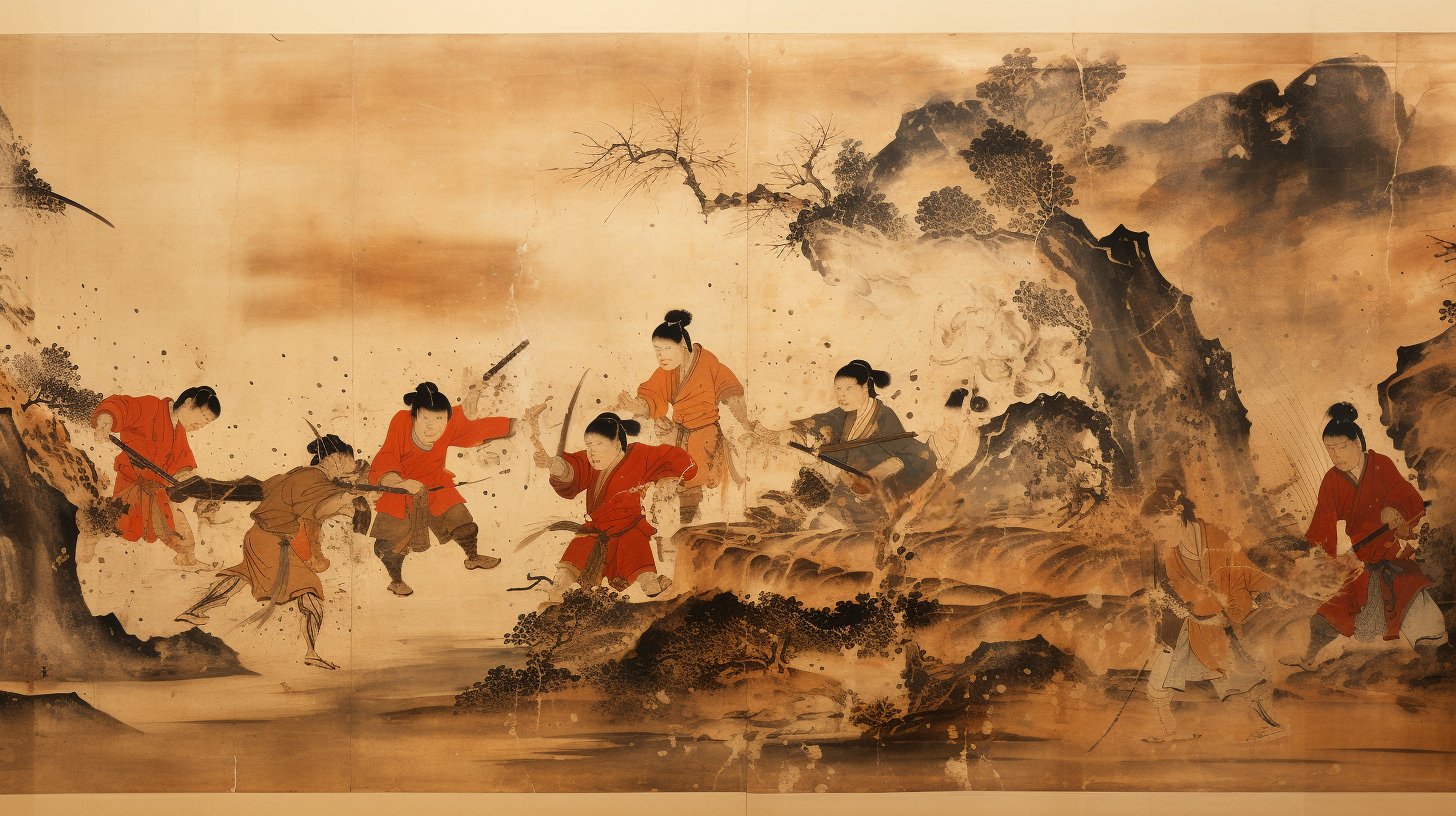 Dating back several centuries, the tonfa's roots are steeped in the rich culture of Okinawan martial arts. While generally believed to have originated from either China or Indonesia, a concrete consensus on its exact place of origin remains a topic of historical debate among scholars.
It's widely accepted that peasants first used it as a handle for millstones, demonstrating their resourcefulness in turning mundane farming tools into potent weapons. This versatile tool made its way to Japan through martial artists who studied and trained in Okinawa, leading to its eventual iconic status within Japanese karate.
Following an oppressive ban on weapons issued by Samurais ruling over Okinawa during the period, native inhabitants ingeniously repurposed everyday objects like the tonfa into lethal self-defense implements.
The evolution of this humble tool is noteworthy; from a grain mill handle – cha-ru – in traditional Okinawan society, it has morphed into one of history's most adaptable and feared martial art weapons while maintaining an unshaken spot across various global police forces' arsenals today.
Understanding this weapon involves appreciating its physical attributes and respecting the socio-cultural journey it undertook before reaching present-day recognition.
Understanding the Martial Arts Weapon Tonfa
The tonfa is commonly wielded and available in various sizes and types, making it a versatile weapon for practitioners of martial arts.
Common Sizes of Tonfa
The Tonfa, a prevalent weapon in Okinawan martial arts, aligns proportionately with the user's forearm, enhancing its effectiveness and ease of use. Generally speaking, the dimensions of the shaft of this versatile tool range from 3 to 4 ½ inches in length.
The size is crucial as it directly influences the wielder's striking ability and combat technique. Too long or too short a tonfa can hinder successful strikes or blockages during martial art practice or actual self-defense situations.
The wood used to construct these T-baton weapons often comes from sturdy oak trees, providing required hardness for delivering powerful attacks while ensuring durability over time.
Comparatively smaller tonfas are easier to swing and offer faster action whereas larger ones deliver powerful but slower hits. Therefore, selecting an appropriately sized tonfa directly relates to one's requirement for speed versus power balance in combat techniques.
Different Types of Tonfa
The tonfa, a powerful Okinawan martial arts weapon, comes in two primary types: traditional wooden and modern adapted forms. The traditional tonfa stick is typically constructed of strong red or white oak and measures 15 to 20 inches long, mirroring the user's forearm for optimal wielding.
This type served as a multi-purpose tool for farming and grinding grain before its evolution into a combat weapon. As it gained popularity outside Japan, other materials like metal and plastic were introduced leading to the variation we see today – especially in law enforcement where it has been modified into side-handle batons used globally.
Despite these modifications, both versions maintain their striking offense-defense versatility that originated from ancient hands-on combat techniques.
Common Techniques in Using the Tonfa
When using the tonfa, practitioners commonly utilize both defensive and offensive techniques.
Defensive Techniques
In the realm of martial arts, mastering defensive techniques is crucial for self-defense and combat readiness. When it comes to using the tonfa as a defensive weapon, practitioners can harness its strength to block incoming strikes effectively.
With a solid grip on the handle, one can use the forearm to deflect or parry attacks, providing a shield of protection against potential harm. The design of grips on the tonfa allows for quick maneuverability and swift counterattacks, making it an essential tool in close-quarters combat situations.
Whether used in karate or other traditional martial arts training, practicing defensive techniques with the grip of the tonfa promotes coordination, dexterity, and the ability to disarm opponents swiftly when needed.
Offensive Techniques
The tonfa is a martial arts weapon known for its offensive capabilities. It can be used in various ways to deliver powerful strikes, punches and attacks. One common technique is swinging the tonfa, using the momentum to strike an opponent with great force.
The hooking technique involves using the end or hook part of the tonfa to grip and control an opponent's limbs or weapons. Additionally, striking techniques involve hitting with either end or hook part of the tonfa, whether it's a direct strike or a targeted blow to specific vulnerable areas.
These offensive techniques make the tonfa a formidable weapon in combat situations, allowing practitioners to defend themselves or overcome their opponents effectively.
The Effectiveness of the Tonfa as a Weapon
The tonfa is an incredibly effective weapon in traditional martial arts. Its versatility and long history make it a formidable tool for both offense and defense. With a full swing or single, well-executed strike, the modern tonfa often has the power to incapacitate an opponent.
This makes it a favorite among martial arts professionals who value its ability to deliver quick and devastating blows. The tonfa's effectiveness lies in its design and use of leverage.
By gripping the handle firmly while striking with the shaft of the weapon, practitioners are able to generate maximum force and control their attacks effectively. Additionally, the unique shape natural grip of the tonfa allows for various defensive techniques such as blocking and deflecting strikes from an opponent.
The Use of Tonfa in Law Enforcement
The tonfa has also been used in law enforcement, although batons have largely replaced it. Its effectiveness as a defensive weapon makes it an ideal choice for protection in self-defense situations.
To learn more about the history and versatility of the tonfa, continue reading.
Shift from Tonfas to Batons
The tonfa, a powerful traditional martial arts weapon, has a rich history and versatility in combat. However, there has been a notable shift from using tonfas to batons in law enforcement.
Modern police batons are considered among the most useful tools for officers due to their reliability and effectiveness. While tonfas were originally used as handles for millstone tools in Okinawan farming communities, they have evolved over centuries into modern, police baton and tool.
This transition reflects the need for law enforcement equipment and tactics advancements, ensuring officers have the best tools available to protect themselves and their communities.
Conclusion
In conclusion, the tonfa is a powerful and versatile weapon used in traditional martial arts. Its historical origins can be traced back to Okinawan martial arts, where it was initially used as a handle for grinding stones.
Over time, it evolved into an effective tool for self-defense and combat. Today, the tonfa remains an iconic weapon in Japanese martial arts and continues to be practiced by enthusiasts worldwide.
Whether used defensively or offensively, the tonfa showcases its wielder's skill, coordination, and dexterity.
Frequently Asked Question About Tonfa
What are the types of tonfa karate weapon?
The tonfa can also be referred to as a stick with a perpendicular handle, approximately a third of the way down the length of the stick. It's traditionally used in pairs. There are three grips commonly used in handling the tonfa: honte mochi (natural), gyakute mochi (reversed), and tokushu mochi (special). Each grip leads to distinct applications of the weapon, including blocking, striking, and thrusting.
How do you carry a tonfa?
There are several ways to carry a tonfa, but the most common method is by holding it via the handle, with the long arm resting along one's own arm. This position provides both a defensive blockade and potential for offensive strikes such as elbow strikes.
What is the history of the tonfa?
The tonfa originated as a handle of a millstone used by peasants in Southeast Asia, specifically Ryukyu, which is now known as Okinawa. Records suggest that the tonfa originated in either China or Southeast Asia and made its way to Okinawa along the trade routes. It was later incorporated into the Okinawan martial arts skills, specifically Kobudo, and subsequently worldwide after being popularised in the 1982 karate movie.
How do you know the appropriate size of the tonfa for use?
The size of the tonfa should be such that when held in the middle, both ends surpass the length of the arm slightly. The longer side is typically about the length of the user's forearm, allowing the pointed end of the shaft to extend a small distance beyond the elbow when gripped.
What is the reference to a tonfa as a "crutch" about?
The reference to a tonfa as a "crutch" is a layman's way to describe its shape, which resembles the underarm crutch used for support when walking. This emphasizes its versatility as a weapon and its purported original use as a walking stick or reinforcement tool.
How is the tonfa weapon used?
The tonfa is used for blocking, striking, and thrusting. The handle allows it to be flipped to the side for offensive moves while still being aligned with the arm for defensive maneuvers. This makes it an excellent tool for training martial arts skills, as it combines offensive and defensive capabilities in one weapon.
What is the correlation between the tonfa and Kobudo?
The tonfa is a traditional Okinawan fighting weapon and is one of the key components of Okinawan Kobudo, a martial arts that originated in the Ryukyu Islands. It's usually used in pairs and has various applications, including blocking, striking, and thrusting maneuvers.
Does a similar weapon to the tonfa exist in other parts of the world?
A similar weapon called the "topang" or tonfa can be found in parts of Malaysia and Thailand. Despite slight variations on structure and application, the tonfa and these regional counterparts arguably hold the same concept: a stick used for self-defense and combat.
Was the Tonfa used alone or alongside other martial arts weapons?
In traditional Okinawan Kobudo, the tonfa is often used with other weapons such as the Bo staff and Kama. This practice helps to augment one's martial arts skills, increasing versatility and proficiency in combat scenarios.
Do beginners in martial arts use Tonfa?
Tonfa training typically begins at the intermediate or advanced levels of martial arts study, often around the time a student reaches the black belt level. It's considered an advanced weapon due to the technical proficiency required to correctly wield, flip and block with them.
What is the primary usage of the tonfa baton in karate?
The tonfa baton is primarily used in karate to defend. It can block attacks, strike opponents, and for circular and stabbing movements. In addition to karate, it is also extensively used in kobudo, a martial art from Okinawa.
How do you properly flip the tonfa during usage?
Flipping the tonfa requires control and precision. It typically starts from the side position. The wrist is rotated inward, and the tonfa flips around and is caught on one end by the hand, creating a circular motion that can extend into a blocking or striking motion.
Is the tonfa always used in pairs?
Tonfa may also be used singularly, but it is traditionally taught and used in pairs. This technique allows for simultaneous blocking and striking maneuvers, increasing the effectiveness of one's defense.
What is the origin of the tonfa baton?
The tonfa baton is believed to have originated in South-East Asia, possibly in the Malay region. However, it was popularized in Okinawa, Japan, where it was adapted and incorporated into the local martial arts.
Can the tonfa be used for stabbing movements?
Yes, one end of the tonfa can effectively be used for stabbing movements, typically aimed at the solar plexus, throat, or other sensitive areas of an opponent's body during combat in karate.
Are there weight restrictions on tonfa for professional usage?
The weight of the tonfa can vary considerably depending on the material used and the size of the tonfa. For professional usage in karate, the tonfa must be of a weight that is manageable and allows for effective strikes, blocks, and flips. It is crucial that the user can control the tonfa's movement easily.