With years of martial arts experience, and after having visited and trained in a number of dojos worldwide, I have come to highly appreciate good karate gear. As with traditional gis or Bo staffs, one wants the best products that they can afford, and this is why I write all articles as objectively as I can, in order to provide an unbiased review of these products to the reader.
I personally use the Wesing WKF Sparring Karate Gloves, but even the experience of reviewing it was fun. It is a well-built, durable, and widely-accepted pair of gloves, that I can almost only talk in positives about.
In this review, I will analyze this pair of karate sparring gloves, and provide the readers with adequate information on the product, so as to make the decision easier. I will mention some important features of it, and also some classic pros and cons at the end.
If you're interested, let's dive in!
Wesing WKF Sparring Karate Gloves Review
These gloves are used for karate sparring, which means they are lightweight and fast. Karateka uses these gloves to deliver their insanely fast strikes, and these gloves serve to protect both their arms and possibly cheekbones or chins.
The Weising WKF Sparring Karate Gloves are a pair of gold-standard karate gloves. The WKF (otherwise known as the World Karate Federation) is the largest karate organization in the world, and it has approved this product, which guarantees quality.
With the high-quality polyurethane material and the single-pieced foam, these will last you long in a karate dojo and will provide some of the best value for money that you can get in the category.
Wesing WKF Sparring Karate Gloves
The Wesing WKF Sparring Karate Gloves offer qualified extinction PU leather sewing for durability. With polyurethane foam inner and layered-foam design, they provide effective cushioning and ultimate protection. These gloves, approved by WKF for international competition, feature thumb protection and adjustable elastic velcro strap for a secure fit. The open design ensures breathability and sweat-wicking, while the tight grip prevents slipping. Hook and Loop Closure provides unbeatable wrist support.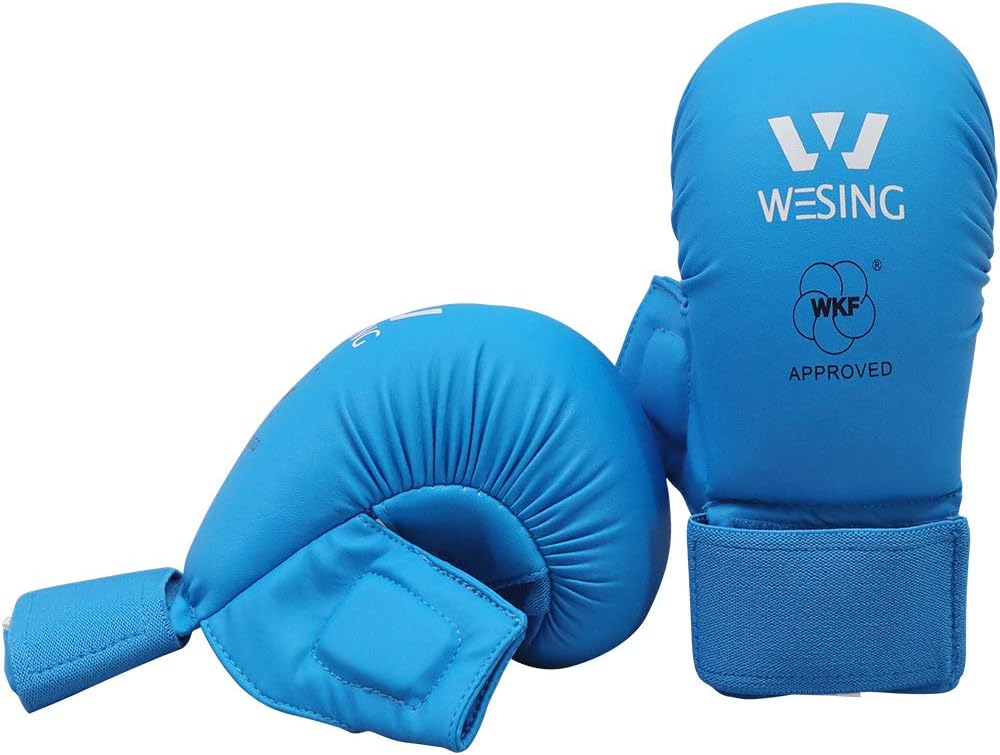 PROS
Comfortable fit
Good padding
Open palm design
Authentic appearance
Durability
CONS
Limited color options
Common mass-produced design
One Piece of Foam
In other reviews, like when reviewing the Venum Impact MMA Sparring Gloves, we talked about how one piece foams are not a good option for gloves. This is true for many combat arts, especially ones like MMA or Krav Maga. However, a single piece of foam might hold a slight advantage over multi-layered foam in karate circumstances.
In karate, speed is key. A single-piece of foam usually means that the glove will be somewhat lighter, and even more important, it will easily get back into its original shape. In karate, hands are often extended and then clenched into a fist, and this motion can relatively easily dislodge one or two layers of foam in a multi-layered glove, so having only one piece of foam will be better at retaining the original and proper shape of your gloves.
This will make the glove more durable (in karate use, that is), and also more comfortable in the long term, which means better training overall.
Approved by the WKF
If a glove gets approved by the WKF, it is at once a guarantee that the glove is high quality, and also that it can be used for international competitions. The Wesing Sparring Karate gloves are approved by the WKF and are among some of the only gloves which can be called budget-friendly and official at the same time.
The benefits of having WKF-approved products are, first of all, knowing that a stamp of quality is on your gloves, affirming the fact that they are a good product. After that, using them in tournaments not only gives you the chance to do so, but the fact that these gloves can be used also gives you an opportunity to train in the gym as if you were in some competition. This can put you in the right mindset leading up to a tournament or competition.
No Thumb Protection
In some cases, thumb protection can be a great addition to a pair of gloves. It can prevent injury and can turn someone into a more confident fighter. However, in some cases, they are unnecessary, and perhaps even counterproductive.
In karate, the focus is as much on speed as it is on power. Karate teaches students to only clench the fist at the end of a strike, to be able to use as little energy as possible but still create power. With thumb-protection, it is harder to keep one's hands naturally loose and ready to snap out as a karate strike should. The lack of it, however, gives the karateka freedom of movement and the ability to much more easily snap with their hands instead of push.
This, in turn, turns the individual into a capable and technical karate fighter and can make training more fun.
Our Verdict
The Wesing WKF Sparring Karate Gloves are a great pair of gloves to get, especially if you are getting into karate. Since this pair is approved by the largest karate association in the world, you will immediately get a sense of what competitions and tournaments feel like.
I would highly, highly recommend this product, and one of the main reasons for that is the price point. I have always liked getting as much value for my money as I could, so I value the fact that even though these gloves are WKF-approved and high-quality, they are still quite affordable.
Overall, it is a great product, and testing it was a highly fun experience. These light gloves were so easy to punch with, that in only one training session, I realized the importance of speed in punches yet again, and I might even get myself one.
If you are interested in starting karate, or even better, starting a career in karate which will definitely lead to tournaments and competitions, you will need a pair of high-quality gloves, and the Wesing WKF is the real deal.