Unlike boxers or MMA fighters, kickboxers rarely get massive paychecks. Even division champions don't earn too much money. Believe it or not, Andrew Tate earned much more money from his vlogging and podcasting thanks to his huge fan base on social media.
The former cruiserweight kickboxer is also known for sports commentaries and all kinds of callouts. Some compare him to Joe Rogan, others say he's a follower of Jake and Logan Paul school. I'd say he is both, a very popular personality with tons of followers and flush with money. Very little of it came from kickboxing though. Please read on to discover how much money Andrew Tate made from kickboxing. You may be shocked by numbers. For comparison, read this to see how much kickboxers generally earn.
Andrew Tate's Kickboxing Career And Achievements
Andrew Tate was born in 1986 in Washington D.C., the United States of America. After the divorce of his parents, his mother took him to England, where he was raised as a Christian. (He quite recently, apparently, converted to Islam.)
Tate kicked off his martial arts voyage in 2005, but at the same time, he worked on television to pay his bills. Andrew had a very difficult life; working and training, pushing his performance to the next level.
Tate's popularity started growing in 2009 when he won the British ISKA Full Contact Cruiserweight Championship. He also became the number one ranked fighter in his division in Europe. He was known under the nickname "King Cobra".
The greatest success of his career was the victory in a rematch against Jean-Luc Benoit via knockout in 2011, when Tate won his first ISKA world title. Championship battles and high-level matches brought him a decent amount of cash.
In 2016, the legendary kickboxer claimed the WAKO World Championships and became a four-time World Kickboxing Network (WKN) World Champion. These great results cemented him as one of the all-time great kickboxers.
Overall, Andrew took part in 85 kickboxing bouts and scored 76 victories (23 via knockout), and 9 losses. He used to be an ISKA world champion in two weight classes – cruiserweight and light heavyweight.
But now the most shocking fact – Andrew stated that his greatest paycheck in a kickboxing bout was only $100,000! It is unclear how much money he has earned throughout his fighting career, but he has always been a magnet for sponsors and advertisers because of his controversial persona. His marketability and success inside the ring turned him into one of the most popular martial arts personalities today.
Various companies recognized Tate's influence and growing popularity, so he inked many lucrative endorsement deals. He is reaching a broader and broader audience every day and his popularity continues to grow.
Tate quit his combat sports career to pursue an entrepreneurship dream, which brought him way more money. The former kickboxer earned his first million at the age of 27.
Yet, Andrew Tate shortly returned to kickboxing at the age of 34, where he scored three back-to-back wins in Bucharest, the capital of Romania. He turned the lights out on Miralem Ahmeti, Iulian Strugariu, and Cosmin Lingurar.
It is worth noting that Andrew Tate participated in three mixed martial arts bouts, where he earned a score of 2-1, which is pretty decent for a striker. All of these battles took part at a young age in Essex, England. In his only loss, Reza Meldavian dragged him to the ground and controlled him for three rounds. Yes, Tate lost due to his horrible takedown defense and ground game, but his MMA voyage ended with a tremendous knockout victory over Shane Kavanagh in 2010.
Andrew Tate's Entrepreneur Career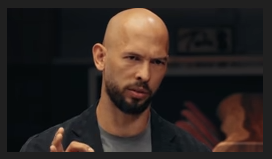 It is known that Tate's online presence and camera gigs brought him much more money than his kickboxing results. Andrew played very smartly, extending his financial success beyond a single stream of income.
Andrew Tate has always been a very controversial personality. He was known for ragging and very questionable statements on his YouTube channels. Before removing them, the former champion was earning between 10k and 80k dollars every month from speaking his mind and trashing certain people.
The legendary kickboxer established a lucrative outfit called Hustler's University. It further boosted his earnings and income.
Tate was banned on all social media platforms due to insults, hate speech, and racial slurs. He took part in many online altercations with all kinds of celebrities and opponents, which brought him even greater fame. Despite the setbacks, Andrew Tate remains active on Twitter and Rumble, where he reminds his fans from time to time why his YouTube channels and other social media profiles were banned.
Despite his YouTube channels and social media platforms not being up anymore, Tate remains a magnet for advertisers and sponsors thanks to his power of influence.
Tate moved to Romania believing that, due to their legal system, he might defend himself more easily against rape accusations. Andrew was incarcerated multiple times, he was accused of many potential crimes in the past.
Andrew Tate's Net Worth
It is believed that the former kickboxing champion's net worth is around 350 million dollars at the moment. His bank balance is constantly growing.
Andrew Tate Vs Jake Paul In Works
In 2023, Jake Paul posted a video of his staredown against Andrew Tate. The two men clashed in the gym in Dubai.
Tate's management said in a statement that the negotiations started between the two sides, but Tate says that the talks could have been more active. This is the battle fans want, so he might face "The Problem Child" in a boxing bout in the future.
Conclusion
Andrew Tate is a typical example of a risk-taker who made great moves in his life. The answer to the question "How much money did Andrew Tate make from kickboxing" is still unknown, but the majority of his account money comes from his social media career and trash talk.
Yes, Tate suffered a setback when his social media accounts were banned, but he has already made a lot of money and he still appears in media regularly. Even without Instagram and other networks, this influencer will remain one of the most popular and richest people in the world of martial arts.