UFC Fight Night 228 information and announcement follows later in this report.
UFC Fight Night "Grasso vs. Shevchenko 2" on September 16th was a very fun card, but the main event of the evening was very controversial. The bout ended in a split draw, so Grasso remained the champ, but one judge scored round 5 with a score of 10-8 in favor of the current Mexican champ.
Yes, Alexa controlled her opponent, but there were no knockdowns or total domination. She scored a knockdown in the second, but Valentina worked her way back into the fight. I hope UFC will book a third fight because it was a very controversial scorecard.
UFC Fight Night "Grasso vs. Shevchenko 2" Rewards
Dana White was pretty generous – there were five Performance of the Night awards. Yet, this was an event without FOTN rewards.
Raul Rosas Jr. shocked the world with a massive left hook in the early stages of his fight against Terrence Mitchell, which brought him a knockout victory. Daniel Zellhuber surprised Christos Giagos with a vicious anaconda choke win.
There were great moves in the preliminary card too. Lupita Godinez finished Elise Reed via submission after taking her back in the second, while Roman Kopylov TKO'd Josh Fremd with a body punch. Charlie Campbell turned the lights out on Alex Reyes too.
UFC Fight Night 228 'Fizief Vs. Gamrot' Announcement
The promotion stays in Las Vegas, but the event will take place at UFC Apex, Sunday September 24 / 1:00 AM GMT+2. The fight card is headlined by the battle between the fearsome Muay Thai striker Rafael Fiziev and dangerous ground game expert Mateusz Gamrot.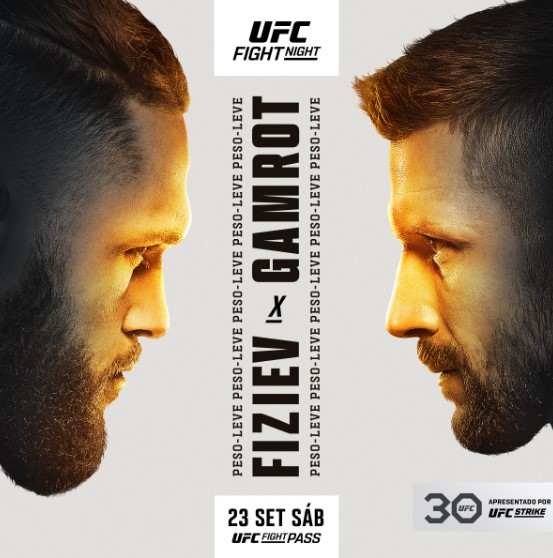 Photo: @UFCBrasil Twitter
Fiziev is known for excellent kicks, punches, and elbows. His combinations are very powerful, his toughness is worldwide known. Rafael will try to keep this fight standing, he will be looking for a fight-ending punch.
Mateusz Gamrot is a former KSW title holder who brought some new elements into the world of UFC. His Granby roll is very hard to defend. Mateusz's opponent was taking his back, which is generally good, but the Polish fighter was constantly slipping out of that position and ending up on the top thanks to his excellent counter-grappling. His ground skills are brutal, and he'll get the advantage if the bout gets dragged to the canvas.
Prediction: the fight will not go the distance
Bryce Mitchell will square off against Dan Ige in the co-main event of the evening. Both fighters are excellent wrestlers with great throws and defensive aspects of the game. Ige is a better puncher, while Mitchell offers more powerful ground-and-pound shots. This is a clash of two very similar Octagon warriors, so it could go all the way.
Prediction: over 2.5 rounds
UFC Fight Night 'Grasso Vs. Shevchenko 2' Full Card
Please take a look at the full fight card below.
Main Card (UFC On Fight Pass, ESPN+, 7 PM ET, 1 AM CET)
Lightweight (155 pounds): Rafael Fiziev (12-2-0) vs. Mateusz Gamrot (22-2-0)
Featherweight (145 pounds): Bryce Mitchell (15-1-0) vs. Dan Ige (17-6-0)
Strawweight (115 pounds): Marina Rodriguez (16-3-2) vs. Michelle Waterson-Gomez (18-11-0)
Welterweight (170 pounds): Bryan Battle (9-2-0) vs. AJ Fletcher (10-2-0)
Featherweight (145 pounds): Charles Jourdain (14-6-1) vs. Ricardo Ramos (16-4-0)
Preliminary Card (UFC On Fight Pass, ESPN+, 4 PM ET, 10 PM CET)
Featherweight (145 pounds): Miles Johns (13-2-0) vs. Dan Argueta (9-1-0)
Welterweight (170 pounds): Tim Means (32-15-1) vs. Andre Fialho (16-7-0)
Middleweight (185 pounds): Jacob Malkoun (7-2-0) vs. Cody Brundage (8-5-0)
Heavyweight (265 pounds): Jake Collier (13-9-0) vs. Mohammed Usman (9-2-0)
Strawweight (115 pounds): Mizuki Inoue (14-6-0) vs. Hannah Goldy (6-3-0)
Bantamweight (135 pounds): Montserrat Rendon (5-0-0) vs. Tamires Vidal (7-1-0)
Marina Rodriguez should outwork Michelle Waterson in a three-round war, while Bryan Battle vs. AJ Fletcher could go the distance. Jourdain vs. Ramos has a potential for the Fight of the Night award, both warriors are top-notch brawlers.
Miles Johns will try to out-edge dangerous striker, Dan Argueta, while Andre Fialho will be looking for a knockout against tough vet Tim Means. Jacob Malkoun vs. Cody Brundage could turn technical, both guys have great ground skills.
Mohammed Usman shouldn't have a hard time against Jake Collier, he is a way better wrestler. Mizuki Inoue vs. Hannah Goldy is the trickiest fight for betting on the whole card, as both girls are decent in grappling and striking. Maybe over 2.5 could be a good pick. Montserrat Rendon is a very powerful, technical fighter, while Tamires Vidal likes to collect points with combos. That fight could also go the distance.
UFC Fight Night 'Rafael Fiziev Vs Mateusz Gamrot' Predictions
You can check my predictions in the playlist below.
Bellator 299 Is Heading Our Way
This is an amazing holiday for the fans of the fastest-growing sport in the world. Bellator 299 takes place in Dublin, Ireland. You can watch it on Showtime, while the preliminary card is free for watching on YouTube. The main event brings a title bout between Johnny Eblen and Fabian Edwards.
Photo: @BellatorMMA Twitter
Johnny Eblen's wrestling skills are amazing, he dominated every single opponent on the ground. Fabian Edwards is known for his technical approach and very dangerous fists. If Eblen takes it to canvas, Edwards might have a hard time getting back to his feet.
Prediction: Eblen to win
The co-main event will be more interesting. Talented wrestler Aaron Pico squares off against SBG Ireland's fighter Pedro Carvalho. Pico might try to take the fight down to the ground, but Carvalho's scrambles are excellent, it is hard to keep him down. Plus, the Portuguese constantly threaten with submissions, which could be an additional problem for Pico.
Prediction: The fight starts round 3
Bellator 299 Main Card Picks
Please check the video below to see my picks for the Bellator 299 main card.
This is a superb day for the fans of mixed martial arts. You can sit next to your TV/PC/cell phone at 11 AM ET and enjoy until late at night. Don't miss these two fight cards, there will be many top-notch combats!