Kickboxing, along with any other combat sports, are an exciting method to learn to both defend yourself and to get in shape in case that you aren't looking to enter into some active competition, as they can improve your self-confidence, focus, hand-eye coordination and of course, physical fitness.
Developing these skills will be a great benefit to your everyday life, and will also help with stress relief if you are having tough days from studies, work, or just life itself.
You'll need to get some good gear in order to get the best out of Boxing practice, and one of such items are the One important aspect of boxing is having the proper gear, such as the Sidekick Ultimate T8 Boxing Gloves, which provide excellent performance both in regular training as well as sparrings and competition.
All Boxing gloves out there are designed with two things in mind; the first is to protect the wearer's wrists and knuckles, while improving their grip and punching power, and the second is to protect the opponent boxer from injury by distributing the impact.
Sidekick is a brand that has focused on bringing excellent performance in their gear my keeping things simple; they have a no-nonsense approach focusing on creating an excellent product, period.
They are a KickBoxing Focused brand that offer a plethora of high quality gear, focusing on Boxing Gloves, Shinguards, and even Boxing and Kickboxing Pads out of excellent materials with only performance in mind.
Sidekick may be a young brand, as they were founded in 2010, but they are a proud brand with excellent gear, and of course, pride themselves on being a sponsor of the now "divisive" internet personality, Andrew Tate.
We got to remind everyone that besides his divisive personality, Andrew Tate has a successful Kickboxing career with 76 Wins and 9 losses in his career, but he has been an active user of the Sidekick Brand from the very beginning.
As you can see in the pictures; he was branding the original version of the Ultimate Sidekick Gloves (Which are also making their return in the Sidekick's Store, Right Here in case you were wondering)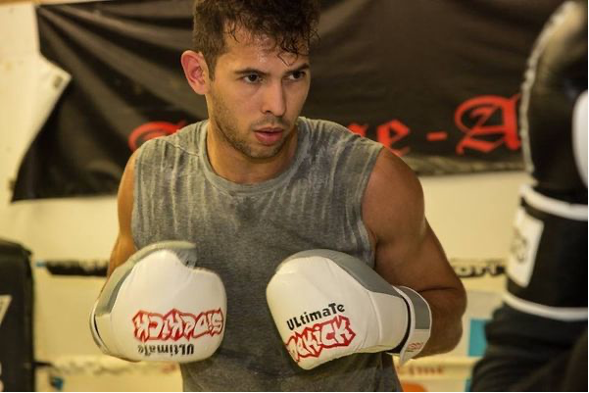 In the following sections, we will discuss the features and benefits of their New Ultimate T8 Gloves so you can see if they are a fitting addition to your gear bag.
Sidekick Ultimate T8 Gloves
Boxing is a fun method to keep yourself in good shape, and improve your general fitness, while also working in your reflexes and keeping your mind busy.
If you're looking for the best boxing gloves for your sessions, all you have to do is look into Sidekick's Ultimate T8 Gloves.
These gloves are designed to fulfill the needs of any professional fighter, so they definitely cover everything that anyone starting on their journey as a boxer needs.
They are made from genuine cowhide leather, which not only gives them a high-quality feel and performance that makes them both durable and comfortable.
They are on par with some of the top tier brands we all know and love like Hayabusa and Mexico's own Cleto Reyes; which gives some clear insight on why the original Ultimates were Andrew Tate's Gloves of Choice.
Getting a pair of Sidekick Ultimate T8 Boxing Gloves is a great investment to improve not only your regular set of gear, but to get the most out of every training session when you are learning the ropes on how to box or train in other combat sports.
These gloves are designed with advanced features to protect your hands and wrists the most while you figure out proper technique on the bag, hitting the mats, or sparring with a training partner.
Pros: Why are these the best boxing gloves for you?
Sidekick Ultimate T8 gloves offer several benefits and features that make them a great choice for any boxer out there; and here we are going to point out some of the key points to consider:
• Premium Genuine Cowhide Leather and Multi-Layer Construction
The quality materials that these gloves provide is one of the best features they have, as you not only get an excellently made product, but you get one that can last long, enduring through some of the most intense training you could come up with and keeping excellent performance.
These T8 gloves keep it simple with their colors, to give you a no-nonsense approach and unmatched durability thanks to their multi layered foam technology and composition knuckle protection.
With a pair of these, you can be comfortable putting yourself through the toughest trainings knowing that your hands will be well protected as long as you are branding these bad boys around.
The Sidekick Brand keeps their focus on performance over unnecessary added flair, but they still managed to give out a stylish look while keeping it simple.
• Double Wrist Straps and Microfiber thumb pad.
These boxing gloves have a natural fit for your hand and also offer 3 rigid panels, along with a double wrist strap, to enhance performance and prevent hand strain.
The double wrist strap ensures optimal wrist support in order to reduce the risk of injury so you can keep yourself focused on the training itself.
The microfiber thumb is an interesting addition, as it simply lets you wipe away sweat with ease, in order to once again, keep yourself completely focused on what you are doing at the time without having to go and pick up a towel to clean yourself.
Some added flair is in their ultra soft lining, which provides a luxurious feel without overdoing things.
There is a reason why the self proclaimed Alpha-Dog Andrew Tate was eager on his use of this brand, and well, if they keep things simple for you so you can focus on training; I believe we can see how the pattern falls into Tate's agenda.
• Dense Paddings for Extra Protection
Any glove out there requires some padding in order to protect your knuckles when you are either hitting the bag or your training partner, but Sidekick goes all the way and adds some dense padding to make sure that this is not only covered, but optimized.
They offer enough padding for your hands to be fully protected without the padding making the gloves look way too bulky, so you get both the good looks, and great performances in one package.
The brand has been perfecting this since they released their Original Ultimate Gloves, but that time has been well spent as their current Ultimate T8s are nothing but an improvement to Tate's preferred gloves back in the day.
• Flawless gloves in both 14oz and 16oz.
If you are looking for options, you can rest assured, as the Ultimate T8 Gloves come in two size options.
The first of these being in 16oz gloves, which are excellent for any heavy bag and sparring sessions.
They are also offered in 14oz, which are known by fighters as the all purpose gloves, which you can use for bag work, drilling, regular training sessions and even some light sparring.
With the right amount of knuckle padding at your disposal, these gloves, in any of their offered sizes, will be a great addition for you to get working into your technique, your speed, or your power in any day to day training session.
The approach that Sidekick had when designing these gloves simply shows when you use them, as you can both see and feel the quality output they offer when you are hitting either the bag or pads.
They are reliable and comfortable for your use, so you can be confident that you are bringing in some high quality gear with you wherever you take them.
A Bold Brand for Those That Decide To Be Bold:
We have to give the Sidekick brand its props, because in this day and age, everyone backs down and apologizes, even when they haven't done anything wrong, just to not anger people online.
That is something that Andrew Tate definitely doesn't do, and it has turned him into a divisive personality for two reasons, the first being the comments he does, and the second is apologizing about absolutely nothing after he does them.
Sidekick had been sponsoring the man for a long time, and when he became such a divisive internet figure, they could have backed down and cut down their connections with him, but they didn't.
As one of the boldest moves I have seen a brand do, they not only kept showcasing everything they had on Andrew Tate, but they doubled down and are using this increasing interest in the man as a way to promote themselves, which is a move I can definitely support.
The brand provides excellent gear with outstanding quality, and they are now using a divisive figure in order to appeal to a wider audience, and they deserve all the praise for doing so.
They are big in the British market and they deserve some more love in the international market if they are able to compete and even one-up other high end brands out there.
The Sidekick Ultimate T8 Gloves offers several benefits over the rest of the competition and they simply are a great offer for any up and comer who is picking up a pair of gloves to begin with.
If you are looking forward to getting a little bit closer in the steps of Andrew Tate Himself, the brand has a limited sale on the Original Ultimate Gloves, which are exactly like the ones you could see him wear in the previous pictures.
They offer the same great performance that the original design had, and being a limited sale, you have to be fast before they run out if you want to handle the same awesome set of gloves that the Top G used to train with.
Of course, you can always get yourself a pair of the Ultimate T8 gloves if you want to get the improved version for yourself and enjoy all the benefits behind years of work and improvements.
In summary, if you are looking for high-quality boxing gloves for your training sessions, the Sidekick Ultimate Gloves and the Ultimate T8 gloves are an excellent choice.
With its great design, comfortable design and unmatched protection, these boxing gloves are sure to level up the quality of your training sessions, be it for Boxing, Kickboxing, Muay Thai, MMA or any other combat sports.
The reason why having good quality Boxing Gloves is so Important
Protecting young hands from injury
Boxing gloves provide cushioning that helps absorb the impact of punches, reducing the risk of hand injuries.
Their wrist support also helps to reduce any possible sprains and other possible injuries.
The Ultimate T8 Gloves from Sidekick accomplish this with dense padding to protect the knuckles, and their double wrist strap makes sure to prevent any hand strain and offer great optimal support.
Building self-confidence and discipline
Boxing is a demanding sport that requires a lot of physical and mental toughness. It makes you face pressure and getting hit, which forges both your body and mentality.
By learning and practicing boxing skills, you can build up your self-confidence and discipline, which can carry over into your everyday life.
With the right gear, like any of the Sidekick's Ultimate options, any practitioner can be more confident in their abilities, giving them time to focus on honing their boxing skills.
Promoting physical fitness
Boxing is a great way to keep yourself in excellent shape, as you will be working on your hand speed, coordination, power, reflexes and of course, you'll improve your cardio resistance by going round after round.
By incorporating boxing into your fitness routine, you can improve your health in quick fashion. Having a pair of Sidekick gloves in your bag is a good way for you to always be ready to train both safely and effectively, in order to get the most out of each session.
Buying Guide
If you are looking for a new pair of boxing gloves, it's important to choose a pair that fits not only your hands, but that covers all the details you may need and obviously, your preferences. Here are some factors to consider when purchasing the Sidekick Ultimate T8 Boxing Gloves:
Size and Fit
The Ultimate T8 Boxing gloves come in two different sizes, 14 oz to 16 oz. The size you choose will depend on your intended use, so you always want to look for the correct size.
If you are going to use them for most of your regular training session, you might want to look into a pair of 14 oz gloves.
If you need some extra protection for heavy sparring and heavy bag work, then you should definitely look into a pair of 16 oz gloves so you can feel comfortable throwing your power punches.
Material and Durability
The materials that gloves are made of make a huge factor in their durability, comfort, and performance. The Ultimate T8 Boxing gloves take pride in being made of Genuine Premium Cowhide Leather, which puts them a level above most of their competition.
They also feature a double wrist strap that provides excellent support and helps prevent any wrist injuries. Adding the dense padding to the gloves, and you can see why we believe these are a pair of no-nonsense gloves for any practitioner.
Design and Style
The design and style of the gloves do nothing when it comes to the performance they will give you during your training, but they can boost your motivation and confidence in the ring.
The Sidekick Ultimate T8 keeps things simple and stylish, so you can have an excellent pair of gloves that look good and simple, without the need to go overboard and crazy.
Price
The price of any Boxing gloves usually depend on the size, material, and design. The Sidekick Ultimate T8 Gloves are priced competitively to other brands, but they are more affordable than the Hayabusa T3 Gloves and most Cleto Reyes high end options, while being quite as good on performance.
These gloves are a worthwhile investment for serious boxers and martial artists, giving you the most quality available at that price point.
Frequently Asked Questions
Are Sidekick Ultimate T8 Boxing Gloves worth it?
Yes, the Ultimate T8 boxing gloves are definitely worth the buy. They offer a range of features and benefits that make them a great choice for both beginners and advanced boxers, while being on a more than excellent price point.
They can fight it out with some of the top brands out there, as the brand keeps it simple in order to bring you the best performance without wasting anybody's time.
They are also comfortable and easy to use, making them a great investment for anyone looking to train or compete in boxing.
Are the Sidekick Ultimate T8 gloves good for beginners?
Yes, The Sidekick Ultimate T8s are not only good gloves for any professional fighter out there, but they are also an excellent choice for any beginners who have the budget to spend.
The brand also offers a whole range of gloves for those who have a lower budget, in case you want to try out some of their other options before you decide to spend big into their higher end options, like the Original Ultimate and the Ultimate T8 Gloves.
What size boxing gloves would be better for me?
As previously mentioned, the T8 Gloves come in both 14 oz and 16 oz and you only have to decide on what you need them gloves for in order to know which ones to order.
If you want to use them for heavy bag work and some intense sparring sessions, look no further than their 16 oz gloves, which should have all your needs covered.
In case you need gloves for everything, from regular training, pads work, and of course, drilling and low intensity sparring with a partner, then you can opt to get a pair of 14 oz gloves for anything that pops up.