I tested 10 kickboxing gloves and I found Top King to be the best among all of them.
Best Kickboxing gloves: Editor's top picks
Product
Glory Kickboxing gloves
Top King gloves
RDX F4 gloves
Brand
Fairtex
TOP KING Boxing
RDX
Material
Faux Leather
Leather
Faux Leather
Size/Weight
N/A/0.83 kg
8 oz/0.64 kg
10 oz/0.7 kg
Closure Type
Hook and Loop
–
Hook and Loop
Age Range /
Suggested Users
Kid
Unisex-adult
–
Best Gloves for Fighting
Fairtex Glory Kickboxing gloves
Faitex Glory is a limited edition especially designed for fighters of the biggest kickboxing event in the world. They are similar to Mexican-style boxing gloves, which allow the athlete to hit with incredible speed. They might be not good for training, but they are simply amazing for fighting.
Best Gloves overall
Top King offers the two most important features for training: protection and efficiency. They follow the traditional design of Thai gloves, weapons built for war. They are especially great for heavy bag training and as sparring gloves.
Best for beginners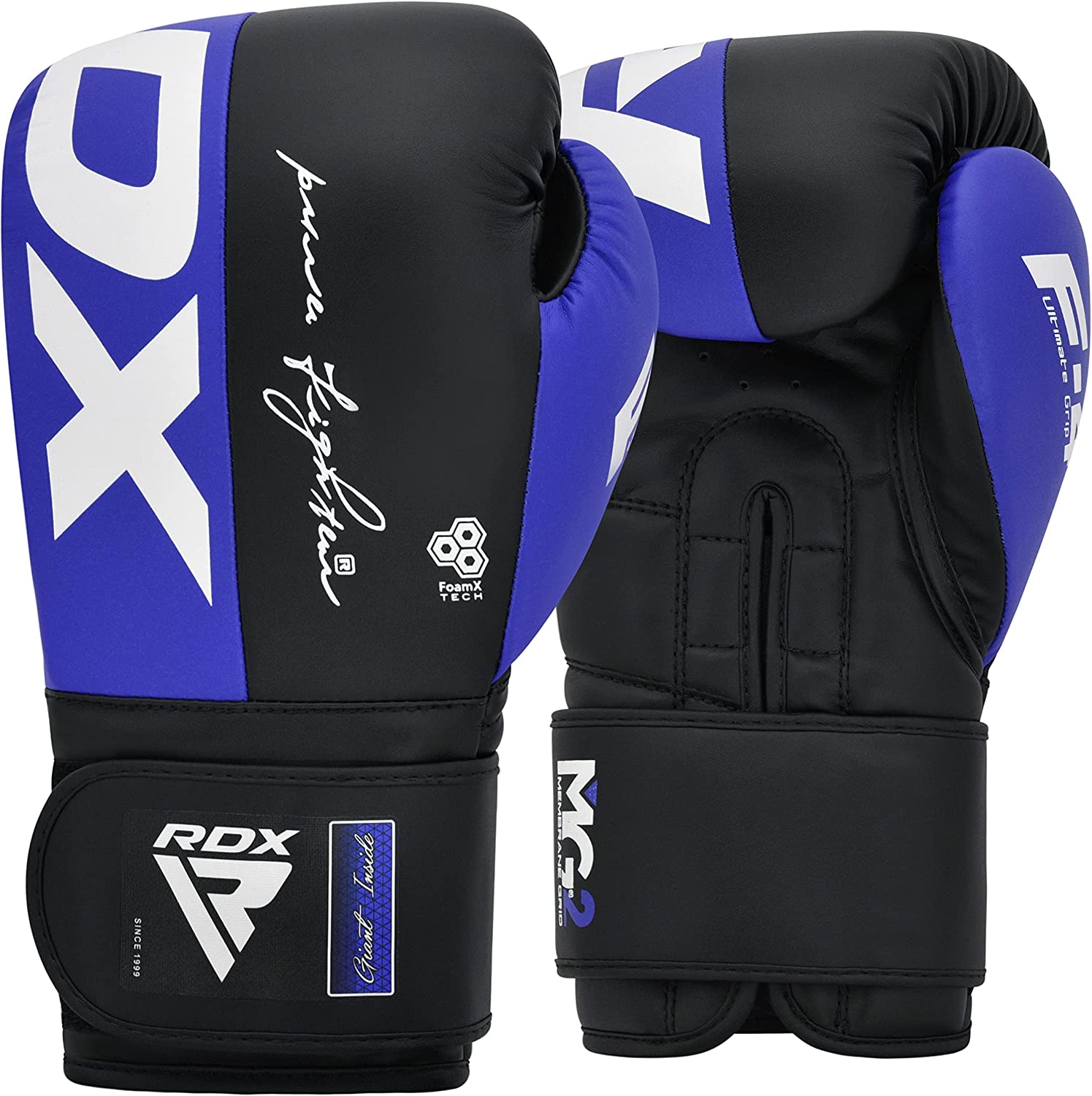 With these beginner kickboxing gloves, RDX reached the perfect combination: good quality and low price. A very efficient hook and loop closure system guarantees the protection needed for this group, making them the best gloves for beginners.
Throughout my 15 years as a striker, I have used several kickboxing gloves on my hands. From cheap gloves for beginners to the legendary items worn in the bloody battles at Lumpinee Stadium in Thailand, I had a taste of all in rings and dojos around the world. Although my main area of expertise is actually Muay Thai, I competed countless times under K-1 rules, adapting my style accordingly to guarantee the best shows for kickboxing fans.
For this reason, it was easy to analyze the market and decide which I should test for making a comprehensive list of the best gloves. Experience gives you the skills necessary to spot flaws from afar, but even the great masters are not able to present a verdict before actually wearing them. The adage "you get what you pay for" can be applied here, but it's not always true. RDX is a huge exception for this case. This is proof that you don't have to spend all your hard-earned money on luxury items. The best-quality kickboxing gloves might not be the ones you've been thinking and they might be found for a fair price.
Top King is not the most traditional among the best leather kickboxing gloves, but it managed to reach the top level within less than 15 years of existence. It ended up being the number one for its high quality and durability. And it's not the most expensive even among the Thai gloves.
I got a pair of Top King among my current gear and, after a whole year of hard training, it looks as if I had just bought them. Its protective features are still 100% and, for a heavy guy like myself, this is a crucial point.
It's important to split them into categories though. The best kickboxing gloves for fighting are not necessarily the best for training, for example. Beginners are a whole new category too and we can never forget the fastest-growing group of kickboxers in the world: women!
After reading this list, you will be able to define a strategy to find the beast in yourself using the best kickboxing gloves for each category.
Best Kickboxing gloves Complete list
TOP KING Training Gloves
Hayabusa T3 Leather Gloves
Fairtex Glory Kickboxing gloves
YOKKAO Matrix
Twins Special Boxing Gloves
Fairtex Microfibre kickboxing gloves
RDX K1 MARK PRO FIGHT
RDX F4
Everlast Powerlock2 Training Gloves
Venum Impact Kickboxing gloves
1. Best Kickboxing Gloves Overall
Top King offers the two most important features for training: protection and efficiency. Designed with a multilayer inner foam system and inner wrist padding, these gloves provide exceptional hand and wrist protection. The clima cool technology ensures breathability and quick drying, keeping you comfortable throughout your sessions. The wraparound closure system offers a secure fit and easy on and off. Crafted in Thailand from premium cowhide leather, these gloves are durable and long-lasting. Top King stays true to the traditional Thai glove design, providing both protection and efficiency. Perfect for heavy bag training and sparring, these gloves are a must-have for Muay Thai enthusiasts.
Pros
wrist support
shock absorption
perfect cost-benefit
Back in Thailand, I went to each of the dozen of Thai boxing gear stores on Soi Ta-iad, the Muay Thai road in Phuket, looking for the best kickboxing gloves available. I tried every single brand and model before making my decision. Traveling on a budget, each Baht should count and I could not afford to fall into a trap. My choice was a Top King pair and, one year later, I have no regrets.
Only a year older than Yokkao, Top King is omnipresent in any Thai gym. They are a little bit better and cheaper than the former. They got the right weight, size, and material. The best thing is they are versatile. It doesn't matter if you need kickboxing gloves for fighting or training, they will be there for you.
The wrist support of these gloves is surreal. I caught myself many times looking at them and trying to figure out why they are so good. The answer is simple: perfect shape combined with inner wrist padding.
They are handmade in Thailand with cowhide leather and present a multilayer foam system that it's very protective. This is coming from a 100 kg fighter who punches with no mercy, so believe me: they are worth it!
I've owned mine for more than one year and a half already and they look pretty much like the very first day when I bought them. No wonder they got 100% 5 stars reviews on Amazon. The only problem might be the fact that there aren't many options out there. If you're looking for stylish gear, they might not be your pair of gloves. But if the quality is all that matters to you, go for it.
2. Best Kickboxing Gloves for Performance
Hayabusa T3 Leather gloves
Crafted from the finest leather, the Hayabusa T3 training gloves offer unparalleled wrist support thanks to their patented Fusion Splinting and Dual-X closure. With their precise fit, high-impact protection, and comfortable AG Fabric Lining, these gloves are designed to help you perform your best every time you train. Available in rich brown leather and weighing in at 16oz, the Hayabusa T3 gloves are a must-have for serious martial artists.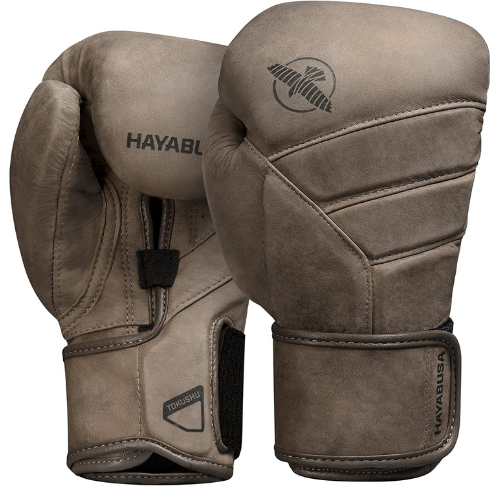 Pros
wrist support
breathability
compact
An item that appears in all lists of best boxing gloves is the Hayabusa T3. They are a piece of art when it comes to design. I made a mistake the first time I bought them and, now, I could finally fix it: I ordered leather!
The cleavage on the palm is as long as on some lace-up gloves, which increases breathability.
Some people complain about their size and they are right. The 16 oz, which are normally my choice, are smaller than most gloves of the same weight in the market. This doesn't make them worse. It's just something to keep in mind when buying a pair. This time, I ordered an 18 oz and they are perfect.
The shock absorption system is a high-density 5-layer foam, which makes them more compact and efficient. However, they might be uncomfortable in intense training sessions even for the 18 oz.
Another innovation is the double-strap system on the cuffs: the wrist support is absolutely uncanny! This is the main reason why these boxing gloves have been elected for two years in a row by Men's Health magazine as "best boxing gloves".
A huge downside for the Hayabusa T3 is that they are very expensive. If you can, order leather. The PU version is only a little bit less expensive and the leather version will outlast it by far.
3. Best Kickboxing Gloves For Fighting
Fairtex Glory KickBoxing gloves
Crafted from the finest leather, the Hayabusa T3 training gloves offer unparalleled wrist support thanks to their patented Fusion Splinting and Dual-X closure. With their precise fit, high-impact protection, and comfortable AG Fabric Lining, these gloves are designed to help you perform your best every time you train. Available in rich brown leather and weighing in at 16oz, the Hayabusa T3 gloves are a must-have for serious martial artists.
Pros
Wrist support
Narrow design
Overall weight
Cons
Padding
Velcro gloves (they beg for laces, I would say)
Expensive
Fairtex is currently the official glove provider of Glory, unarguably the most important kickboxing event in the world and these are the gloves specially made for these arenas. For this reason, I was sure, even before buying them, they would make it to the top 3. I tried to manage my expectations anyway, otherwise, they could be just a huge disappointment. Well, they are not. Fairtex promised it and successfully delivered it!
The design of these Fairtex kickboxing gloves is almost perfect for fighting. They have a narrow shape that allows the athlete to develop a fantastic speed. It felt great to work on some drills with them.
They are handmade in Thailand with high-quality leather, 3-layer foam padding, and a strap system not as wide as the classic ones, but quite efficient. They feel lighter compared to other gloves, mainly due to the narrow design.
My only complaint is that they could be better just by focusing a little bit more on their goals. These are fighting gloves and they would be even more supportive if they were lace-up gloves. By targeting practicality, they dodged perfection. The padding will not be enough for most heavy fighters to use this gear as kickboxing training gloves, but it's not bad.
No, they are not perfect, but they are not far from this either.
4. Best Premium Kickboxing Gloves
The YOKKAO Matrix boxing gloves are a premium addition to any fighter's gear. Handcrafted by professionals in Thailand, these gloves feature high-quality leather, double-stitched seams for extra reinforcement, and a hook and loop closure for easy on and off. With an attached thumb for added support and an embroidered YOKKAO logo patch, these gloves are as stylish as they are functional. Available in a gorgeous orchid bloom color and weighing in at 12oz, the YOKKAO Matrix gloves are perfect for both training and sparring.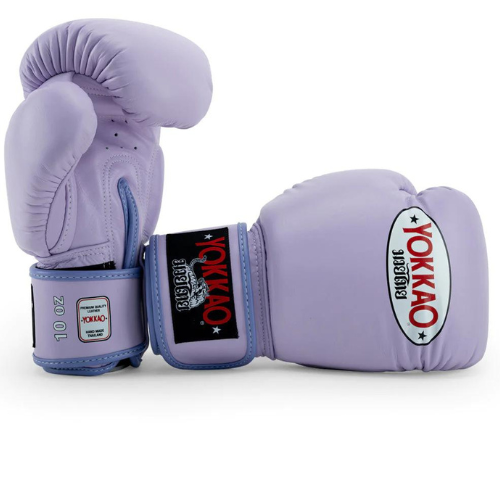 Pros
durability
shock absorption
wrist support
Cons
expensive
not that easy to find
Yokkao was chosen because its name has risen greatly among the best leather kickboxing gloves in the last few years. Since its beginning in 2010, this is probably the Thai brand that has grown the most among all gloves. Many great fighters, such as Petchpanomrung Kiatmookao, Singdam, Superlek, the kickboxing world champion Liam "the hitman" Harrison, and the Muay Thai G.O.A.T., Saenchai, wear them.
The first time I had the opportunity of having a Yokkao covering my hands was in a Muay Thai camp in Thailand. They have some outstandingly stylish gloves, but the fact remains true: all are aesthetical variations from the "Matrix" gloves. You may pay considerably more for a shiny pair, but you'll get the same quality with their basic stuff.
I tested the Yokkao Matrix kickboxing gloves, and I can say: it's not only a name! A regular fighter in Thailand trains twice a day, two to three hours each time, six days a week. No wonder Thai gloves are so durable and so protective.
These are, by far, the most common gloves among the professional kickboxers sharpening their weapons at Tiger Muay Thai, the striking camp where most UFC, Glory, and One Championship fighters go when they need to improve their striking skills.
These gloves are made of 100% genuine leather and long-lasting shock-absorbing foam. They are handcrafted in Thailand and you can tell that by each detail. The carefully sewn double-stitched seams increase its durability greatly.
The wrists are reinforced enough to protect you without restraining much of your movements. It feels comfortable and protective at the same time. There's nothing new about the cuffs. This is simply the result of a century of experimentation in glove design in Thailand. Thai gloves normally feel amazing on your hands. They might look humble, but these are weapons of true warriors.
5. Best Professional kickboxing Gloves
Twins Special Kickboxing Gloves
The Twins Special Kickboxing Gloves are a top-quality choice for any martial artist. Handmade in Thailand with 60 years of experience in Muay Thai by Twins, these gloves feature extra strong cowhide leather and a sturdy Velcro fastening for long-lasting durability. The traditional Muay Thai design includes a palm cushion for a secure hold and perfect molding to the palm of your hand. Trusted by experienced martial artists worldwide and favored by top Muay Thai stages, the Twins Special Kickboxing Gloves are the ultimate choice for both training and sparring. Available in black and orange and weighing in at 12oz, these gloves are the perfect combination of style and function.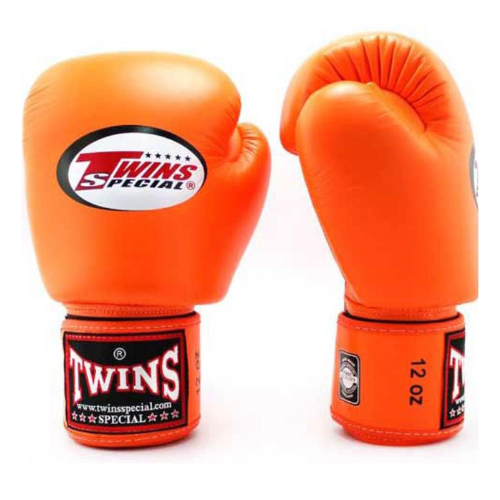 Pros
wrist support
style variability
durability
Cons
Less easy to find than most gloves
breathability
No best kickboxing gloves list should be considered trustworthy without at least one Thai representative and here you'll see many of them. Muay Thai and kickboxing split the #1 position as the striking Martial Art per excellence. Thailand has forged some of the scariest strikers in the world. The gloves they used had to keep pace.
Founded in 1992 in Thailand, Twins is the second most traditional brand among the gloves I tested, being behind only the sexagenarian Fairtex. They are known for their best-quality kickboxing gloves and good price.
The Twins Special is made of genuine leather and has a multilayer foam shaped for best supporting the boxer's hands. The cuffs are also padded, and the design is similar to its younger brother, Top King. However, the Twins' wrist support is not as great for the average hand. The reason is that the cuffs are positioned slightly farther from the joint than in Top King.
There are a couple of complaints on Amazon about them being too tight. However, these are exceptions. They normally don't feel much different from other Thai gloves on the hands. Mostly they are rated 5 stars and deserve something close to it.
6. Best Kickboxing Gloves For Sparring
Experience the ultimate training performance with the Fairtex Microfibre boxing gloves. Made from top-quality genuine leather and foam padding, these gloves offer maximum protection to your hands, wrists, and knuckles. The new design provides consistent weight distribution and a secure fit with a double-stitched, adjustable hook and loop closure system. These versatile gloves are perfect for combat sports like boxing, kickboxing, and MMA, as well as general fitness and martial arts. Handmade in Thailand with premium and authentic leather, these gloves come in sizes ranging from 8 to 16 oz. Get ready to take your training to the next level with Fairtex.
Pros
Wrist support
Knuckles padding
Overall weight
Cons
Durability (not that bad actually, just less than leather)
Pricey for non-leather gloves
I can easily say that these are the best kickboxing gloves for women among all tested on this list. The Fairtex Microfibre are not exclusively made for female kickboxers, but they are simply perfect for this public.
Fairtex is a widely respected brand from Thailand founded in 1958. There is a reason why they've thrived in this field in such a competitive region: they produce amazing items. No wonder Fairtex has been the official brand of one of the greatest martial arts events in the world, the ONE Championship, for the last thirteen years.
This particular unit is actually an outlier among all Fairtex gloves. The brand usually produces genuine leather gloves in the most traditional Thai style. The material chosen for this item was microfibre. Although it does not last as much as leather, it's eco-friendly, very light, and cheaper than the traditional ones.
The design and quality of manufacture remained the same, which is quite good news. There are a few complaints on the internet about defective items, but they are exceptions. Even though, it's worth mentioning that quality control has dropped a little bit over the years with the expansion of selling.
The highlights are wrist support and knuckles protection. The multilayer foam padding cushions most of the impacts. There's no mystery about the wrist strap: it's the basic large and efficient cuff seen in almost all Thai gloves.
It feels a little expensive for a non-leather glove, but it's hard to find a better model for this kind of money. I would rather pay a few more for a leather version, I gotta say. But I'm not one for caring too much for weight, this is why I prefer leather. Truth be told, the microfibre is lighter and it's one of the reasons why these gloves are so good for women, from the cardio classes athlete to the professional kickboxing fighter.
7. Best Kickboxing Gloves for Protection
For an unmatched training experience, choose the RDX K1 MARK PRO FIGHT gloves. Crafted with tough engineered Maya Hide Super Skin leather and TRI-LIRA 2 padding, these gloves offer ultimate protection and impact resistance. With a combination of Supremo-shock Equilibrium Foam Sheet, Max-Shock Equilibrium Foam, and Polygonal Fusion Foam, shock suppression is evenly distributed. The Quick EZ hook-and-loop closure and inner elastic length adjusting band provide the perfect fit and wrist support, while the QD-1 mesh inner fabric keeps hands dry and comfortable. These gloves are ideal for Boxing, Muay Thai, Sparring, Kickboxing, and more. Available in 8Oz and 10Oz sizes, these gloves are recommended for up to 14-year-olds.
Pros
wrist support
breathability
durability
All hail to the king of RDX gloves, one of the best kickboxing gloves available for sure, with just one detail: price!
Let's go straight to the point: this is a luxury item. These gloves are amazing, but the reason why they ranked only 7 on this list is that they are the most expensive among all the gloves I tested so far. They cost about US$250, but, if you have the money, go for it.
The RDX K1 Mark Pro Fight are manufactured using what they call "premium Super Skin combat leather" outside for extra resilience against wear and tear. I got a problem with RDX, I must confess: they are so obscure about what material they use that this unsettles me. They have different names for all their material and I'm always lost when I'm reading about their stuff.
Having one covering my hands though, I gotta say that the K1 Mark Pro Fight feels great! I'm not sure if this is genuine leather, but they look like it. If not, it's certainly a very durable synthetic material.
These gloves have the "Tri-Korta 1 MOULD with Sponge X PADDING" system. No idea what this means too, but the fact is that they really protect the knuckles. Compressed "EVA-LUTION SHEET" is supposed to offer great flexibility and softness without adding extra weight. Well, it works too. Anti-tear and waterproof properties also add extra durability. Polygonal Fusion FOAM for impact resistance and "Max Shock Equilibrium Foam" with "Sponge X PADDING" on cuffs work together to absorb the impact and distributes force equally across the gloves. Besides, they're lace-up kickboxing gloves, which makes them less practical but highly supportive on the wrists.
I have no clue about any of these technology names. I tried to find some information about this stuff, but there is not enough. But here I am to say: they are very good! These are indeed professional gloves made for fighting and I loved trying them.
I would not buy them for myself because, well, I don't have much money. But, if you do, they are worth it.
8. Best Kickboxing Gloves For Beginners
Experience the ultimate comfort, protection, and performance with RDX F4 boxing gloves. Made of sturdy cowhide leather, these gloves are ideal for various sports, including Muay Thai, Kickboxing, and sparring. The soft EVA foam padding cushions the impact and reduces recoil force to help you train more effectively. The TAKKA closure system provides optimal wrist alignment and extra control behind each strike, while tactically placed airing holes minimize sweat accumulation and prevent odor. With EVA-Lution foam slabs in the palm, your hands will be fully protected, so you can train with confidence and focus on your performance. Available in 14 oz black.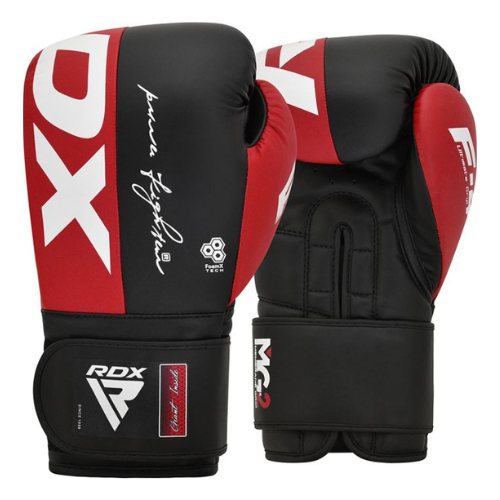 Pros
wrist support
comfortable
cheap
Cons
they promise premium synthetic leather, but it feels like a regular one
padding is not great, but enough for most beginners
Now, this is what I was talking about when I said there are better options for beginners among the best kickboxing gloves available.
Yes, RDX F4 kickboxing gloves are number 8 and this looks like a bad thing. Again: there are no losers on this list. If we were talking exclusively about quality, they are a little bit worse than the Powerlock2 and Venum Impact, it's true. However, there's a parameter that cannot be ignored when it comes to gloves for beginners: cost. I dare to say that it's simply impossible to make better gloves than these RDX F4 for this price. How can they do it? I have no idea!
RDX F4 costs only US$29.99 on their website. This is ridiculously cheap! I bumped into a few cheap options in the market to know that they are never decent. This is THE exception.
The internal Satin Fabric is both breathable and soft to the touch. Even though they don't have a full mesh palm, they have good breathability for this category. Their multi-layered padding is the same: enough for this category. Well, maybe not if you're over 90 kg, but you'll find it decent if you're lighter than this. The wrist support, a hook and loop system, is surprisingly good for this category too.
To sum up, they are definitely amateur gloves made for beginners, and, having this in mind, they just nailed it!
9. Best Budget Kickboxing Gloves
Everlast Powerlock2 Training Gloves
Experience the perfect balance of power and protection with the Everlast Powerlock2 Training Gloves. These gloves feature a newly designed turn back hook-and-loop closure system and quad layered foam, ensuring that you are ready to throw punches at a moment's notice. Made from high quality synthetic leather, the gloves are built to last through even your toughest workouts. The ergonomic grip bar keeps your hands locked in the proper fist position, while the full mesh palm controls moisture and temperature. With polyester foam interior lining, the gloves offer an extremely comfortable fit and feel. Ideal for both men and women, these gloves are perfect for boxing and MMA training.
Pros
wrist support
cheap
breathability
Cons
foam padding
low-quality sewing
Everlast is a renowned brand and I had to test at least one of them for this list of best kickboxing gloves. My choice was the Powerlock 2, which I had tested before for a boxing gloves article. The reason why I decided to "retest" them is that their design is indeed more of a kickboxing than a boxing glove. They are narrow, especially if you compare them to other models by Everlast.
For making these kickboxing gloves, Everlast has changed the cushion system they usually apply. They present quad-layered foam padding. They used premium synthetic leather for making this gear and no complaints about them have been found so far. It's still not leather, and it wouldn't outlast a pair of leather gloves, but at least they will not start to crumble on your hands a few weeks after the first use, as reported about the Pro Style.
They have a breathable mesh palm, which helps control the temperature and moisture. The highlight here is the cuffs. They replaced the flawed system present in the Pro Style gloves with a turnback wrist strap system. This is one of the most efficient hook-and-loop closures ever made for boxing gloves. There are no complaints at all about the wrist support, which was an issue with other models Everlast makes.
The padding is better than in older versions too, but some still believe it's insufficient. But, for low-cost gloves, it felt good enough on the heavy bag training. They have a 4.8 out of 5 stars on Amazon, which is well deserved for the category.
I wouldn't recommend them for professional boxers, but these are great affordable gloves for the amateur level. I have chosen them as the best boxing gloves for beginners before, but I won't do the same for kickboxing gloves because there are better options now. But, I gotta say these are pretty good.
10. Best kickboxing Gloves for All-round training
The Venum Impact Boxing Gloves are perfect for intense training sessions. With triple density foam and full attached thumbs, these gloves offer superior protection and absorption. The large Velcro enclosure with strap and longer cuffs ensure a secure fit for maximum stability. Made with durable polyurethane material and reinforced seams, these gloves are built to last. Choose the stylish Dark Camo/Sand design in 12-Ounce size. Get ready to make an impact with Venum.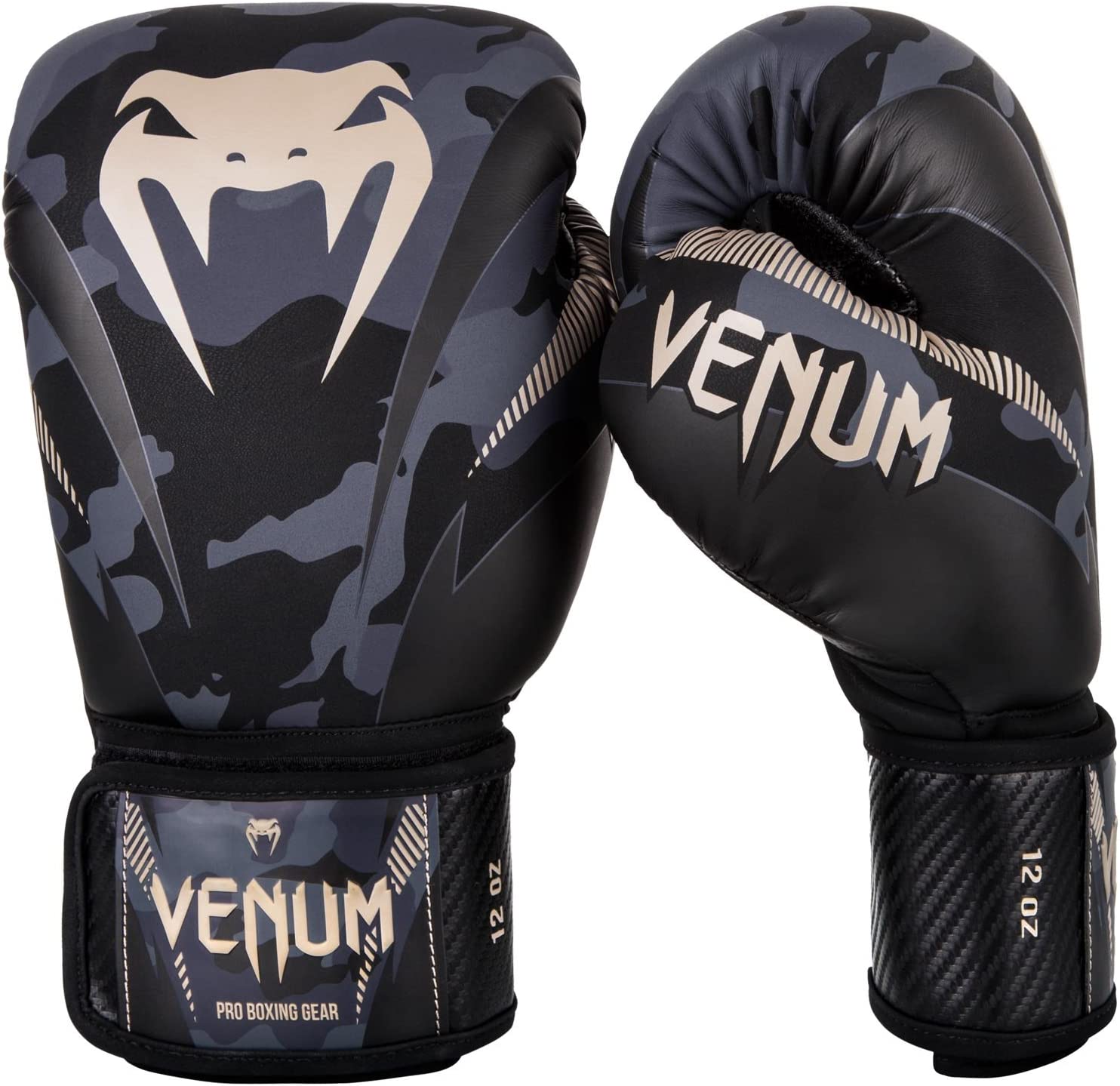 Pros
wrist protection
breathability
widely admired style
Many believe Venum is among the best-quality kickboxing gloves in the world. Some consider them as a cheap and good professional option. Simply put: they are wrong. These are amateur boxing gloves and they may actually be more expensive in the long run than you think.
I always insist on testing Venum gloves though, first because I'm always amazed by how good their marketing is. Venum Impact has a 4.7 stars review on Amazon because they know how to get it: massive production plus targeting for reaching mainly amateur boxers, who won't be able to spot their many flaws before rating the gear. I have tested almost all their gloves and they are all overrated. But, I must say, this one is not bad (it's still overrated though).
Yes, you're right: they are our number 10, but they are facing beasts. Sometimes, being the worst among a good set of things doesn't mean it's terrible. The biggest issue with Venum Impact is actually the price. These are expensive PU gloves that use a triple-density foam and present a mesh panel on the palm that increases breathability, keeping your hands cool and improving comfort during intense training sessions.
Venum usually has some issues with wrist protection, but I gotta say these are the best Venum for this parameter I've worn so far. The shock absorption is not bad, but you might have trouble if you are over 75 kg. They are kind of safe though and this is an improvement compared to the most sold among all Venum, the "Elite" model.
Now, about the price: they are not very expensive: they cost around US$79 everywhere. However, this is definitely not a good price for a PU glove. It could have ranked number 8 or 9 on this list, but it was outranked by cheaper options that are almost as good as they are.
Overall, these could be considered good but very expensive boxing gloves for beginners. The conclusion is: they are not worth it.
Kickboxing Gloves Buying Guide
The reasons why kickboxing gloves are so important
Choosing the best boxing gloves is essential for safe and quality training. In fact, their main role is to prevent injuries. Even a light sprain can impair your evolution. For this reason, you should face them as an investment.
Protection
The best kickboxing gloves for you are the ones that fit better and have features that increase cushioning to both your knuckles and wrists. If you wanna reach the top level, you better keep yourself healthy.
Better grip
The internal design is a feature that no Kickboxing glove brand can afford to ignore. All the gloves on this list provide decent to outstand grip because the inner elements necessary for that are all present. This can help to improve the accuracy and power of punches, as well as prevent injuries.
Hygiene
Kickboxing gloves help prevent the spread of bacteria and diseases by preventing direct skin contact with training bags or opponents, but they are all potential microorganism incubators. All the gloves on this list have some kind of treatment to reduce the proliferation of microorganisms and this must be a requirement when you're buying kickboxing gloves. Besides that, it's also important to keep them clean or even the treatment of the best pair of gloves won't be enough.
Performance
Using the right kickboxing gloves helps to improve performance, as it reduces the risk of injury and improves fighting technique. Each glove has its particularities and some are more appropriate for fighting, others for training. Choosing the glove that was built for your goals will help you to improve overall performance.
Regulation
During official training or fighting sessions, kickboxing gloves are mandatory by regulation, as they guarantee the safety of athletes and other people in the ring. This ensures a fair and safe environment for all involved.
Protecting the opponent
Without gloves, fights wouldn't last as long as they do nowadays. They also protect the opponent just enough for avoiding a blood bath and subsequent interruption. Making fights more violent might sound like a good idea for many people, but this is bad for sports. Not long ago, Justin Thornton died a few days after being knocked out in a bare-knuckle fight event, proving once more how important a good pair of gloves is.
Gloves are the reason why fighters must push themselves toward great technique. The best gloves for kickboxing are directly responsible for a long-lasting career for all fighters.
These are the Best Kickboxing Gloves
The best kickboxing gloves are the Top King training gloves. They provide ample protection without compromising efficiency. They also have great durability and cost less than most professional gloves. They will serve you well in fighting and training, from bag work to winning champion belts around the world.
Types of Kickboxing Gloves
Most gloves for kickboxing are versatile. That usually brings an up and a downside. Having a specific kind of glove for each activity is not cheap, but it will also guarantee that reaching the top of your performance depends only on yourself.
Heavy bag gloves
These gloves are designed for bag work. They are usually more protective of the knuckles. Nowadays, we know that the necessity of "bone density increasing" through impact is basically a myth. Repeated heavy-bag punching might get you injured if you don't protect your hands enough.
Bag gloves are also usually made with durable and breathable materials to ensure maximum durability and comfort during training.
Sparring gloves
These gloves are designed for sparring training, which simulates fighting against an opponent. They must protect the partner better than fighting gloves though, this is why very compact gear that increases the damage is not recommended.
Sparring gloves must have good wrist support and great padding. Sparring is the moment when you gotta prioritize protection over efficiency. At the same time, it's important that your sparring gloves can emulate your fighting gloves. This is why, sometimes, it's so hard to find a good pair of gloves for kickboxing sparring.
Fighting gloves
That's when you look for gear made for destruction. Fighting gloves must protect you enough to prevent serious injuries, but they have to favor damage. For doing it, they must be light, narrow, compact, and supportive on the wrist. Fairtex Glory is this glove.
Another feature that is usually considered bad for practicality, but it's perfect for fighting is lace. Lace-up gloves provide the perfect wrist support and, as you're not supposed to take your gloves off during a fight, you don't need practicality. Fairtex Glory would definitely make it to the top if they were lace-up gloves.
Versatile gloves
There are items that were not made specifically for a purpose. The advantage of this kind of gear is that you can actually save money buying only one pair instead of a whole collection. However, the fact is that no versatile glove will be perfect in all areas. Although Top King ranked #1 on our list, there are better gloves than these if you consider each category separately.
Features to Look for In Kickboxing Gloves
Size and weight
Boxing gloves come in different sizes and weights, and it's important to choose the right ones for your needs. The weight or size of the gloves is measured in ounces (oz). The heavier the glove, the more padding it has. The ideal weight of the gloves will vary based on two things: their purpose and your own weight.
If you're working hard on the punching bag or if you're sparring, you gotta use heavier boxing gloves – at least 2 oz over your fighting gloves. For training, the best gear is the one that protects your hands the most without compromising much of your movements or bringing any hazards.
Kickboxers in Thailand usually wear 16 oz for training no matter their weight. Many boxers do the same. If you're too heavy, you might even consider a pair of 18 oz.
Nevertheless, fighting is different. You will still need minimal protection, but you would rather not pad your hands too much or you can waste your potential.
What oz gloves do I need for kickboxing?
For fighting, you can define the weight of your gloves based on this table:
Material
Decades have passed, and one thing remains true: leather boxing gloves are the best choice! That might change in the future, and I hope it does. Leather is not the most eco-friendly material available. But the fact is that no material is superior so far. It's protective and incredibly durable.
Closure system
The closure system can impact the fit and stability of the gloves. Most gear has either a velcro or lace-up closure system. Velcro closure systems are more convenient and easy to use, while lace-up systems offer a more secure and customized fit. Hayabusa T3 managed to develop the ultimate velcro system though. Their wrist support is almost as efficient as the ones in lace-up gloves.
Frequently Asked Questions About Best Kickboxing Gloves
How often do I need to replace my kickboxing gloves?
The lifespan of your kickboxing gloves depends on several factors, including how often you use them, how well you take care of them, and the quality of the material. If you buy a good pair of gloves, with proper maintenance, it should last from six months to a few years.
The important thing is to be able to recognize when you need to replace them. Foam-breaking and internal tears are usually death sentences for kickboxing gloves. On the other hand, some external damage can be ignored or easily fixed.
How do I clean my kickboxing gloves?
You can clean your kickboxing gloves using a piece of fabric with alcohol (70%) and another one for drying them. Always keep your gear dry and well-ventilated as possible.
How do I store my kickboxing gloves when they're not being used?
Storing your kickboxing gloves properly when not in use is important for their longevity. When you finish your training or workout, clean your gloves and allow them to dry before storing them away.
It's best to store your gloves in a cool, dry place away from direct sunlight or heat sources like radiators. This will help prevent the material from becoming too dry or too hot, which could cause damage to the gloves over time.
I personally like to keep my gloves as open as possible for better ventilation. I do that by inverting the wrist straps, and "gluing" the strap of one to the other and vice versa.
Remember to avoid leaving your gloves in a humid or damp environment, as this can cause mold or bacteria to grow and create an unpleasant odor
What is the difference between kickboxing gloves and boxing gloves?
Honest bomb: only a few brands make specific gloves for every striking Martial art and this not necessarily change anything. You should worry more about the intended use (sparring, bag, fighting…) than the Martial Arts for what they were made.
From previous experiences, for example, I found out that Cleto Reyes are amazing kickboxing gloves, although they were developed for boxing. Top King are great boxing gloves even though they were made for Thai Boxing. And I could list many other examples here.
Enjoy Your New Kickboxing Gloves
Top King offers the two most important features for training: protection and efficiency. Designed with a multilayer inner foam system and inner wrist padding, these gloves provide exceptional hand and wrist protection. The clima cool technology ensures breathability and quick drying, keeping you comfortable throughout your sessions. The wraparound closure system offers a secure fit and easy on and off. Crafted in Thailand from premium cowhide leather, these gloves are durable and long-lasting. Top King stays true to the traditional Thai glove design, providing both protection and efficiency. Perfect for heavy bag training and sparring, these gloves are a must-have for Muay Thai enthusiasts.
Pros
wrist support
shock absorption
perfect cost-benefit
Indubitably, there's an important personal factor in any choice. The gloves that will fit like a glove to you (pun intended) may be different from those that feel perfect to me. However, a few features allow us to find the best use for each of them.
If you gotta choose only one pair of boxing gloves, you gotta go with Top King. These gloves are protective and versatile killing machines that will turn you into a war hero in any arena without knocking your budget out.
They are not the most spread, but they are easy enough to find. You can buy them on Amazon.