Lucha libre is one of the most popular fighting sports in Latin America. Many consider it a variation of South-American pro wrestling. It is kinda similar to North-American pro wrestling matches (WWE), but there are minor differences too.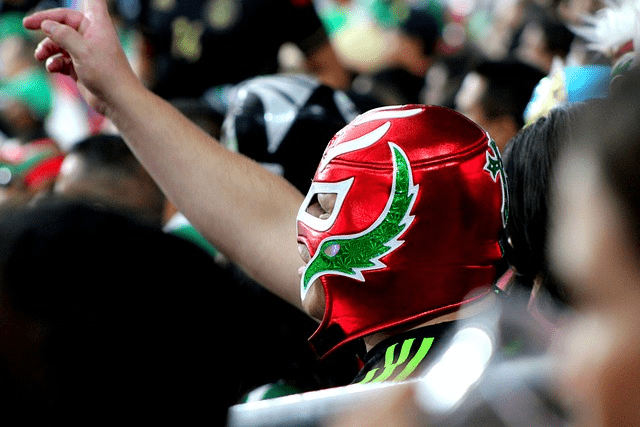 What Is Lucha Libre?
Also known under the popular slang "Friday fight night in Mexico", Lucha libre is the type of fight where the ultimate goal is entertainment. Lucha libre wrestlers participate in a "free fight" with very few rules, but the majority of moves in a Lucha libre fight are well-trained and executed by hardcore professional wrestling phenoms.
Mexican wrestling is one of the biggest spectator activities in Mexico, especially in Arena México, in the capital of Mexico City. It is only eclipsed in popularity by the most famous sport in the world – soccer.
What Does Libre Mean In Wrestling?
The word "libre" in literal translation means "free". In popular culture, it refers to a fight without very few rules where fighters tend to finish their opponents and earn a victory. In most matches, you don't see blood and there are many hard-to-perform spectacular moves by luchadores who mostly hide their real identity behind colorful masks.
Why Do Lucha Libre Wrestlers Wear Masks?
Mexican Lucha libre wrestlers are hiding their faces behind masks to separate their private life from their professional wrestling careers.
Unlike in the United States of America, where everybody knows the true identity of the fighter.
Mexican wrestling fighters kinda remind me of the popular hard-rock group "Lordi", whose true identity has never been revealed. They even won Eurovision with the popular song "Hard Rock Hallelujah", but nobody recognizes them in the street, even in their native country of Finland.
Is Lucha Libre Real?
The majority of Lucha libre fights are staged, because the ultimate goal is to entertain the crowd. Many Lucha libre moves are easy to defend or counter and you'd hardly perform them in real life unless your opponent stands like a log and doesn't move.
Let me give you one example. When the Mexican wrestler meets the Mexican wrestler, there is no blood or heavy injuries. In an MMA bout, for example, you see bleeding or open wounds at least once in five fights.
Is Lucha Libre Like WWE?
Yes, Lucha libre is pretty much like WWE. The ultimate goal is to pin your opponent to the canvas and hold him for three seconds. But Mexican Lucha libre fighters hide their identities from the public and mostly stick to professional wrestling in business life, while their private lives are separated from their job.
Mexican luchador doesn't have to worry about being humped for photos all over Mexico City for photos because nobody knows who hides behind the mask. If you played Tekken 4, then you remember masked Jin Kazama who participated in the tournament – well, every single Mexican Lucha libre warrior sticks to this principle.
Rules Of The Ring
The rules are pretty much simple – your only goal is to pin your foe to the canvas and hold him for three seconds throughout three rounds.
In Mexican Lucha libre, you have to do everything you can not to let your opponent slip away from your side control, mount, crucifix, or any other dominant position. If your opponent shows the desire to continue, the referee(s) will not wave off the contest and he'll let the bout go on.
Masked wrestlers do all kinds of stunts and aerial maneuvers to keep wrestling fans entertained and turn the fight into a real spectacle.
There is mask vs mask competitions, where both warriors are masked and mask vs hair, where one of the fighters doesn't hide his identity (rare). The loser of the bout has to take off his mask or shave his head if he fights without the mask. Once the mask is down, the luchador can never put it on again.
What Are The Four Basic Ways To Win A Lucha Libre Match?
The rules are pretty much similar to WWE wrestling, and there are four basic ways to end the bout (one of them is different from the American style):
Pinning your opponent to the ground for a count of three;
Knocking your opponent out of the ring for the count of 20 (when he's unable to return inside the ring, and the ref yells "20", the bout is finished, or if he's "knocked out cold");
Make your foe submit in de Lucha Libre (luchadores don't tap like American wrestlers, they wave to the referee or give a verbal signal);
Disqualification – perform an illegal move or remove the opponent's mask and you'll instantly lose the combat.
How Is Lucha Libre Different From Wrestling?
Mexican wrestling is way more different than normal wrestling because the majority of stunts and aerials are way harder to train and perform in real life.
Lucha libre combats are staged, and the Mexican Lucha libre warriors usually agree on how the potential competition is going to look before the combat starts. In a normal wrestling competition, you need to win over and over to boost your wrestling career, while here other things matter.
Tag team matches or called trios matches don't exist in normal wrestling, where two wrestlers square off against each other. In Lucha libre, two or more wrestlers can compete against one guy and vice versa, it depends on the agreement and the potential show.
Many wrestlers can be on the mat, 1-on-1 is only an option in Mexican wrestling, while this is prohibited in freestyle or Greco-Roman. In Lucha libre, two luchadores are one of the potential options.
You can win via points in freestyle or Greco-Roman, but in Lucha Libre, you cannot defeat other luchadores via points during the regular time because there is no point-gap rule. Regular or popular luchadores can win only in four ways described in the paragraph above. When the bout enters the sudden death, rules slightly change.
And finally, wrestlers are getting recognized all over their home countries or on national TV. But even the most popular luchador is a total enigma to the public. Your first neighbor can be one of the best Mexican wrestlers, you never know! Mexican wrestling kings are known for their luchador mask identity, but their faces are top secrets!
There are weight classes in wrestling, while Lucha libre doesn't care about wrestlers' weight. Any luchador is welcome as long as he/she makes the crowd happy. Technically, there are weight divisions, for example, Ray Mysterio is a cruiserweight, but he fought big guys, it is all about the show.
Why Is Lucha Libre Important To Mexican Culture?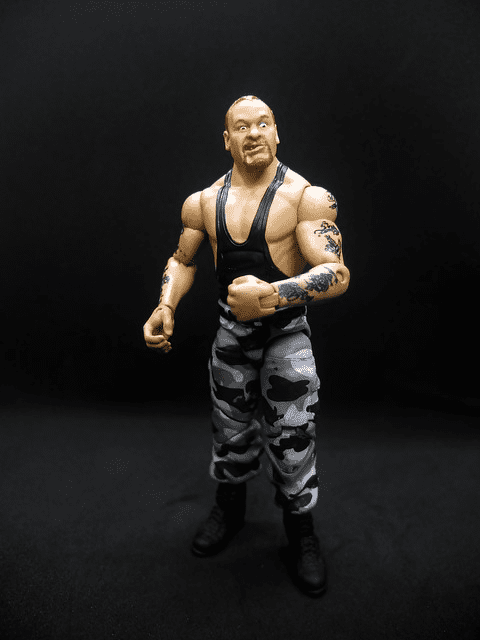 The sport's popularity began to grow in the 1950s, and it is now a very important part of the tradition and culture because luchadores incorporate their family traditions, fears, and beliefs into the design of masks. It transforms an ordinary person into an untouchable and unbeatable character.
The wrestlers are portraying themselves as superheroes of their cities or states. It combines entertainment with the greatness of Mexican wrestlers.
How Long Are Lucha Libre Matches?
If there is no pinning Lucha libre fighter to the mat inside the ring, the match will last three two-minute periods for seniors, or three one-minute periods for younger luchadores.
When the score is tied, there is one-minute sudden-death overtime, where the first wrestler who scores the point wins the bout.
Mexican Wrestling Today
The Mexican nation is very much passionate about Lucha libre wrestlers and the sport. They like to relieve stress and pressure, and this activity happens in stadiums or even national halls. The experience Lucha libre brings to your life is just fantastic, and outstanding! The outcome of the match doesn't mean much to them, but supporting their favorite Mexican wrestling dude does!
Masks
Masks are the most iconic part of the game. The majority of designs are inspired by pre-Hispanic patterns because Aztec warriors went to war against their conquerors with their faces painted. This tradition is transferred to Mexican wrestling.
Mexican wrestling masks are unique souvenirs, but nowadays, you can buy them everywhere. You can choose between various colorful masks and their designs.
Rudos Vs Technicos
There are two types of fighters in competitions nowadays. Rudos are "baddies" – mean guys who constantly make fouls, break the rules, and bring discord to the show.
Technicos are fighters known for their stunts and acrobatic moves. They are known for their spectacular moves and honorable behavior.
It is believed that Lucha Libre fights are nowadays the constant battles between good and evil, but a good guy will not win every single time in a Mexican wrestling combat. Goal number one is beef and entertainment, the spectators want the show!
The Mexican Wrestler Champion And His Contendents
There are various champions in Lucha libre AAA (professional wrestling promotion based in Mexico City) Worldwide, and we will try to cover all of them, belt by belt (the majority of them are hidden behind the masks):
AAA Mega Championship – Hijo del Vikingo;
AAA Latin American Championship – Taurus;
AAA World Cruiserweight Championship – Laredo Kid;
AAA World Mini-Estrella Championship – Dinastia;
AAA World Tag Team Championship – FTR (Cash Wheeler and Dax Harwood);
AAA World Mixed Tag Team Championship – Sammy Guevara and Tay Conti/Tay Melo;
AAA World Trios Championship – Nueva Generacion Dinamita (El Cuatrero, Forastero, and Sanson);
AAA Reina de Reinas Championship – Taya Valkyrie.
The Most Famous Masked Luchadores in Mexican Wrestling
Tito Santana made also a great career in WWE as a tag team and singles wrestler, while El Parka created a legend for bashing people with steel chairs, which became his trademark move.
Alberto del Rio is one of the most hatred wrestlers of all time and the first-ever WWE champ from Mexico. Psicosis made his name as a master of technicality, brawling, and hardcore. He is known for his feud with Rey Mysterio, which skyrocketed Mysterio's career to new heights.
Juventud Guerrera used to be an ok name in Mexico, but his popularity instantly grew when he moved to the US. He gained popularity through fights with Chris Jericho, Rey Mysterio, and many other great names. His nephew Chavo Guerrero also made a name under the guidance of his famous cousin, winning many titles along the way.
Now it's time for the members of the "Big Three" – El Santo, Blue Demon, and Mil Mascaras. Blue Demon became famous because of his rivalry with El Santo, while El Santo is a pop-culture hero and a comic character. Mil Mascaras used to be a box office sensation, and his acting skills played a big role in his rise to stardom.
The master of 619 Rey Mysterio is known for holding victories against extremely big dudes (for example, Big Show). He was always ready to fight anybody, any time, plus his technical aspect of the game and acrobatics played a great role in his rise to stardom. He later made the sport more popular by feuding with some other competitors.
The master of a lie, cheating, and stealing, the bad guy Eddie Guerrero is the all-time greatest Mexican wrestler. Unfortunately, he suddenly died, but his early death turned him into a living legend. He made his name through various organizations – WCW, WWE, and ECW.
The History Of Lucha Libre
The sport started to gain the first pieces of popularity in the 1900s, but it dates back to 1863, when the first luchador and a very important name on the list of legendary luchadores, Enrique Ugartechea, invented the sport inspired by Greco-Roman style.
Until the year 1933, the sport was known only regionally. Then Salvador Luterroth appeared and founded the Empresa Mexicana de Lucha Libre, which allowed competitors to take part in competitions everywhere.
The masked wrestlers also appeared in 1933. The first mask was seen when the wrestler El Ciclon McKey convinced his opponent Don Antonio Martinez to make a mask for the combat, which was a superb move widely accepted by the fans.
Don Martinez's store still exists. If you visit Mexico, ask someone for its location in its capital of Mexico City near Arena Mexico, it is a unique piece of history!
El Santo And The Golden Years Of Lucha Libre
The popularity of Lucha libre exploded in the 1950s and 1960s because of two reasons. The first one, the television has finally arrived, which enabled people all around the country to get to know the sport.
The second reason is the popular El Santo, who competed since 1942. This amazing competitor appeared at the Golden age of the sport, and participated in so many bouts but has never revealed his face to the public. Yet, he decided to do it in 1984, shortly before he died.
His trademark silver mask turned him into a superhero, and El Santo became a symbol of justice for the common person because he was immortalized in comic books and movies.
Very famous fighters of the Golden age are Gory Guerrero (he invented fun acrobatic moves), Mil Máscaras (the first revolutionary name among Mexican wrestlers known for high-flying moves), and of course, the greatest rival of El Santo – Blue Demon.
Where To Watch Mexican Wrestling In Mexico City?
There are many nice places where you can enjoy watching Lucha Libre wrestling events, but we're focusing on the three most popular luchador locations. You can buy tickets on the internet earlier or you can purchase them on the day of the event, depends on you.
Also, you cannot bring a camera, but your mobile is allowed. Be warned not to take the seats close to the action, as the fighters might spill out of the ring. And focus on the loud scene.
This is a unique opportunity if you ever visit Mexico City, I kindly advise you to enter the stadium and enjoy some of the best shows in the world. If you understand Spanish, it'll be awesome – from trash-talk to great stunts and aerials, this is one of the most spectacular shows on the planet. Now let's check the best venues for Mexican wrestling!
Arena México
Arena México is also a boxing event that hosts the PPV shows since 1956. It was built for boxing events in the 1910s and 1920s, but when it was abandoned, Salvador Luteroth started promoting Lucha libre and it was the beginning of a great run. Today, it is the most popular location in Mexico City for this purpose!
Arena Coliseo
An indoor arena in Mexico City with a capacity of 5.550 matches for professional wrestling combats. A great venue with a lovely history and a long tradition. Unfortunately, a few deaths happened in Arena Coliseo too.
Arena Naucalpan
This lovely venue hosted tons of shows since its opening in 1977. It is designed especially for wrestling fans, and it offers a capacity of 2.400 seats.
Female Wrestlers In Mexican Wrestling
Female Lucha libre is not as popular as the male one, but there are some notable female wrestlers to pay attention to. The most entertaining wrestling names on the female scene are Juana Barazza, Big Mami, Vicky Carranza, Estrellita, La Jarochita, Lady Afrodita, Lady Flamer, Princessa Blanca and others.
Ayako Hamada, Hiroka Yaginuma, and Xochiti Hamada are great Asian names that proudly raise the popularity of this sport too.
In WWE, there are way more female wrestlers as many transition from UFC, MMA, or other promotions. They tend to put celebrities to the new heights, while Mexican wrestling is more about creating lady wrestler behind the mask.