Martial arts films are a famous subgenre of modern action films that rely heavily on the philosophies of different martial arts.
They're really popular in Asian cinematography, with the Chinese market having a big impact on martial arts films in the world. [1]
But along with them, America's Hollywood also has its fair share of martial arts films, and a lot of these movies made stars out of certain actors and actresses.
Martial arts movies are sometimes unreal, but at least you can have fun. You can watch different martial arts styles against each other and see how, for example, a Tae Kwon Do guy uses his entertaining 360 kicks against a Wing Chun fighter with lightning-fast hands.
In this article, I am going to bring you a list of the most famous martial artists in Hollywood so enjoy the list and check out these great fighters, who were lucky enough to be exactly that, because their acting skills are… poor (at best)!
The list is ordered alphabetically, not by the popularity rank. These are the greatest martial artists of Hollywood.
Jackie Chan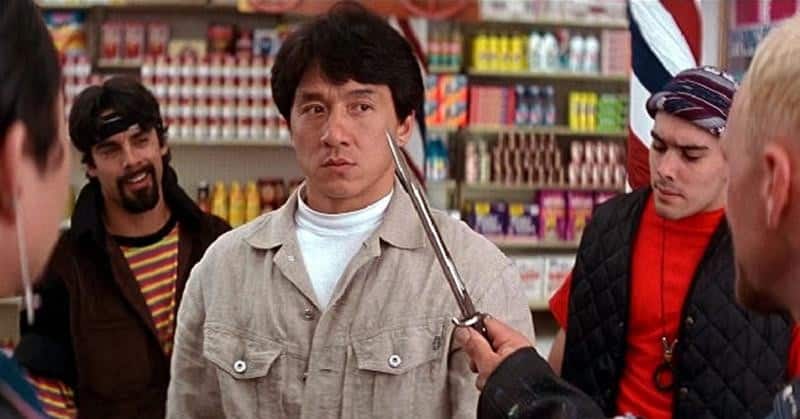 Birth: April 7, 1954
Martial arts practiced: Kung fu, Hapkido, Judo
Famous roles: Enter the Dragon (1973), Rush Hour trilogy (1998 – 2007), Kung Fu Panda franchise (2008 – 2016)
Chan Kong-sang (Chinese: 陳港生), known professionally as Jackie Chan, is a Hong Kong martial artist, actor, film director, producer, stuntman, and singer.
He is known in the cinematic world for his acrobatic fighting style, comic timing, use of improvised weapons, and innovative stunts, which he typically performs himself.
Jackie Chan has trained in Wushu or Kung Fu and Hapkido and has been acting since the 1960s, appearing in over 150 films.
Jackie Chan is known for very unique martial arts skills. You can see a lot of extraordinary moves and weapon skills, and his movies are some of the nicest to watch.
The majority of his skills come from northern Shaolin Kung Fu – take a look at his moves, stance, and striking fluidity. Kung fu is one of the greatest martial arts disciplines for movies, but its appliance in the street is questionable – some moves are simply too slow or unreal against a heavier dude.
Jackie Chan is one of the most recognizable and influential cinematic personalities in the world, gaining a widespread following in both the Eastern and Western hemispheres, and has received stars on the Hong Kong Avenue of Stars and the Hollywood Walk of Fame.
He has been referenced in various pop songs, cartoons, and video games.
Jackie Chan is an operatically trained vocalist and is also a Cantopop and Mandopop star, having released several albums and sung many of the theme songs for the films in which he has starred.
Also, Jackie Chan is a globally known philanthropist and has been named one of the top 10 most charitable celebrities by Forbes magazine.
Brandon Lee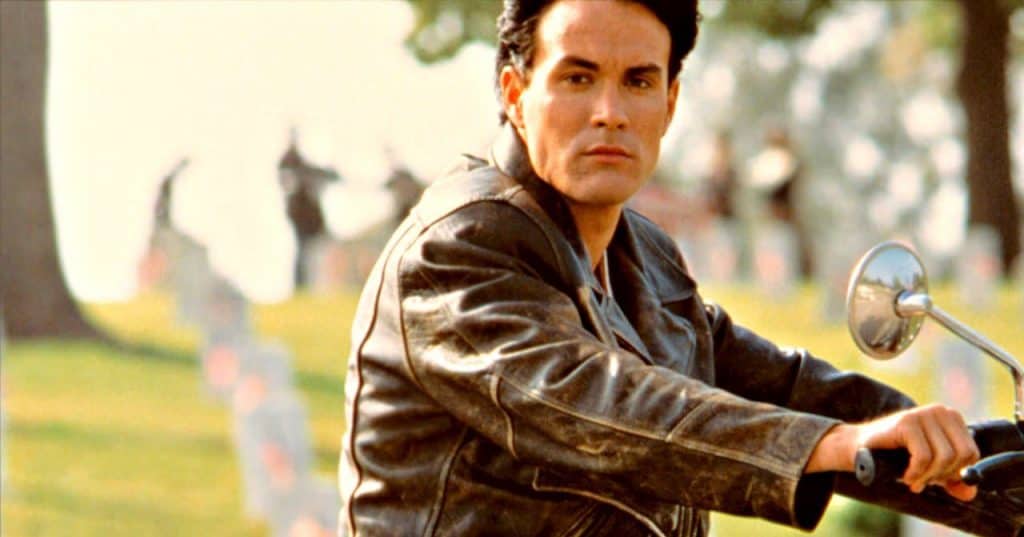 Birth: February 1, 1965
Death: March 31, 1993
Martial arts practiced: Kung fu (Jeet Kune Do, Wing Chun, Wushu), Muay Thai
Famous roles: Showdown in Little Tokyo (1991), The Crow (1994)
Brandon Bruce Lee was an American actor and martial artist. He was the only son of martial artist and film star Bruce Lee. Many like to joke around calling him a "white kung fu guy".
While his father was a major leading man in martial arts films, Brandon would visit his father's sets, which inspired him to become an actor.
Lee was 8 years old when his father died, becoming an iconic figure in both martial arts and martial arts films. Lee pursued his goal of being an actor.
Although he wanted to escape his father's image and become a dramatic actor, he hoped that acting in action films would eventually lead him to other types of roles. But martial arts cinema was simply his destiny, and Brandon did a really good job.
After doing local theatre for a while, Lee made his screen debut opposite David Carradine in the 1986 ABC television film Kung Fu: The Movie.
In 1992, he landed his most notable role as Eric Draven in Alex Proyas's The Crow (1994), based on the comic book of the same name, which would be his final film.
On March 31, 1993, only a few days away from completing the film, Lee was accidentally killed after being shot on the set by a prop gun.
Later, production resumed with the blessing of Lee's family. With very few scenes to film, The Crow was completed by re-writing the script, using early CGI technology and stunt doubles.
It was generally well-reviewed and considered to demonstrate Lee's dramatic abilities. It was a commercial success and is now considered a cult classic.
Many saw parallels between Lee and his father comparing their careers as action film-leading men who died young, before the release of their breakthrough film. Brandon Lee will be remembered as one of the most promising martial arts actors ever.
Bruce Lee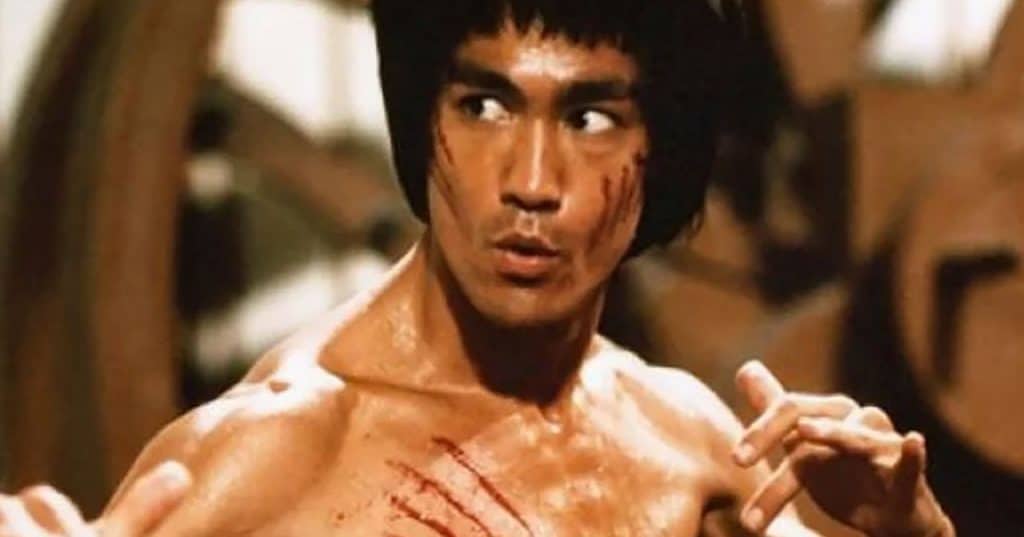 Birth: November 27, 1940
Death: July 20, 1973
Martial arts practiced: Kung fu (Jeet Kune Do, Wing Chun), hybrid martial arts
Famous roles: The Big Boss (1971), Fist of Fury (1972), Way of the Dragon (1972), Enter the Dragon (1973)
Lee Jun-fan (Chinese: 李振藩), known professionally as Bruce Lee (Chinese: 李小龍), was a Chinese American actor, director, martial artist, martial arts instructor, and philosopher.
He was the founder of Jeet Kune Do, a hybrid martial arts philosophy drawing from different combat disciplines that are often credited with paving the way for modern mixed martial arts (MMA).
According to many, Bruce Lee is the greatest martial arts film star the world has ever seen. Believe it or not, he used to be a ballet dancer before his martial arts journey.
Bruce Lee is considered by commentators, critics, media, and other martial artists to be the most influential martial artist of all time and a pop culture icon of the 20th century, who bridged the gap between East and West.
The son of Cantonese opera star Lee Hoi-Chuen, Lee was born in the Chinatown area of San Francisco, California, to parents from Hong Kong, and was raised with his family in Kowloon, Hong Kong.
He was introduced to the film industry by his father and appeared in several films as a child actor. Lee's martial arts journey was pretty interesting – he used to be a dancer and kick off late, but his passion for martial arts training had no limits.
Lee moved to the United States at the age of 18 to receive his higher education at the University of Washington in Seattle, and it was during this time that he began teaching martial arts.
He is noted for his roles in five feature-length martial arts films in the early 1970s. Lee became an iconic figure known throughout the world.
He trained in the art of Wing Chun and later combined his other influences from various sources into the spirit of his personal martial arts philosophy, which he dubbed Jeet Kune Do (The Way of the Intercepting Fist, also known as Jun Fan Gung Fu).
Lee died on July 20, 1973, at the age of 32. He is my favorite martial arts star and one of the most skillful fighters the world has ever seen.
I wish Lee took part in the UFC fight or other extreme martial arts challenges, he could've defeated some names. He is the only actor and martial artist to create his own style. His martial arts training and knowledge were way ahead of his era.
Jet Li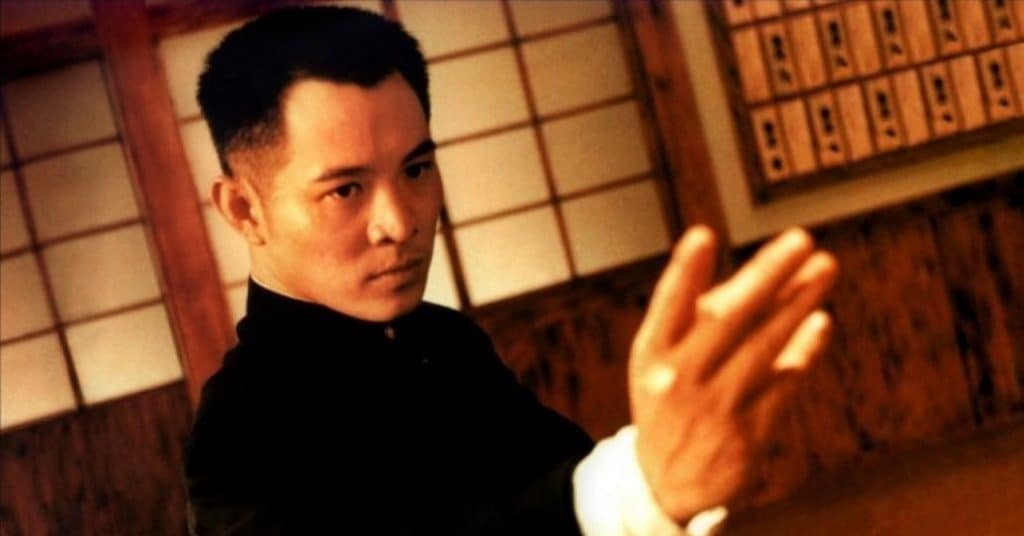 Birth: April 26, 1963
Martial arts practiced: Kung fu (Wushu)
Famous roles: Fist of Legend (1994), Romeo Must Die (2000), Hero (2002), The Expendables series (2010 – 2014)
Li Lianjie (courtesy name Yangzhong), better known by his stage name Jet Li, is a Chinese film actor, film producer, martial artist, and retired Wushu champion who was born in Beijing.
Jet Li is a naturalized Singaporean citizen. Jet is pretty much an accomplished martial artist – unlike many other Hollywood stars, he was winning tournaments.
After three years of training with acclaimed Wushu teacher Wu Bin, Jet Li won his first national championship for the Beijing Wushu Team.
After retiring from competitive Wushu at age 19, Jet Li went on to win great acclaim in China as an actor, making his debut with the film Shaolin Temple (1982). He went on to star in many critically acclaimed martial arts epic films.
Jet Li is known for fast hand techniques, leg kicks, and open palm strikes. His long stance helps him to defend against long-range strikes, but I believe he might have a hard time against a pro fighter inside the pocket. Martial arts choreography is way different than an MMA or kickboxing fight, and Jet would probably be vulnerable to leg kicks, but he could do well with a few modifications.
Chuck Norris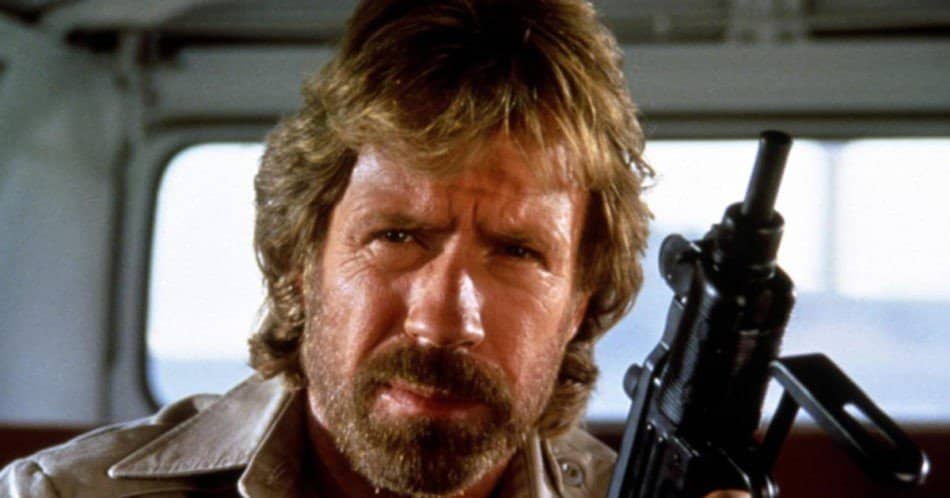 Birth: March 10, 1940
Martial arts practiced: Chun kuk do, Karate, Taekwondo, Tang Soo Do, Brazilian jiu-jitsu, Judo
Famous roles: Way of the Dragon (1972), Walker, Texas Ranger (1993 – 2001)
Carlos Ray "Chuck" Norris is an American martial artist, actor, film producer, and screenwriter.
After serving in the United States Air Force, Norris won many martial arts championships and later founded his own discipline, Chun Kuk Do. He is a very well-trained martial artist with a lot of experience in both striking and grappling.
Norris is a degree black belt in Tang Soo Do, Brazilian jiu-jitsu, and Judo.
Shortly after, in Hollywood, Norris trained celebrities in martial arts.
Norris went on to appear in a minor role in the spy film The Wrecking Crew (1969). A friend and fellow actor Bruce Lee invited him to play one of the main villains in Way of the Dragon (1972).
While Norris continued acting, friend and student Steve McQueen suggested to him to take it seriously.
Norris took the starring role in the action film Breaker! Breaker! (1977) which turned a profit.
His second lead Good Guys Wear Black (1978) became a hit, and Norris became a popular action film star. Throughout his film and TV career, Norris diversified from his regular endeavors.
He is a noted writer, having penned books on martial arts, exercise, philosophy, politics, Christianity, western novels, and biography.
To this day, Chuck Norris remains one of the greatest martial arts movie stars the world has ever seen. I suggest you take a look at his role in Walker: The Texas Ranger, you'll also notice Krav Maga weapon defense moves and a variety of Tae Kwon Do long-range kicks as a lethal weapon.
To me, he is also one of the most authentic martial artists the world has ever seen. I believe he'd have good chances in a mixed martial arts bout. I believe Chuck Norris deserves a special spot as a martial arts Hall of Famer!
Cynthia Rothrock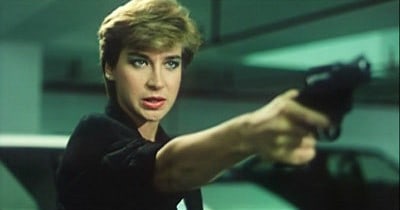 Birth: March 8, 1957
Martial arts practiced: Tang Soo Do, Taekwondo, Karate, Kung fu (Wushu, etc.)
Famous roles: Righting Wrongs (1986), The Inspector Wears Skirts (1988), China O'Brien and China O'Brien II (1990),
Cynthia Ann Christine Rothrock is an American martial artist and actress in martial arts films.
Rothrock holds black belt rankings in seven styles of martial arts and was a high-level competitor in martial arts before becoming an actress.
If you closely analyze her moves, you'll notice a mixture of Tae Kwon Do and Chinese martial arts. She holds black belts in many styles, including Northern Shaolin kung fu and Eagle Claw.
I believe she is one of the most well-rounded female martial arts stars of her era. In the 2010s and 20s, everything turned commercial, so former UFC stars get a shot to participate in Hollywood fight choreography, so she can't be more skilled than, for example, Holly Holm or Cris Cyborg. But the was a true actor and martial artist back in the 1980s and 90s!
Steven Seagal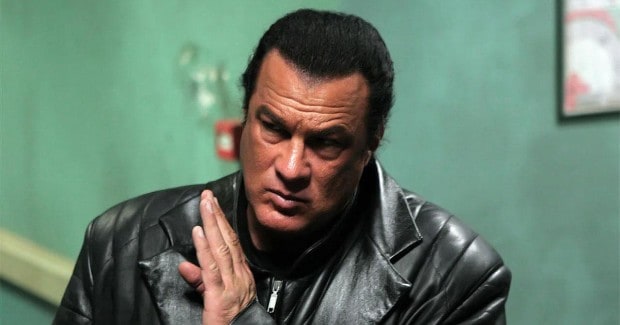 Birth: April 10, 1952
Martial arts practiced: Aikido, Judo, Karate, Kendo
Famous roles: Under Siege (1992), The Patriot (1998)
Steven Frederic Seagal is an American actor, producer, screenwriter, martial artist, and musician who holds American, Serbian, and Russian citizenship. Seagal was born in Lansing, Michigan.
A 7th-dan black belt in Aikido, he began his adult life as a martial arts instructor in Japan, becoming the first foreigner to operate an Aikido dojo in the country.
He later moved to Los Angeles, California, where he had the same profession.
In 1988, Seagal made his acting debut in Above the Law. By 1991, he had starred in four successful films.
Seagal is a guitarist and has released two studio albums. In addition, Seagal is a known environmentalist, animal rights activist, and supporter of 14th Dalai Lama Tenzin Gyatso.
Steven Seagal is known for some of the most realistic defensive fight scenes. He takes down Kyokushin Karate and Goju Ryu karate guys, and armed thugs in a variety of his movies. Seagal waits for the attack, then mostly counters with a leg or hand grab and a takedown.
He is known for his outspoken political views and support of Vladimir Putin, to whom he once referred as "one of the great living world leaders".
Jean-Claude Van Damme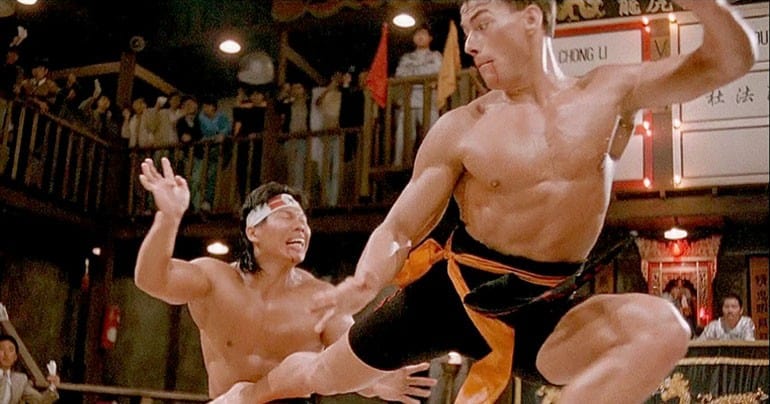 Birth: October 18, 1960
Martial arts practiced: Karate, Kickboxing, Muay Thai, Taekwondo
Famous roles: Kickboxer (1989), Lionheart (1990), Death Warrant (1990), Double Impact (1991), Universal Soldier (1992), Timecop (1994)
Jean-Claude Camille François van Varenberg, known professionally as Jean-Claude van Damme and as JCVD, is a Belgian actor and retired martial artist best known for his martial arts action films.
His most popular projects include Bloodsport (1988), Cyborg (1989), Kickboxer (1989), Lionheart (1990), Death Warrant (1990), Double Impact (1991), Universal Soldier (1992), Nowhere to Run (1993), Hard Target (1993), Timecop (1994), Street Fighter (1994), Sudden Death (1995), The Quest (1996), Maximum Risk (1996), JCVD (2008), Jean-Claude van Johnson (2016–2017 series) and The Bouncer (2018).
Jean Claude Van Damme is the best Muay Thai warrior to ever participate in the movie. He controls the central line, lands heavy body kicks, and copycats the Thai boxer's stance.
Interestingly, Jean Claude Van Damme used to be a national champion in Muay Thai before kicking off his Holywood career.
My favorite scene with Jean Claude Van Damme is from Bloodsport, where he forced destroys Bolo Yeung in the tournament finals to avenge his friend's loss and forces the dangerous Korean striker to tap out.
Michael Jai White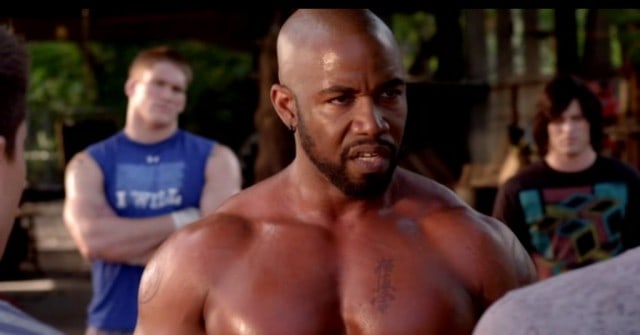 Birth: November 10, 1967
Martial arts practiced: Karate, Jujutsu
Famous roles: Spawn (1997), Tyson (1995), Black Dynamite (2009)
Michael Richard Jai White (born November 10, 1967) is an American actor, martial artist, and director.
He is one of the first African Americans to portray a major comic book superhero in a major motion picture, having starred as Al Simmons, the protagonist in the 1997 film Spawn.
White appeared as Marcus Williams in the Tyler Perry films Why Did I Get Married? and Why Did I Get Married Too?, and starred as the character on the TBS/OWN comedy-drama television series Tyler Perry's For Better or Worse.
White portrayed Jax Briggs in Mortal Kombat: Legacy and the Cyborg Seth in Universal Soldier: The Return. He portrayed boxer, Mike Tyson, in the 1995 HBO television movie Tyson.
He also played the title role in the blaxploitation parody film Black Dynamite, as well as the animated series of the same name.
Michael Jai White is focused on Kyokushin Karate and Shotokan Karate – big powerful one-shot punches and technical leg and body kicks. He likes to stay away from the central line and change angles. I wish mixed martial arts existed when he was young, he could've been a new Lyoto Machida!
Donnie Yen
Birth: July 27, 1963
Martial arts practiced: Jeet Kune Do, Boxing. Kickboxing. Muay Thai. Taekwondo. Hapkido. Judo. Brazilian Jiu-Jitsu, Kung fu (Wing Chun, Tai Chi, Hung Ga, Sanda), Karate, Wrestling
Famous roles: Ip Man series (2008 – 2019), Rogue One: A Star Wars (2016)
Donnie Yen Ji-dan (Chinese: 甄子丹) is a Hong Kong actor, martial artist, film director, producer, action choreographer, stuntman and multiple-time world wushu tournament champion.
Yen has displayed skill in an array of martial arts, being well-versed in Tai Chi, boxing, kickboxing, Jeet Kune Do, Hapkido, Taekwondo, Karate, Muay Thai, Wrestling, Brazilian Jiu-Jitsu, Judo, Wing Chun, and Wushu. He trained in a variety of martial arts disciplines, which makes him suitable for all kinds of martial arts cinema roles.
Donnie Yen is one of the leading names in Hong Kong cinema. He can be a drunken master or a praying mantis kung fu expert, depending on the movie's needs.
One of the most popular film stars in Asia of the early 2000s, Yen is consistently one of the highest-paid actors in Asia.
Yen is credited by many for contributing to the popularisation of Wing Chun in China.
He played Wing Chun grandmaster Ip Man in the 2008 film Ip Man, which was a box office success.
This has led to an increase in the number of people taking up Wing Chun, leading to hundreds of new Wing Chun schools being opened up in mainland China and other parts of Asia.
He has also gained international recognition for playing Chirrut Îmwe in Rogue One: A Star Wars Story (2016) and Xiang in xXx: Return of Xander Cage (2017).
Michelle Yeoh
Birth: August 6, 1962
Martial arts practiced: Kung fu
Famous roles: Tomorrow Never Dies (1997), Crouching Tiger, Hidden Dragon (2000), Memoirs of a Geisha (2005), Reign of Assassins (2010), The Lady (2011), Crouching Tiger, Hidden Dragon: Sword of Destiny (2016), Star Trek: Discovery (2017)
Michelle Yeoh Choo-Kheng is a Malaysian actress who rose to fame in 1990s Hong Kong action films and is best known internationally for her roles in the James Bond film Tomorrow Never Dies (1997) and martial arts film Crouching Tiger, Hidden Dragon (2000), along with recent international English films and series.
She has appeared in many English, Mandarin, and Cantonese language films. Her martial arts skills are excellent, Michelle is very good at defensive maneuvers and counters.
Her other works include Memoirs of a Geisha (2005), Reign of Assassins (2010), Crouching Tiger, Hidden Dragon: Sword of Destiny (2016), Star Trek: Discovery (2017), and The Lady (2011), in which she portrayed Aung San Suu Kyi.
In 2018, she starred in the American romantic comedy-drama film, Crazy Rich Asians.
She has also co-starred in the 2018 film Master Z: The Ip Man Legacy and the 2019 film Last Christmas.
And now it's time for some honorable mentions! Tony Jaa became extremely popular during the filming of Ong Bak, but he was so unhappy during the movie recording that he chose to withdraw from the public scene and briefly retreated to a Buddhist monastery in Surin, Thailand.
Also, the most popular martial arts British actor is Jason Statham – I suggest you check his name. And don't forget the Karate Hall of Famer, an actor, and martial artist from Orlando, Florida – Wesley Snipes! Plus, check out my favorite Taekwondo fighter – Scott Adkins, known by the Yuri Boyka role!
And… we've come to the end of the list!
Also, when it comes to martial arts and Hollywood, check out my list of best martial arts movies of all time.