Mixed Martial Arts training requires endurance and strength for rigorous training. However, your training equipment is the most important because it protects you during classes. It is easy to get injured with MMA. Training equipment minimizes injury and makes your training more enjoyable.
If you are considering starting MMA training or you have started training, you should invest in good training equipment. In this article, we have made a list of the top training gear for MMA training.
1. MMA Gloves
MMA gloves protect your hand and wrist during training. They are made from the same material as boxing gloves but are lighter. Its weight is usually between 4 to 6 ounces because they have less padding, but they still provide adequate protection for the knuckles. If you are looking for training gloves for heavy bags, MMA gloves are not suitable because of the lighter padding.
If you need a comprehensive guide to selecting the perfect MMA gloves and understand their difference from boxing gloves, consider reading Best MMA gloves: Elevate your performance with the right gear. This invaluable tool will provide you with my firsthand experience as a professional martial arts fighter, helping refine your choice based on years of practical use.
Before you buy MMA gloves, you should consider the material and durability of the gloves. Go for gloves made from high-quality materials to avoid them falling apart after a short period. The gloves should fit a little loosely around your wrist. If your gloves are too tight, you won't be able to wear inner gloves/hand wraps for additional protection and moisture absorption. Standard MMA gloves should also include wrist protection.
RDX MMA Gloves Grappling Sparring
Featuring tri-slabbed PC3 padding for effective impact dispersion, these gloves provide optimal support to your hands and fists. The pre-curved design reduces strain and allows better focus on grappling technique. Crafted with resilient Maya Hide leather and reinforced stitching, these gloves ensure durability and performance. The dual Quick-EZ hook-and-loop closure offers enhanced wrist support for stronger strikes. With a ventilated and sweat-wicking design, these gloves keep you comfortable and provide optimal grip during groundwork.
Pros
Effective hand protection, preventing abrasions and bruises
Allowing for extended use without discomfort
Versatility
Secure wrist wraps
Affordable price
Cons
May feel uncomfortable in closing hands fully while wearing the gloves
2. Sparring Gloves
Sparring Gloves have more padding than MMA gloves and are designed for use with heavy bags. They are heavier and give your hand more protection during heavy bag training. They are made from the same material as MMA gloves; a standard sparring glove weighs around 14 to 16 ounces.
Before you select sparring gloves for your MMA training, consider the quality and durability of the glove. Sparring gloves made from low-quality material will not last for a long period. They should fit snuggly around your wrist, not too tightly or loosely.
Sanabul Essential 7 oz MMA Hybrid Sparring Gloves
Designed for athletes seeking professional gear at great value, these gloves are trusted by UFC Champion Michael Bisping. They provide optimal hand protection for striking and offer modest dexterity for grappling. Crafted with Performance Engineered Leather, they are durable, easy to clean, and made to last. With an innovative hook and loop closure system, these gloves stay securely in place throughout training sessions.
Pros
Minimal padding allows to make full fist and strengthen their knuckles and wrists during heavy bag training
Fit and comfort
Feel secure during sparring sessions
Affordable price
Versatility for striking and grappling
Wrist support
Cons
The stitching around the thumb may come undone after limited use
3. Mouthguards
Mouthguards are designed to protect your mouth area, in short, they prevent your teeth from getting knocked out during training. They help to reduce the impact of hits landed on the jaw area by aligning the jaw in the best possible way.
There are several designs and quality mouthguards available. Innovations are used to manufacture newer designs of mouth guards to give them added functionality. If you are starting with MMA training, you should go for the standard soft mouth guard designed for use with headgear. As you progress further with your training, you can ditch those and go for more innovative designs that allow better chin movement.
Venum Challenger Mouthguard
The Venum Challenger Mouthguard is perfect for comfortable adjustment, protection and breathability. Its Nexfit Gel Frame ensures a perfect fit, while the advanced design allows for optimal breathing during fights. The High Density Rubber Frame effectively manages top-notch shocks and provides top-level protection. With a protective case included, hygiene is prioritized, while you prevent and reduce injuries to teeth, arches, lips, joint, jaw and gums.
Pros
Comfort and gel cushioning
Easy molding process, quick to adjust and stays in place
Good value for the price
Effective protection
Durability
Cons
Bulkiness, may have to be removed to talk

Check sizing twice
4. Rash guards
MMA training can be abrasive against the skin, so you need protection against abrasion. A rash guard shirt protects the upper body against friction burns during training. It will also help to keep finger and nail marks away.
Rash Guards are available in long and half sleeves options, so you can choose the option you are most comfortable with. Rash guards have a compression fit to help reduce muscle soreness during training. You don't even need to buy compression fit separately.
Sanabul Essentials Short Sleeve Compression Training Rash Guard
Designed to feel premium without breaking the bank, this rashguard offers a classic and uncluttered style. With a classic, uncluttered style and IBJJF legality, it fits right in whether you're a beginner or upgrading your look. Tested by pros, this rash guard exudes the same grit as you. With ventilated mesh and four-way stretch fabric, it's the cleanest and most functional choice for any martial art.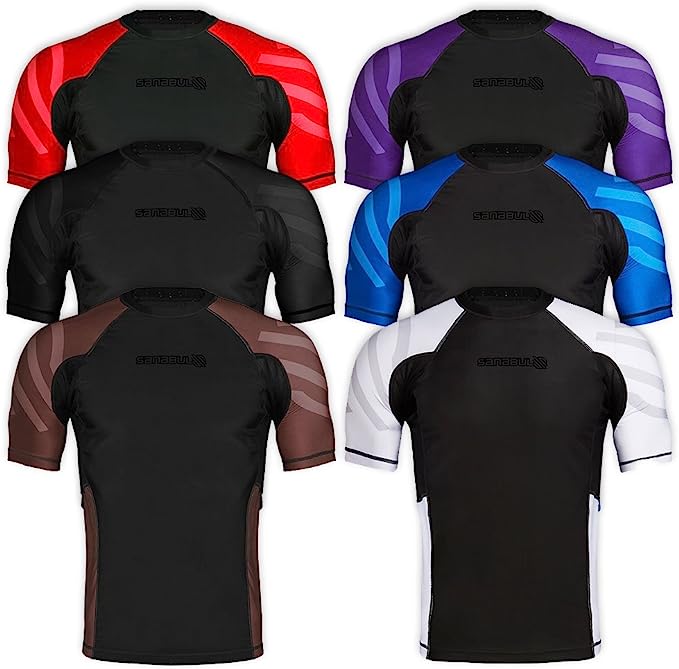 Pros
Affordable
The material is nice and thick, allowing for stretch while maintaining durability
Breathability
Effective arm compression
Sanabul Essentials Long Sleeve Compression Rash Guard
Designed to feel and perform like a premium product, this rash guard offers a classic, uncluttered style that fits right in from your first day to advanced levels. The mesh lining and gradual compression ensures agility, ventilation, and unrestricted movement. With added UV SPF 50 protection, it's perfect for various activities, whether it's the mat or the outdoors.
Pros
Comfortable and protective
Good quality
Provides protection for forearms and elbows during training and rolling sessions
Great value for its price, considering its durability and performance.
Breathability
Cons
Fit may feel too tight or too loose, especially in the chest and shoulder areas
Neck tightness
5. Training Shirt
A training shirt can be used with a rash guard for more protection during MMA training. However, if you are starting MMA or if you are on a tight budget, you can use just the training shirt. Training shirts are available in several designs and colors to choose from.
Ensure that you choose a training shirt made from high-quality materials to minimize abrasion from rubbing the material against your body. Your training shirt should be fitted around your body.
Under Armour Men's Tech 2.0 Short-sleeve T-shirt
Made with UA Tech fabric, it offers a quick-drying, ultra-soft, and natural feel. The material effectively wicks sweat, ensuring fast drying. With its new streamlined fit, shaped hem, and loose, fuller cut, this t-shirt provides complete comfort during your workouts.
6. Ear Guards
Ear guards are worn to protect the ear from the impact of blows and kicks during training. The impact of kicks and blows can rip or tear the ear during training; which can lead to permanent or temporary deafness. Apart from impact protection, the ear guard protects you from cauliflower.
Cauliflower ear occurs when blunt trauma to the ear causes inflammation and blocks blood flow. Ear guards are available in different styles and designs to choose from. Regardless of what design you are going for, make sure you get ear guards of high quality. If you are on a tight budget, you can borrow from the gym until you can afford one.
Venum Kontact Evo Ear Guard
Made of neoprene, this ear guard provides excellent comfort and flexibility. The three-way enclosure system ensures a perfect fit and allows you to easily adjust the size. With high-density foam, your ears will be well-protected during intense training sessions.
Pros
Durabile even after frequent use over an extended period
Comfortable to wear
Minimal shifting
Easy to use and adjust
Suitable protection for beginners or younger people
Cons
Chin strap a little too long
Strap durability
7. Headgear
Headgears offer full protection for the head and are a must-have if you would be grappling. They absorb and reduce the impact of blows to the head during MMA training. Most headgears have ear guard protection features, so you don't need to buy ear guards separately.
Headgears are available in different styles for different purposes. The most common type is the open face headgear. There is padding around the head for impact absorption but the face and chin are left open. It allows for easier breathing and more head movement than the full-face headgear. Some headgears offer optional full-face protection; these types cover the face fully. These types of headgear are ideal for beginners and some MMA training.
Your head is the most important part of your body, so you have to invest in its protection. I am using RDX Headguard, and even though it is a bit more expensive than some other brands, they offer excellent protection and are very durable, lightweight, and comfortable. This is not a part of the equipment where you should save money. Also, these headguards protect your ears, so you don't have to buy ear guards separately.
Made of premium Maya Hide Leather, this headgear refuses to split, fray, or tear, ensuring long-lasting resilience. CE-certified and ideal for various combat sports, it features tri slabs of attenuating foam for excellent absorption. The Quick EZ hook and loop strap provides a secure and adjustable fit, while the PVC grill minimizes strikes without disturbing your vision. With the EVA Lution sheet and foam layer support, this headgear delivers uniform impact resistance.
Pros
High-quality materials

Comfortable
Good protection
Works well for beginners to build confidence
Good value for the price
8. Cup/Groin Guard
Cup is also referred to as the Groin Guard, designed to protect the groin area. There is a lot of kicking, boxing, and grappling involved in MMA, and at a point, some kicks might stray and hit you in the groin area. Just imagine how painful that would be, so it is best to protect against stray kicks.
Cups are fitted with elastic straps with a removable cup for protection. Higher quality cups are padded in the front and back to resemble a helmet and will absorb more impact. Pro-style competition groin guard is fully made of soft foam wrapped in vinyl.
Diamond MMA Athletic Cup Groin Protector & Compression Shorts
This complete groin protective gear offers unparalleled protection without compromising on comfort, making it the ideal choice for athletes seeking reliable groin protection. Crafted with premium materials, including military-grade elastics and spandex, these compression shorts feature a high-performance 4-strap jock system that securely holds the specially designed athletic cup in place. The patented cup pocket prevents both lateral and vertical movement of the cup, ensuring maximum stability and protection during intense sports activities. With its adjustable drawstring closure and custom fit, this groin protection system ensures a secure and comfortable experience for athletes of all levels.


Pros
The compression shorts effectively hold the cup in place during training
Comfortable fit, allowing for easy movement
Reliable protection
Durable construction, long-lasting option for intense physical activities
Easy insertion and removal of the cup
Shock Doctor Jock Strap Supporter with BioFlex Cup
This Shock Doctor Jock Strap Supporter shields and transfers shock away from crucial areas. The four-way stretch mesh and comfort waistband ensure a perfect fit without irritation. The vented bio-shape cup provides optimal coverage while allowing unrestricted movement. With the included BioFlex Cup and easy cup removal for machine washing, this supporter is perfect for sports where protection is paramount.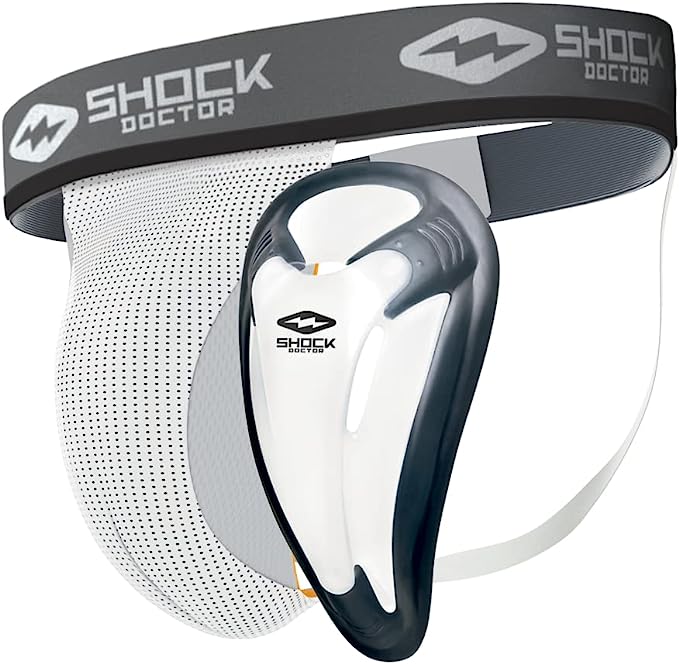 Pros
Excellent protection against groin kicks and impacts
Comfortable fit and lower profile of the cup, which provide greater mobility and ease of movement
Snug and secure fit
Affordable
9. Shin Guard
Kicking is a major part of MMA training and those strikes without protection can be very painful, especially if you are training with heavy bags. Shin guards provide padding for your shin and the top of your foot.
Standard shin guards have similar padding and protection as the MMA gloves. There is little to no difference between the protection offered by several shin guard designs. The most important thing is to get the fitting of your shin guard right. That depends mostly on your height and shin length. Ensure you take the correct measurement and compare it to the standard table to the best fit for you.
These professional-grade shin guards are handcrafted using premium Skintex leather. Their lightweight design and almost perfect ergonomic fit ensure unrestricted movement and superior comfort. Reinforced in critical areas, they provide enhanced shock absorption for maximum impact effectiveness. The multi-layered high-density foam offers exceptional absorption and increased safety during intense training. The large Velcro straps allow precise and secure fastening, while the elastic bands under the heel and foot prevent unwanted shifting.
Pros
Great quality and durability
Excellent padding
Comfortable and lightweight
Effective protection
10. MMA Shorts
You can use your normal short for MMA training but it probably won't last through the first training before it rips apart. MMA shorts are designed specifically to withstand the rigors of MMA training. They are made from durable fabric with strengthened stitching, stretchability, and closure system.
Although MMA shorts are more expensive than normal shorts, they save you more money from having to buy new shorts periodically.
Highly functional and form-fitting, these shorts are designed to meet all your needs. Their classic, uncluttered style and iconic Sanabul logo ensure you fit right in at the gym. With open seams and four-way stretching, they offer excellent range of motion and prevent fabric from getting caught during grappling. Reinforced stitching and seam protection make them durable, while the secure hook and loop closure system keeps them securely in place.
Pros
Comfortable
Good fit, true to size
Affordable
Durable
Cons
Velcro issues, such as tearing or causing damage to other clothing in the wash