There were many big punch knockouts in boxing history, and this topic will focus on the most entertaining areas of punch and events that happen once a fist initiates a contact with the head.
What Is A Knockout In Boxing Called?
A knockout is when a fighter becomes unconscious from a strike with a sufficient power.
How does A Knockout Punch Work?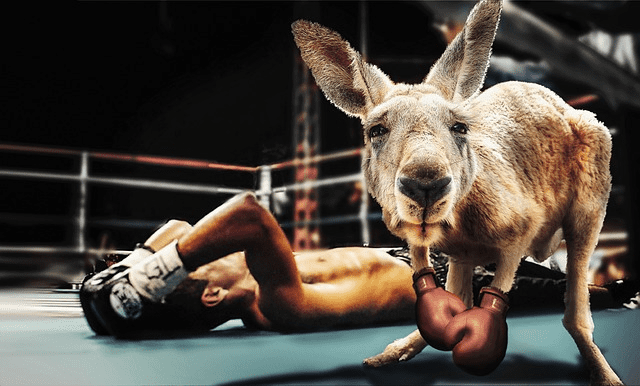 It typically happens due to a hook to the hook or an overhand to the jaw that forces the head to rotate in the horizontal plane. Uppercuts and straight punches rarely cause unconsciousness.
Is A Knockout In Boxing A Win?
Yes, this is what boxing fans love to see the most, especially when it is a first round KO.
What Is The Shortest Fight In History?
According to Guinness world records, the fastest boxing knockout happened in a Golden Gloves tournament in May 1947, when Mike Collins floored Pat Brownson in four seconds.
Golden Gloves Tournament Knockout
The left hook landed clean on the chin. The fighter was unable to continue the fight after.
Top 10 Quickest Boxing Knockouts
There were many top-notch stoppages in boxing history, and here are the ten fastest knockouts ever:
Nigel Benn floors Leon Morris – the aggressive start of Morris got countered by a massive left hook;
Nigel Benn vs Ian Chantler – early big right – KO with a first punch;
Mike Tyson vs Dan Cozad – ferocious finish of the future champ;
Jimmy Thunder vs Crawford Grimsley – 13-second wipeout;
Gerald McClellan vs Jay Bell – 20-second demolition;
Chris Eubank vs Reginaldo dos Santos – lightning-fast 20 seconds of punishment;
Prince Naseem Hamed vs Said Lawal – boxing title fight lasted only 35 seconds;
Bernard Hopkins vs Steve Frank – big right hand, 15-second KO;
Jeremy Williams vs Arthur Weathers – the fastest boxing knockout I've seen live – only 10 seconds were needed;
Sechew Powel KO's Cornelius Bundrage – what a barrage, three punches led to three knockdowns and a stoppage.
Which Boxers Have The Most Wins By Knockout?
Sometimes there was no medical suspension, so according to the Guinness world records, old-school boxers are at the top of the list:
Buck Smith (121 KO/TKO's);
Sam Langford (126 KO/TKO's);
Young Stribling (129 KO/TKO's);
Archie Moore (132 KO/TKO's);
Billy Bird (139 KO/TKO's).
Mike Tyson's 5 Fastest Knockouts
Mike Tyson was a savage and a master of first round knockouts – here are the best of them according to Guinness world records:
K.O. In 39 Seconds: Tyson floored Ricardo Spain with a big clinch punch;
K.O. In 39 Seconds: Michael Johnson went down like a wrecking ball;
K.O. In 38 Seconds: a big left hook hit Lou Savarese, but the referee waved off the contest too late;
K.O. In 37 Seconds: Robert Colay goes down after a big left;
K.O. In 30 Seconds: Marvis Frazier survived one of the fastest ko's.
Quickest Female Knockout: Unbeaten Destroyer Seniesa Estrada Stuns The World With Fastest KO In Boxing History
Seniesa Estrada delivered the fastest knockout in boxing (female) when she destroyed Miranda Adkins in a fight that lasted only 7 seconds!
Shortest Heavyweight Title Fights
Here are the fastest stoppages in a boxing title fight:
Mike Tyson vs Michael Spinks, June 27th, 1988, 1:31 – fastest knockout in a title fight;
Lamon Brewster vs Andrew Golota, May 21st, 2005, 0:52;
Tommy Burns vs Jem Roche, March 17th, 1908, 1:28;
Joe Frazier vs Dave Zyglewicz, April 22nd, 1969, 1:36;
Joe Louis Vs Max Schmeling, June 22nd, 1938, 2:04.
The 5 Hardest Hitters of All Time
George Foreman
It wasn't long ago before George Foreman was considered the hardest-hitting hillbilly in boxing. He was KO'ing people in his mid 40s.
Deontay Wilder
Deontay Wilder, with a 95% of knockout rate, won so many bouts via stoppage.
Earnie Shavers
Shavers' legendary right hand destroyed many big names.
Rocky Marciano
An undefeated boxer was known for lethal strikes and knockout power in his fights.
Honorable Mention: Lennox Lewis
One and only lefty on the list, known for powerful left straight and uppercut.
Top 10 Fastest KOs In UFC History
Here is the list of the fastest UFC stoppages:
10. Gray Maynard (0:09) vs. Joe Veres – the powerful left hand for the good UFC night;
9. Makwan Amirkhani (0:08) vs Andy Ogle – big early flying knee;
8. Leon Edwards (0:08) vs. Seth Baczynski – big left the match's over;
7. James Irvin (0:08) vs. Houston Alexander – Superman punches are dangerous for a reason;
6. Don Frye (0:08) vs. Thomas Ramirez – the fastest knockout in the old-school UFC era;
5. Ryan Jimmo (0:07) vs. Anthony Perosh – Jimmo knocked him out cold with a big right;
4. Chan Sung Jung (0:07) vs. Mark Hominick – "The Korean Zombie" knocked out his opponent brutally;
3. Todd Duffee (0:07) vs. Tim Hague – Duffee knocked Hague out with a big lead hand strike;
2. Duane Ludwig (0:06) vs. Jonathan Goulet – one of the most brutal knockouts in round 1;
1. Jorge Masvidal (0:05) vs. Ben Askren at UFC 239 – as soon as the bell rang, Jorge floored Ben with a big flying knee for the fastest knockout ever.
Science Of A Knockout In Boxing
Each big punch could lead to concussions, and with every single blow to the head, you get closer to the state of darkness.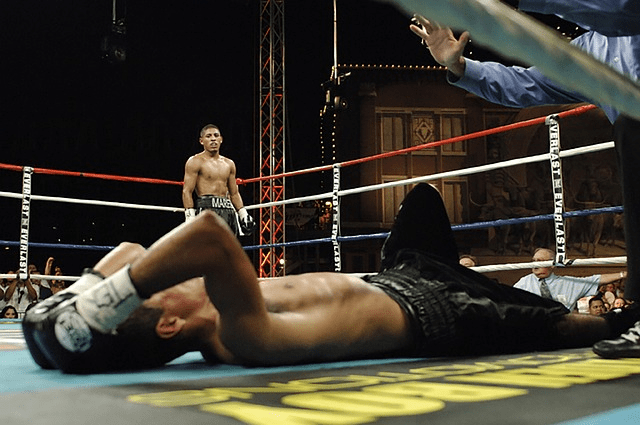 How Can A Punch Knock You Out?
The punch must hit the sweet spot on the side of your chin or another sensitive area, like, for example, the temple.
A History Of Knockouts
A throughout who suffered more knockouts throughout a career is under a bigger risk from problems like Parkinson's disease in the later stages of his life.
Symptoms Of A Punch
Boxer's feet and lack of coordination are the first symptom that he's rocked. A fighter loses the ability to walk when neural networks that emanate from the cerebellum are disrupted by a concussion.
When he wobbles, or cannot control his feet anymore, he's one strike, or eventually two knockdowns from the finish.
The Biomechanics Of A Knockout
The fighter starts to lose control over his voluntary movements first, then simply falls to the canvas like a board.
The Convulsive Hypothesis
Here is what exactly happens – the body contains dissolved potassium, sodium, and calcium; which conduct impulses through neurons. Every time a fighter eats a shot, calcium rushes in into the cell while potassium leaves it and destabilizes the electrolyte balance. The brain does what he can to bring this state back to normal.
The balance gets harder and harder to maintain with each successive hit. More and more energy is wasted. When the body cannot repair the damage anymore, the brain shuts down to fix injured neurons later.
Vascular Hypotheses
The heart must supply more blood to the brain when it's under rapid fire. When the heart fails to pump the blood through the veins due to a damage, the brain shuts down.
As one delves into the intricate world of punch knockouts, an important accompaniment to consider is the gear worn by fighters – particularly the boxing gloves. The choice of gloves can significantly impact the outcome of a match, and for women in combat sports, finding the right pair can be a challenging endeavor. That's why we have expertly reviewed the boxing gloves for women options available on the market to aid your pursuit.