In MMA's contact sport, there are numerous pieces of equipment designed to prevent any irreversible damage to the fighter. One of the essential pieces of equipment is a groin protector, and the Diamond MMA Cup is one of the most popular ones. Today this article will answer one of the frequently asked questions of 'how to wear a diamond MMA cup?'
Equipped with a 4-strap locking system, the way to put on a Diamond MMA Cup is the same as any other cup. You have to slide each leg in one of the leg straps and pull the jockstrap to your waist. After safely tucking your genitals in the pouch and the pouch in the jockstrap, you will be ready to go.
The Diamond MMA Cup is a multi-purpose groin protector which has taken the athletic world by a storm. Its growth in popularity is not unwarranted, and we will be discussing all aspects of the Diamond MMA Cup in this article, so let's start!
What is a Diamond MMA Cup?
Diamond MMA is a company that manufactures high-quality athletic equipment specializing in MMA and contact sports-based equipment. The Diamond MMA Cup is one of their most popular products. Not only is the Diamond MMA Cup perfect for MMA, but it has also been tested in various other settings to deduce its effectiveness. This groin protector has been tested in law enforcement, security and sports like baseball, football, hockey, soccer and lacrosse.
The inspiration to design this advanced and effective groin protector stemmed from frustration with the market. Diamond MMA was tired of seeing absolutely no advancement in the athletic cups and groin protection systems in the athletic world. What caused the frustration was that groin protection is one of the most important aspects of any sport. Even after multiple athletes complained about cups being uncomfortable, no company took the initiative to innovate.
This is why Diamond MMA decided to develop a design that significantly boosted comfort and maintained protection. Diamond MMA collectivized a highly capable team of world-renowned industrial engineers and got to work on a safe and comfortable groin protector design. After going through hundreds of prototypes and thousands of testing hours, they finally came up with the Diamond MMA Athletic Cups. Diamond MMA has such strong faith in their groin protectors' quality that they have declared it as the most comfortable yet effective athletic cup in the market.
Review of Diamond MMA Cup
We bet that if you are a true MMA enthusiast, you are already interested in knowing more about the Diamond MMA Cup after hearing its origin story. Irrespective of why the cup was created, what matters most is whether or not it's effective.
The specifications of the Diamond MMA Cup are truly mindblowing as they have considered every aspect of what a groin protector needs to have. Designed with a 4-strap locking system if utilized with a Diamond MMA compression short or jockstrap, the Diamond MMA Cup guarantees sturdiness. No matter what gets thrown at your crotch, whether it be a kick by Connor McGregor or a soccer ball shot by Cristiano Ronaldo, the protector will stay in place. What truly makes this characteristic of the Diamond MMA Cup worth mentioning is that this is the first compression jock and athletic cup that offers complete groin coverage and zero shiftings.
Simultaneously the cup is also designed to allow maximum mobility and comfort. Not only will you be able to train for hours without sacrificing mobility, but you will also do it without having a cup that is irritating your skin. This groin protector also makes sure that your genitals have enough room to breathe without sacrificing its utility.
As far as the protection this cup provides is concerned, it is top-notch. The Diamond MMA Cup is designed to divert the impact and cushion of the remaining impact using the rubber in its design. This dual protection ensures your safety no matter which sport you are partaking in. Furthermore, the string rubber lining also allows the cup to adjust as per the shape of your groin, which results in a sharp decrease in the likelihood of chafing and skin irritation.
It doesn't matter if you are a teenager partaking in MMA or you are a Muay Thai veteran, the Diamond MMA Cup is available in both adult and youth sizes. Not only that, but the Diamond MMA also offers a lifetime guarantee for its athletic cups, which is unlike most athletic equipment companies.
Made from premium materials, this complete groin protective gear ensures maximum comfort without compromising on effectiveness. The innovative 4-strap jock system keeps the specially designed athletic cup securely in place, preventing any unwanted movement. Perfect for high-impact sports and combat disciplines like MMA, Muay Thai, BJJ, and more. Designed by experts and trusted by professionals, the Diamond MMA Cup offers unbeatable comfort and protection for your sensitive groin muscles.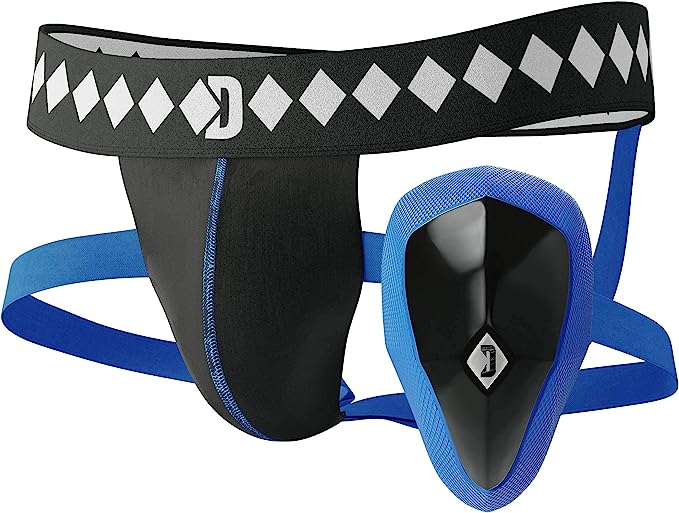 Pros
Comfortable to wear
Good protection

Fits well and stays in place during movement

Durable over time
High-quality stitching and overall craftsmanship
How to wear a Diamond MMA Cup?
Like any other athletic cup, you get two main ways you can wear a Diamond MMA Cup. The first and basic way of wearing a cup is to pair it with a jockstrap. For this, you will need to get a Diamond MMA jockstrap that is designed for their athletic cup. Make sure that the jockstrap's waist size is a perfect fit for your size as a larger size will result in the cup not being held in place properly. After you put on the jockstrap and pull it up to your waist, all you have to do is tuck your genitals in the pouch and then secure the pouch at the front of the jockstrap. The cup's pointy end should face downwards while the wide end should be placed just below the waistband.
The second way of wearing a Diamond MMA Cup is one that involves compression shorts. Naturally, for this, you would need Diamond MMA compression shorts, which are designed to accommodate their athletic cups. Initially, all you have to do is wear the compression shorts normally as you would, biking shorts or underwear. Then you will pull the waistband of the shorts outward and place the cup the same way you would place it in a jockstrap. After making sure that your genitals are completely covered, you can jog around or do some lunges to make sure you can comfortably move around with this placement.
One of the most important things to ensure when using athletic cups for any purpose is perfect fitting. Irrespective of how good an athletic cup is, if you don't properly wear it, you will not only be uncomfortable, but you also might damage your genitals. This is why the process of wearing an athletic cup before any physical activity should be a cautious one. Before you engage in any activity, you should always make sure the cup is perfectly fit and move around to see if it shifts as you move. At the end of the day, you shouldn't take risks when it comes to your own safety.
Where to buy Diamond MMA Cup?
In the 21st century, it isn't difficult to find and buy any product that you find appealing. When it comes to the Diamond MMA Cup, you can find it in two forms, either you can get it paired with a jockstrap also produced by Diamond MMA or with compression shorts.
It is recommended, however, to use the jockstrap as it is specially designed to ensure zero shifting. However, you needn't worry as all three items; the compression shorts, jockstrap and the cup are made of military-grade materials. No matter which one you pick, the quality will be assured with Diamond MMA Cups.
Moving on to where you can find a Diamond MMA Cup, Amazon is the answer to your question. You can find both the jockstrap combination and the compression shorts combination on Amazon.
Diamond MMA Compression Performance Short with Built-in Jock Strap
Designed to be worn as an outer short, it offers a well-fitted, 6-way stretch material that keeps you cool and dry during workouts. The built-in jockstrap provides superior groin protection, while the revolutionary quad strap technology ensures a secure fit and free movement. When combined with the Diamond MMA Athletic Cup, this system offers complete protection from the hardest hits to the groin.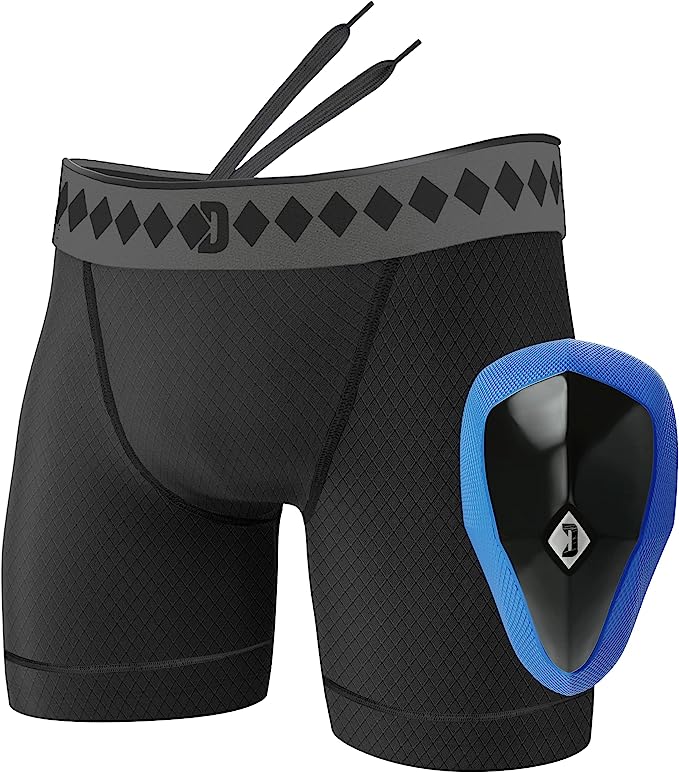 Pros
Comfortable
Protection
Form-Fitting, providing ample space and reducing discomfort.
Superior quality
Similarly, you can also buy these cups from websites such as DesertCart, MMAFightStore and other MMA based online equipment stores. It is, however, highly recommended to stick to Amazon as not only will you get reasonable rates, you will also be able to take advantage of Amazon discounts that come up regularly.
How to wash a Diamond MMA Cup?
Washing your athletic equipment the right way is critical if you want to boost their longevity. Although Diamond MMA Cups, alongside their jockstraps and compression shorts, are highly durable as they are made with military-grade material, they still need to be washed properly to maintain that durability.
When it comes to the jockstraps and compression shorts, there are two possible ways of washing them. The easier way is to wash them in a machine set to gentle so as to make sure that the material isn't damaged in the machine. On the other hand, you can also hand wash them in cold water. While the benefit of machine washing them is that it is quicker and convenient, hand-washing offers you more control. You can make sure that the washing process does not damage the material if you hand-wash them. As far as the cups themselves are concerned, they are completely machine washable and very durable, so you can machine wash them without any worries.