The UFC is why MMA came to be a sport in the first place, and it continued to be the number one reason why MMA is now one of (if not the most) popular combat sports globally.
Over the years, we've seen some spectacular UFC fights, but now and then, it seemed like everything just clicked, and we got a perfect event overall. Here's a chronological list of the 11 best UFC cards of all time.
I'm considering entire cards and their results, not just the main events or single phenomenal fights.
UFC 1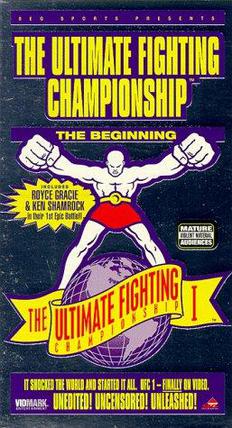 Date: December 11, 1993
PPV buys: 86,000
The inaugural UFC event (later called UFC 1) was why MMA started developing in the first place. There were no weight classes, no dress codes, and virtually no rules except eye-gouging and similar moves.
Although all these guys were good at only one martial art, they matched up against each other in a tournament that saw Royce Gracie and BJJ come out on top. There were sumo-wrestlers, kickboxers, and other guys fighting in the tournament too, and all the fights had to come to a finish (no judges, no decisions).
The first UFC bout ever was between Gerard Gordeau and a 400-lbs sumo wrestler Teila Tuli. At only 0:26, the Dutch kickboxer banged Tulli in his face with a high kick so hard you could see several teeth flying in the crowd.
Gordeau came to the finals, where he met Royce Gracie, who easily handled him with his unmistakable grappling, submitting Gerard in under two minutes. Gracie became the first UFC tournament winner, and the event marked the beginning of a new era in combat sports.
UFC 49: Couture vs. Belfort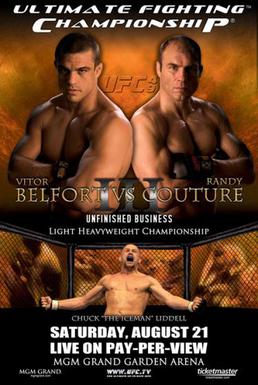 Date: August 21, 2004
PPV buys: 80,000
While it wasn't the biggest PPV draw in the promotion's history, UFC 49 was quite a fantastic event that I've rewatched several times. Only one fight came to the judge's decision – and that was the best fight of the night.
Karo Parisyan and Nick Diaz went to a back-and-forth war and a spectacular three-round display of grappling in the split decision victory. Parisyan did just a bit more to secure the victory, but both guys were the winners here.
All other fights finished before the decision, and all the finishes were incredibly dramatic and exciting. Yves Edwards opened the show with a flying head kick that knocked Josh Thompson out.
Joe Riggs made Joe Doerksen submit after brutal elbows to the face on the main card, while Chuck The Iceman Liddell knocked out Vernon White cold in the first round of their light heavyweight matchup.
Topping off the perfect event was Randy Couture, who took the UFC light heavyweight belt from Vitor Belfort, leaving him a bloody mess after a 3rd round TKO via doctor's stoppage.
UFC 100: Lesnar vs. Mir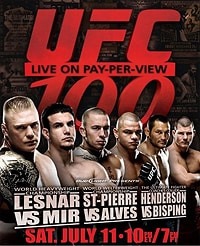 Date: July 11, 2009
PPV buys: 1,300,000
You knew that the UFC would serve us something special for their jubilar 100th PPV event. Boy, how they delivered. With 1.3 million PPV buys, it was by far the highest-sold PPV in the promotion's history.
We've seen some spectacular fights on this card. It was so stacked that guys like Jon Jones, Jim Miller, Mark Coleman, and Stephan Bonnar fought on the undercard. It was one of the best undercards I've ever watched, but the real show started on the main card.
First, Dan Henderson knocked out Michael Bisping so brutally I think Bisping's head still vibrates from the impact. He knocked him out with a mean left hook and then just rammed him with his full body weight one more time when he was already down. The move became a viral GIF.
Then Georges St-Pierre fought as a co-main event and decimated Thiago Alves for five rounds to defend his welterweight title, and then finally – the big show.
Brock Lesnar fought Frank Mir for the heavyweight gold and delivered a nasty knockout in the second round to avenge his (at the moment) only career loss and defend his belt for the first time.
UFC 139: Henderson vs. Rua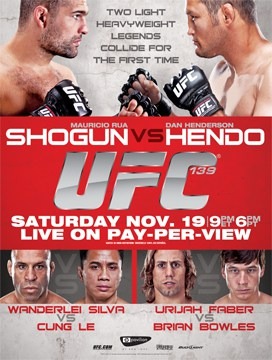 Date: November 19, 2011
PPV buys: 290,000
If only there were a way to know how amazing an event will turn out regardless of the names. If fans knew how spectacular UFC 139 would be, they would probably get more than just under 300k PPV buys.
This might be only one of few cards on this list without a title fight, but it was a spectacular event capped off with probably the best MMA fight in history, and not having it on the list would be biased and ignorant.
Even the prelims had some awesome bouts taking place. First, Gleison Tibau edged Rafael dos Anjos in a tight split decision before Ryan Bader knocked Jason Brilz out in the first round, while the future champ Chris Weidman delivered on a d'arce choke against Tom Lawlor.
We watched an incredible main card, too. Everybody thought the co-main event would steal the show. Wanderlei Silva survived an early assault from Cung Le and delivered a second-round knockout that started with some fantastic knees.
But then, Dan Henderson and Mauricio Rua stepped into the ring. Hendo got the unanimous decision, but it was five rounds of total war and chaos between two spectacular fighters. They ran it back a second time, and it was an amazing fight yet again, but I can hardly see anybody ever matching the intensity we've seen from this two at UFC 139.
UFC 146: Dos Santos vs. Mir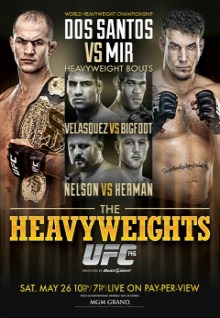 Date: May 26, 2012
PPV buys: 560,000
UFC 146 was an unprecedented event that virtually guaranteed tons of electrifying finishes. How? By making a heavyweight-only main card featuring the promotion's top heavyweight talent at the time.
There were five heavyweight clashes on the main card, and all ended with spectacular finishes. First, Stefan Struve submitted Lavar Johnson in the first round with a fantastic armbar. He quickly got outshined by the future champion Stipe Miocic, who knocked out Shane Del Rosario with a nasty series of elbows in the second round.
Next, we've seen Roy Nelson finish the fight with Dave Herman in under a minute with a nasty one-punch knockout. And then, the unforgettable.
Cain Velasquez fought Antonio Bigfoot Silva in the co-main event, caught the first low kick Silva tried to land and took him down. Moments later, he opened Silva's head with nasty elbows, which turned the match into one of the nastiest bloodbaths in UFC history. Silva didn't see what's happening most of the fight because of the blood before the ref stopped it.
Finally, Junior dos Santos defended his heavyweight crown for the first (and last) time with a spectacular knockout against Frank Mir in the second round. Needless to say, the fans got their money's worth.
UFC 189: McGregor vs. Mendes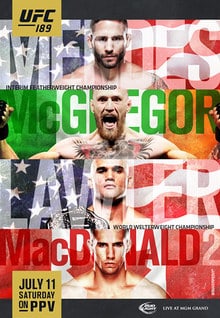 Date: July 11, 2015
PPV buys: 825,000
UFC 189 was supposed to be headlined by Jose Aldo and Conor McGregor. Due to Aldo's injury, Chad Mended stepped in and fought McGregor for the interim lightweight title. It was a battle that saw McGregor in the biggest trouble he had been so far in his UFC career up to that point, only to recover and knock Mendes out in the final seconds of the second round.
The fight was incredible, but it wasn't the highlight of the evening. In the co-main event, the welterweight champion Robbie Lawler faced off against Rory MacDonald in one of the greatest fights we've ever witnessed.
I still don't know how both guys stood for so long and why Rory chose to trade punches with a beast like Robbie, but they gave us a spectacular show that ended with a 5th-round knockout and another successful title defense for Lawler.
The rest of the card was fantastic as well. We saw two flying knee knockouts on the same main card, and Gunnar Nelson joined with a rear-naked choke over Brandon Thatch, making UFC 189 one of the most exciting events UFC has ever held.
UFC 202: Diaz vs. McGregor 2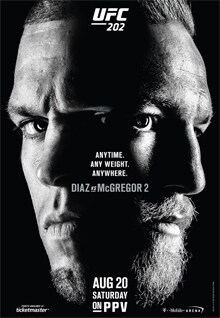 Date: August 20, 2016
PPV buys: 1,600,000
UFC 202 featured the second bout between Nate Diaz and Conor McGregor as the main event. They sold 1.6 million PPVs, making it the highest-sold PPV event in UFC history by far (at least at the moment).
That main event was as fantastic as it gets. Diaz and McGregor fought like lions for five rounds, trading punches, clinches, taunting each other, and leaving the opponent in a bloody mess. It finished with a majority decision in McGregor's favor after five rounds, but it could've gone either way.
Although it was the best fight on the card, it was the only fight on the main card that came to a decision. Anthony Rumble Johnson decimated Glover Teixeira in 13 seconds of the co-main event. Donald Cerrone scored a massive head kick KO over Rick Story, Mike Perry knocked out Hyun Gyu Lim, and Tim Means did the same against Sabah Homasi.
To add to everything, the prelims featured tons of future stars, champs, and challengers, such as Marvin Vettori, Colby Covington, Raquel Pennington, and Cody Garbrandt.
UFC 205: Alvarez vs. McGregor
Date: November 12, 2016
PPV buys: 1,300,000
When the UFC plans an event at Madison Square Garden in New York, you better believe it will be awesome – especially if it features Conor McGregor. 1.3 million PPV buyers got their money's worth, as they saw three title fights take place at UFC 205, and I don't know which one was better.
McGregor faced Eddie Alvarez and took him to school before knocking him out in the 2nd round to become UFC's first double champion. Tyron Woodley retained his welterweight belt in the co-main event after an all-out show against Stephen Thompson ended in a draw (one of my favorite MMA fights of all time).
Lastly, Joanna Jedrzejczyk defended her strawweight belt again, handing Karolina Kowalkiewicz her first career defeat after brutally beating her for five rounds. And that wasn't the end of it.
Yoel Romero knocked out Chris Weidman with a flying knee, while Frankie Edgar, Jeremy Stephens, and Khabib Nurmagomedov fought on the preliminary card. Can a card be any more stacked?
UFC 217: Bisping vs. St-Pierre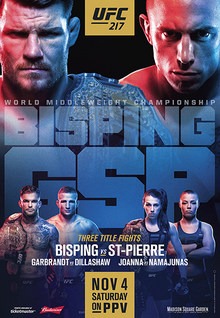 Date: November 4, 2017
PPV buys: 875,000
Due to Georges St-Pierre returning after four years of absence to fight Michael Bisping for the middleweight belt (despite ruling in the welterweight division for years) might be the rest of the card went under many people's radar. However, UFC 217 at MSG was a spectacular event all around and possibly the only UFC event ever that saw three new champions being crowned.
First, GSP took the belt from Bisping after four years of absence and did it with a rear-naked choke after a brutal match. T.J. Dillashaw knocked out his former teammate Cody Garbrandt after a big dispute and media trash talk.
Finally, Rose Namajunas did the impossible, knocking out Joanna Jedrzejczyk, giving her the first loss of her career, and taking away her title.
We've also seen a spinning back elbow knockout in the first fight of the evening, delivered by Ricardo Ramos over Alemann Zahabi.
The card featured great names such as Curtis Blaydes, Aleksei Oleinik, Ovince St. Preux, Johny Hendricks, Paulo Costa, Stephen Thompson, Jorge Masvidal, etc.
UFC 229: Nurmagomedov vs. McGregor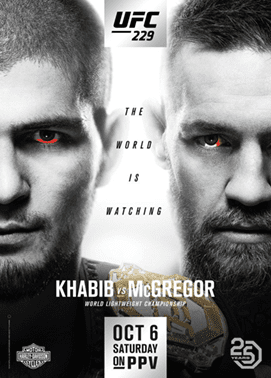 Date: October 6, 2018
PPV buys: 2,400,000
The list of best cards in UFC history couldn't be complete without the highest-sold PPV event ever. UFC 229 saw "the fight of all fights" between Khabib Nurmagomedov and Conor McGregor and sold a record-breaking 2.4 million PPVs.
It wasn't as competitive as we hoped it would be, as Khabib completely dominated the fight before finishing it in the fourth with a rear-naked choke.
There were other amazing fights on the card, though. For instance, the co-main event between Tony Ferguson and Anthony Pettis was a Fight of the Year candidate cut short only because of a doctor stoppage, as Pettis broke his hand during the fight.
Derrick Lewis scored a knockout against Alexander Volkov merely ten seconds before the end of the fight on the same card. He was losing thoroughly on points up to that moment.
It was a nice card overall topped with two fantastic bouts, but it was all overshadowed by the huge brawl after the main event for which both Khabib and McGregor were fined half a million dollars apiece.
UFC 261: Usman vs. Masvidal 2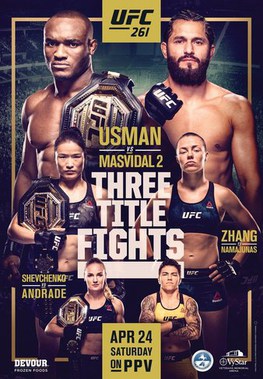 Date: April 24, 2021
PPV buys: 700,000
UFC 261 is the freshest event on the list, and it was just spectacular. We've seen three title fights yet again, and almost every other fight on the card was as exciting as it gets. In the main event, Kamaru Usman continued his huge dominance over the welterweight division.
He's known as a hard-grind wrestler, but he (literally) turned heads around after the bout with one of the division's most prolific strikers, Jorge Masvidal. Early in the second round, Usman blasted a right cross that nearly took Jorge's head off, knocking him out in place. He showed everybody why he's the champ – and he isn't just a wrestler anymore.
Next, Rose Namajunas returned to the top of the strawweight division in a very exciting and emotional performance. She knocked out the champion, Weili Zhang, with a spectacular head kick.
Finally, Valentina Shevchenko delivered one of the best finishes I've seen in a while against the former champion Jessica Andrade. She got her in a crucifix position and knocked her out cold with a series of elbows.
The rest of the card featured Uriah Hall's victory over Chris Weidman, who suffered a gruesome leg injury (similar to what Anderson Silva endured against Weidman in the past), and a doctor stoppage after one round in favor of Anthony Smith after Jimmy Crute broke his leg, too.