For any boxer or fighter who wants to improve his hand speed and eye-hand coordination, there is a better option than spending countless hours on the heavy bag, which is speed bag training.
Best Speed Bag: Coach's Top Picks
| | | | |
| --- | --- | --- | --- |
| Product | Leather Speedbag | Gyro Balanced Speedbag | Platform Speedbag |
| Brand | Pro Impact | Title Boxing | Contender Fight Sports |
| Model | Pear-Shaped Hanging Ball | Internally Balanced Speedbag | Boxing Training Speedbag |
| Material | 100% top-grade leather | Top-grade leather | Leather |
| Size Options | XS, S, M | XXS, S, M, L | Small, Medium |
| Outer Material | Leather | Leather | Leather |
| Sport Type | Boxing, MMA, Muay Thai | Boxing | Boxing |
Most Durable
Pro Impact Speedbag


It is high-quality, made of genuine leather & built to last for experienced boxers. It provides fast rebound & is well-balanced.
Best Overall
TITLE Boxing Gyro Balanced Speed Bag

It has a balanced weight and durable build, and its tech enhances stability for a consistent, reliable bounce.
Best for Beginners
Contender Fight Sports Speed Bag

A durable leather product for professional and amateur boxers. Precision balanced for true rebounds and improved hand-eye coordination.
Speed bag workouts are quite interesting because they do not focus on your power punches or your combinations, but instead, work on precision, timing, and hand speed.
The arm motions for an effective workout with a speed bag are simple but will allow you to develop your shoulder endurance and mix things up in your regular training sessions.
I have taken the years I've spent fighting to test a handful of what some consider the top speed bags on the market and have found the Pro Impact Speedbag to be my go-to option for speed bag training due to its balance and extreme durability.
Back when I started training if there were no partners to train with, my go-to option was the heavy bag for a long time until I figured out how vital speed bag training can be.
At first I used to believe that the heavy bags were simply the best option because I could work on all my shots, from straight punches to those power shots to the body. Still, any person who has sparred will tell you that any moving target is a lot trickier to hit than a heavy bag, and that is where most speed bags, if not all, come to aid.
I mentioned previously that I prefer the Pro Impact Speedbag as I have found it to be incredibly durable due to its heavy-duty latex bladder, and the triple reinforced seams, which make this little bag one hell of a beast when you are looking for a long muscular endurance training session.
It also has a few options for you to find the right size speed bag for your needs; a small bag fits the more experienced speed bag users, while larger bags make for the best speed bags for beginners.
In this article, I will take the time to review a bunch of the speed bags that I believe are worth both your time and money, and also explain a little further on how and what to look for when you shop for the best speed bags.
If you are looking towards improving your abilities as a fighter, and need a hand to pick which punching bags could help you the most, or are just looking to get to know them better, then this article was meant for you to find!
Best Speed Bag List
TITLE Boxing Gyro Balanced Speed Bag
Contender Fight Sports Speed Bag
HUNTER Speed Ball
Ringside Cleto Reyes Speed Bag
RDX Speed Bag Boxing Ball
Meister SpeedKills Leather Speed Bag
Everlast Kangaroo Speed Bag
Pro Impact Speedbag – Heavy Duty Leather Hanging Swivel Punch Ball
1. Most Durable Speed Bag
Pro Impact Speedbag – Heavy Duty Leather Hanging Swivel Punch Ball
The Pro Impact Speed Bag is a well-made and high-quality product that is perfect for experienced baggers, made of genuine glove leather and is built to last. It'is well balanced and provides fast rebound. However, it may not be suitable for beginners who are still learning the techniques of hitting the speed bag.
Pros
Durable construction
Good-looking design
True bounce
Good response
Loses air slowly
Cons
Not recommended for beginners
Slightly lopsided
Can become wobbly with some platforms.
For me, the Pro Impact Speed bag is not only the most durable option, but the one that I would pick first as one of the best boxing Speed bags. With a Triple reinforced Loop and Seams, this baby can give any heavy bag a run for their money, thanks to its high-quality materials, which make it highly durable.
With a simple and sleek design, this is a perfect speed bag option for those who are both starting to get the ropes of speed bag work and increasing their hand speed, or those who are burning through their punching bags by giving them a heavy workload.
The Pro Impact Speed bag doesn't complicate the visuals, and focuses on giving you a product that you can treat with no love, while also knowing that the loop will not fail you even under the toughest treatment.
Some may argue that it may be slower that the bag's rebound can be a little slower than that of some lighter bags, and that may lead to the fighter having to put more power on slower punches to get it going, but once it starts, this bag is set to last.
The Pro Impact name is one that has been going waves all over the boxing and combat sports industry, as they are known for having some of the most durable synthetic speed bags in the market, while keeping accessible prices, hand in hand with traditional design.
You can check that the speed bag reviews show just how much love this one takes for the balance and center of mass. Due to its reinforced seams, durable strap, excellent synthetic materials and the heavy duty bladder, this speed bag requires little upkeep, and will be on the side of any beginner and intermediate level bag user for a long time as they become more proficient.
It is a great beginner's tool for learning the basic technique and having some fun developing your fundamental skills, which are needed for a successful boxing or kickboxing career, and you can always challenge yourself by getting the extra small size when you become an advanced user.
If you are interested in traditional, simple speed bags, this one will lower the risk of needing early replacement bags as it helps you start your journey into the world of martial arts and combat sports.
2. Best Speed Bag Overall
TITLE Boxing Gyro Balanced Speed Bag
The TITLE Boxing Gyro Balanced Speed Bag is a well-received product among customers for its balanced weight and durable construction. The gyro technology enhances its stability and provides a consistent and reliable bounce, making it ideal for intense training sessions. Users appreciate the quality materials and the secure attachment system, making it a great choice for both beginners and experienced boxers.
Pros
Fast and responsive.
Construction is of good quality.
Suitable for use by people with different levels of skill.
Stable and holds up well under daily use.
Cons
Bladder may fail after a few months of use.
Lace tends to come undone.
May be too slow for some users.
When considering all the factors that you should be looking for, this product comes as one of the best boxing speed bags out there. It should not be considered a lightweight bag, as it has some good quality and resistance that could battle it out with most heavy bags out there.
There is one point that stands out here, and it can be noticed right at the name, "Gyro" as in gyroscope, and that term points you on the right direction.
The name of the game for this bag is Balance, and title has focused on using what they call the "Gyro balanced manufacturing" to make sure that the rebounds and rapid recoil of this particular bag makes it your go to choice in order to develop fast reflexes and improve your boxing speed.
Using a triple reinforced leather for a top great shell makes a difference from the rest of the speed bags on the market, but it also uses a butyl rubber bladder to make up, as the rubber is lighter than any other materials used in bladders when it comes to speed bag work.
The reviews however, mention that you may want to keep the air pump close, as it may can have some trouble keeping the air inside between sessions.
Being honest, after filling it up pretty good for the first time, it held up well, and the bag itself can last a good time; but if you are experienced, you may want to get it a little smaller as it is on the slow side (But they make it up to XXS, which it the fastest speed bag of the bunch and can help you challenge your precision).
This bag is a jack of all trades, and the balance it has should allow everyone to develop their skills and shoulder muscles comfortably so they are ready for the challenge of a smaller and faster speed bag down the road.
3. Best Speed Bag for Beginners
Contender Fight Sports Speed Bag
The Contender Fight Sports Speed Bag is a high-quality product designed for professional and amateur boxers. It is made from durable leather with reinforced seams, ensuring its longevity and durability. The speed bag is precision balanced to provide true rebounds, making it an ideal tool for improving your hand-eye coordination and reflexes. It features extra thick swivel loops for a secure and stable hanging, and the bladder is included for easy setup.
Pros
Durable
Good for home use
Good workmanship
Good value for the money
Holds air well
Well-balanced and great bounce
Cons
Bladder requires regular refilling
Smaller than expected
Speed bag bounces unpredictably
This is definitely the best beginner friendly leather speed bag out there, with a decent durability and a lightweight latex bladder that keeps the job done.
A punching bag needs to be able to hold out and get you the results you are looking for; in the case of the heavy bag, you want to work your versatility, for a speed bags, the goal is to work on precision and speed, while a double end bag mixes in that precision with movement.
For this baby, Contender fight sports took into consideration all the little details that any boxing speed bag needs to shine and made an affordable option for anyone who is just starting out.
While it has a nice durability for a punching bag and a reasonable price, this one is meant to help you develop you boxing speed more than it is to last a long run, so there is no need to punch the bag harder than your sparring partners when you finish off your session.
Those who intend on developing speed and reflexes over all can get their hand wraps ready, as the reinforced seams on this boxing speed bag are likely going to last you long enough for you to be ready to switch to the double end bags.
Just make sure to inflate it very full before you begin to use it, as some reviewers have complained that it deflates often if you do not fill it well in early uses. The recommendation for this one is to fill it up until you believe it has enough, and then add some more air.
4. Best Speed Bag For Professionals
Ringside Cleto Reyes Speed Bag
The Ringside Cleto Reyes Speed Bag is a top-of-the-line boxing training tool that has received high praise from its users. The size makes it lightweight and compact, making it perfect for both home and commercial gym use. This speed bag is designed to help improve hand-eye coordination and reflexes through rapid recoil, making it an excellent tool for anyone looking to enhance their skills in boxing, martial arts, MMA, or any other contact sport.
Pros
High quality construction
Premium look and feel
Good for training reflexes
Responsive bag
Received with two spare bladders
Cons
No ropes/cables included
No bungie cables or S-hooks included
This speed bag requires no introduction, Cleto Reyes is arguably on the top tier of boxing equipment suppliers due to the high quality and innovative products on their catalogue. The brand prides itself on their handmade quality and coming from Mexican Heritage, which makes them a go-to if you have the money for it.
If you have spent your time practicing boxing, you can tell the quality just by putting on gloves from this brand, and their speed bag is no different. Its Genuine Cowhide Leather provides long durability and excellent punching absorbency, while offering a great rebound.
It is simply made to last, and it bashes any lower quality options in the market for a reason, which explains why Cleto Reyes is backed up by so many boxing legends.
The downside, and one of the reasons that this isn't higher in the list of the best boxing speed bags, is that being a top tier speed bag makes it costly. It does however come with a spare latex bladder, which closes the price gap a little bit.
The nylon liner makes a huge difference from other options, and it provides a high quality punching bag that builds up pretty good speed.
If you have the cash to afford one of these bad boys, all you have to do is follow instructions and maybe use lubricant when you fill it up in order to enjoy an excellent punching bag to work on your hand speed with.
5. Best Speed Bag For Beginners
RDX Speed Bag Boxing Ball
The RDX F6 Kara Speed Ball with Steel Swivel is the ultimate training tool for MMA, Boxing, Kickboxing, and Muay Thai. Made with durable Maya Hide leather, this speedball can withstand heavy impact from punches. The additional bladder and metal swivel make it easy to use and hang from any platform, while the reinforced stitching and multi-layered panels ensure durability and style. The lace-up closure allows for easy replacement of the bladder, and the high-grade swivel allows for 360-degree rotation, giving trainees more speed and motion. This speedball is a must-have for any serious athlete looking to improve their speed and accuracy.
Pros
Good material quality
Good bounce and speed
Great for beginners
Good value for the price
Cons
Does not include swivel or extra bladder
Bladder keeps losing air
The RDX Speed Ball is definitely hanging in the top as one of the best speed bags on the market, made from great materials with a lightweight design in mind, making it both resistant and able to reach optimal speeds during use.
This "speed ball" is made from genuine cowhide leather and high-quality cotton, resulting in awesome durability and a great, high-quality feel. When you think of punching bags, it always comes to mind that durability is key, as they have to take a beating, but achieving it without compromising the weight and balance is key for a speed bag.
The material quality of the RDX speed bag is the reason that it has such positive reviews, this punching bag manages to make land close, if not on the top tier on durability but it also manages to be arguably one of best speed focused bags.
While it packs eye-catching, sporty design, it keeps a perfectly manufactured shape, which allows a nice and straight rebound from the board as long as the stitching and the bladder are kept with proper care.
The high-quality rubber bladder allows it to keep high speeds as it is lightweight, but you might want to keep the air pump nearby, and well, another decent bonus that you get, is that it comes with a stainless steel swivel to mount it if you do not have the rest of the necessary equipment, or want to avoid doing too much drill holes at home.
It adds up as a decent bonus, but it is really just average, so you'll likely want to only use it temporarily to keep your punching bag in the best conditions for long.
6. Best Speed Bag for Speed
Meister SpeedKills Leather Speed Bag
The Meister SpeedKills Leather Speed Bag is made of genuine full-grain cowhide leather that ensures durability and longevity. The lightweight inner latex bladder offers faster performance, making it an excellent choice for professional and amateur athletes. The bag is balanced and centered for predictable and consistent rebounds, making it easier to train and perfect your skills. The simple, yet premium design of the bag is a great addition to any gym or home gym setup.
Pros
Improved performance
Durable
Responsive
Accurate
Good quality
Rapid and firm return.
Cons
Loses air quickly even when not in use
Smaller than expected
This speed bag was the second best option for beginners, as the cowhide leather offers good resistance, but it is the lightweight bladder and the nice design that actually seals the deal.
It is a great option to get the hand wraps ready even if you are a beginner, as this punching bag is offered in small (for experts), medium (intermediate level), and large size, which is excellent for those who are building and developing those good speed habits.
As another guarantee of quality, it received the Amazon's Choice badge, which can serve as extra reassurance. With a pretty reasonable price, multiple sizes and good resistance, it is a pretty nice option to add if you are on a lower budget.
For the cost, it is surprising that it is made out of genuine cowhide leather, which is one of the best materials any speed bag can be made out of due to its durability and realistic texture. Also, this bag comes with a lightweight latex bladder, which is often the second-best option after rubber.
Talking about the bladder, it has been noted by multiple reviewers that this one does not tend to have the same deflating issues that bother most other products of this kind, as it retains air for a longer period of time before needing a little refill, lasting in average from one to two weeks before it is definitely required.
If you are getting started into speed bags and want to explore a cheaper option that still provides an amazing training experience, checking out the Meister SpeedKills Speed Bag will do you no harm.
7. Best Speed Bag for Balanced Approach
Everlast 1910 Leather Speed Bag
The Everlast 1910 Leather Speed Bag is a top-grade leather punch bag, perfect for intermediate users. It is medium-sized at 9″ x 6″ and has reinforced seams for long-lasting durability. This speed bag is balanced for accurate rebounds and can be filled with air if it begins to deflate over time. This high-quality punching bag is a great investment for those looking to improve their speed, agility and hand-eye coordination.
Pros
Good for hand-to-eye exercise
Good quality leather
Good performance
Reasonably priced
Fast and well balanced
Cons
Bladder requires moistening before inflating
Requires air inflation frequently
Not very durable
Everlast is another one of the top names in this industry, and they are known for producing some of the most durable (not a coincidence, as it comes advertised in the company name itself) and high-quality training gear and equipment.
That is why this product landed a place among the best speed bags available. It is made from high quality leather and the shape allows rebounds from the board to precisely follow the line of striking. The body is also very durable.
This speed bag, along with some other options from Everlast have pretty good overall performances, but the big issue they have is that the bladder has issues retaining air.
While it is enough for it to fight for a head to head spot with other punching bags, some might say that it feels like someone basically drops weight plates over the bladder when it is not in use, getting to the point that you may need to pump some air daily.
One thing we could also consider is the more traditional, simple design and looks make it a perfect beginner or intermediate fighter's speed bag on which they can improve their basic techniques.
It is to be noted that the 1910 Leather Speed Bag model seems to be on low stock as of lately, increasing the regular list price; there is little to worry about though, as it shares a lot of features multiple other recent models of Everlast speed bags, so you have plenty of options right behind it.
8. Best Speed Bag for Quick Setups
The HUNTER Speed Ball is a high-quality piece of equipment made with genuine cowhide leather and a durable, four-layer poly cotton lining. Each ball is individually shaped and balanced to ensure accurate rebounds, making it perfect for training. The lightweight design allows for lightning-fast rebounds, and the latex bladder guarantees the longevity of the product.
Pros
Great quality
Well-made
Good value for the money
Easy to install
Sturdy
Cons
Requires frequent inflation
Difficulty in finding a good rhythm
Small hook size
HUNTER managed to land our last spot in the best speed bags list due by little margin, and it because this bag focuses on beginners, and it is quite a good option for them, but it is likely that most advance speed bag users will go past it into higher end options.
This kit comes up with a whole set of hanging swivel and screws to set it up; the thing is, that the swivel set is pretty good, but the bag itself barely edges out other options.
It has a genuine cow leather hide construction with poly cotton material line up, which will give you a sturdy and resistant body, and also offering a lightweight design which allows it to build up some speed for you to improve your skills comfortably.
Coming only in a large option, this bag is definitely beginner friendly, but won't offer much for someone with more experience, and there is one factor that keeps popping up on reviews; the bladder needs to get refilled often.
To do an air refill on a bladder is not really a big deal, but a lot of people tend just to get sick of it, as they want to get right to the point as often as possible, and we get it.
As we mentioned, this option managed to get our last spot of the review list, and it is a good option for beginners behind Meister and Contender Fight Sports.
10 Ways To Hit The Speed Bag
Speed bag Buying Guide
What Is a Speed Bag?
A speed bag is a small, air-filled punching bag that is suspended from a circular or oval-shaped platform. It is used in boxing training to improve eye-hand coordination, reflexes, and punching speed. When struck, the bag moves quickly and unpredictably, forcing the boxer to adjust their movements and focus their punches constantly.
There are also different types of bags, including regular bags and the double end bag.
The reasons why Boxing Speed Bags are so important
Every professional boxer will be able to tell you how important bags for speed are for every boxer who wants to become one.
Unlike the traditional bulky bags, these little balls are light and move quite fast, providing plenty of benefits that no other bags could offer.
This article will look at the major benefits of speed bags.
In the buyer's guide, we'll look at some of the most important factors to consider before deciding on the right time-saving boxing bag.
The speed bag is a fantastic training tool that can accomplish numerous things the bulky bag cannot. Here are a few of the distinct benefits to fitness that the speed bag can provide:
Enhances Hand Speed
If your goal is to be throw your punches faster, then a speed bag is a piece of equipment you need to get. Be it a regular bag, a double end bag or a reflex bag, you will want to have one available in order to improve the speed of your punches.
The movements that the bag allows you to practice are simple, but essential in order to increase your hand's speed. A single session of the speed bag will require you to perform hundreds of moves. The more you use it, the easier it gets, and the quicker you'll get.
Improves your timing and Rhythm as well as Coordination
The best boxers have incredible timing, rhythm, coordination, and rhythm. When you are hitting the speed bag, you need all of these traits, which is the reason it frustrates a lot of first-timers.
Regular and double end bags should have adjustable height for you to work with, but once you find your spot, you will be working and adjusting not only to the position where it is placed, but how it bounces back according to where you punch, and how hard you do so.
Regularly using the speed bag will help you develop these skills as you master all of your body for precisely controlled strikes on the moving targets.
Improve Muscular Endurance
A few quick jabs in a relatively short period can do wonders for your endurance.
Through the ages, the top boxers and fighters have taught their opponents how to avoid punches, dodge kicks, and hold their hands in the right position for several rounds at a time.
The use of a speed bag can do great things for your endurance. In a battle, the endurance factor is an important aspect that determines who will win.
Speed bags are described as hand-held treadmills. Like the treadmill can strengthen your legs and increases your Speed cardio bags increase muscle endurance and boosts your cardiovascular endurance.
Improves your hand-eye coordination and timing
In a boxing match, both fighters need to hit or parry and dodge quickly. If you're not able to perform with good hand-eye coordination, you'll be losing most of the time.
The best boxers have learned the art of timing and rhythm, making use of a speed bag. The sight of a professional boxer working with a speed bag is something to behold.
They're lightning fast and do not slow down a single beat! If you're a novice and are using a speed bag with adjustable height, make sure to set it up perfectly as you begin, because it can be very difficult due to the fact that they're so quick.
With continued practice, it will become simpler to perform. The easier it becomes to master it, the more successful you'll be in the Ring.
Overall Boxing Development And Importance of Speed Bag Training
When you use the speed bag often in your trainings you can improve your ability to perform in all aspects. You'll become faster, stronger as well as more organized. It aids in developing the necessary skills of parrying and rhythm, but it also helps with reaction time and hip movements if you work it properly.
General fitness
If you don't wish to become a boxer, you can still find some benefits from using a speed bag. Whatever your gender or age, it's a great method of exercising. It helps strengthen your muscles and provides the chance to work on your cardio. Thanks to the bag being light and compact, the chance of injury is minimal.
The Pro Impact SpeedBag Is the Best Speed Bag.
Everyone has different preferences for their favorite Speed Bag, and mine is simple, good performance and excellent durabity, which makes the Pro Impact Speedbag my go to choice. I usually use my equipment for long periods of time in each session, so having a piece that is both reliable and able to handle my pace and last long without any issues, like Pro Impact's Speed bag, simply makes it the top spot in my book any day of the week.
Features to Look for In a Speed Bag
Material
Generally, it would be best if you were looking for products made out of either real cowhide leather or some high-quality faux leather. These are the toughest materials out there that are used for this purpose, and they will last the longest time, but there are some synthetic material products that can indeed blow your head out of the water.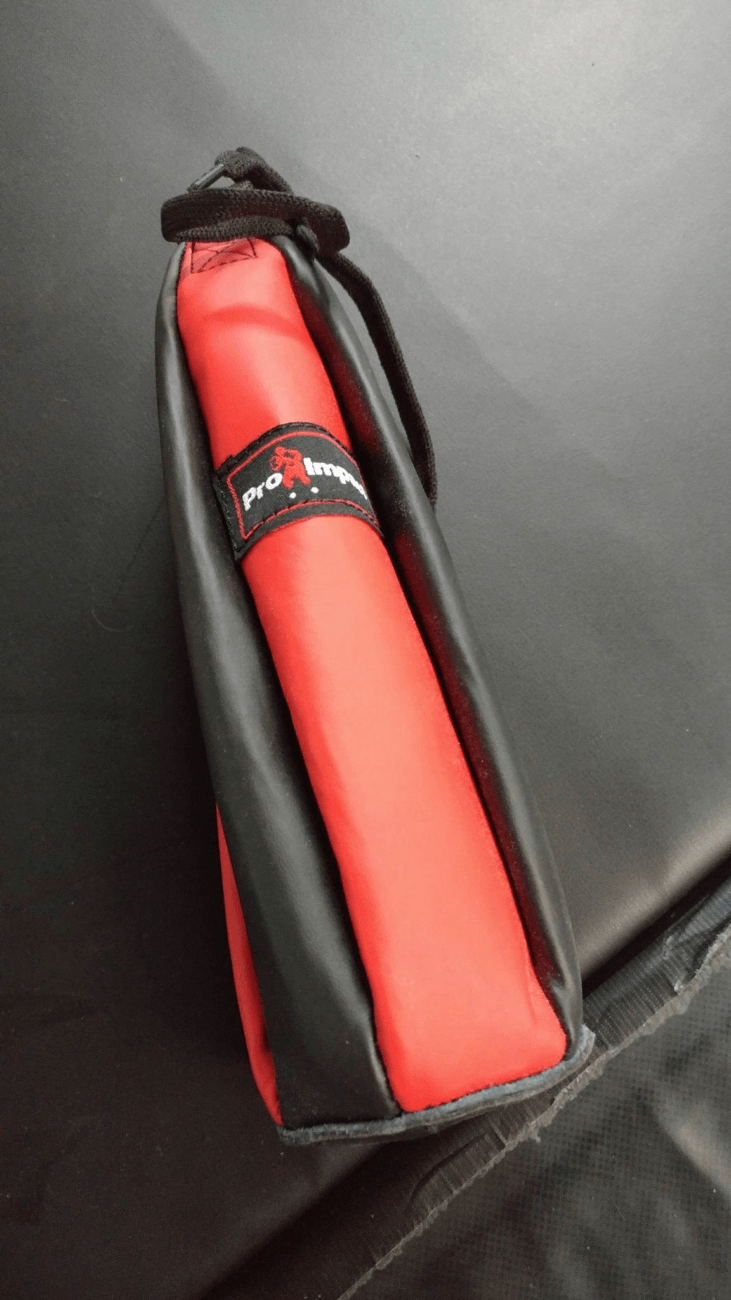 This is important, seeing as speed bags are some of the fastest deteriorating items in any boxing gym due to the repeated, fast and heavy strikes and punches it endures both from the person training and the swivel board as well. For the inside, also called the bladder, you should be looking for high-quality rubber or latex bladders since they are widely accepted to be the best materials for this purpose.
Shape
The shape of the speed bag is one of the most important features you should be looking out for, as it affects the way it bounces and the performance you get from it. A speed bag shouldn't either be a round circle or an oval shape since that won't guarantee that the bag will return in a straight line and it can ruin or at least deteriorate the quality of your training sessions.
The shape you should be looking for is a semi-round shape, usually recalled as a "tear-drop" shape, which is achieved by stitching together near-straight sheets of leather or faux leather, and then are pressed outward to form a solid "pear-like" shape by the bladder within. This way, the bag will bounce off the swivel board in a straight line, and it will also provide a better feel when striking it. Speed bags shaped this way are less likely to deform quickly.
Mounting system
Mounting system: Speed bags come with different types of mounting systems, including swivel mounting systems and dual-spring mounting systems. Swivel mounting systems allow the bag to move more freely and naturally, while dual-spring mounting systems provide a more stable and consistent bounce. It is down to you to select what you want to work with.
Strap quality
One of the features of speed bags that often gets forgotten is the strap or hook connecting it to the swivel board. Make sure that when searching for the best speed bag to buy, you examine the quality of the strap or hook. There have been many instances of people buying a very high-quality bag made of leather and having a great shape, and the strap just tore off after 10 minutes of practice.
The strap is one of the most important parts of the speed bag, and it is also one of the least durable ones often since it isn't viewed as very important. Being the part that keeps the bag connected to the board, if this tears appart, your bag is either sent flying from your last it, or it simply falls down and becomes useless.
Overall Feel
The last thing you should consider is the product's general feel. Try striking it a couple of times if you can (and if it is on display in the first place), check out the material, the toughness, size, and all other features, and write a note in your head about that given item. Even though one product might have somewhat of a worse shape, technically speaking, you might connect with it and feel like it is the best product to train with, and in that case, you should not choose the one that is better on paper but rather in your hands.
As everything, there is always a subjective value that everyone's experiences and likings will add to any product, so don't just fall in love with the most recommended items; if you have the chance to test anything, do it and figure your opinion out.
Frequently Asked Questions About Speed Bags
What is worth considering when buying a speed bag for beginners?
If you're a beginner looking to buy a speedbag, there are a few things you should consider. The first and the most important is to choose a bag that is the appropriate size for your skill level. In the case of someone who is starting to use a speed bag, your best option is to get a bigger bag, as you will have a bigger target to hit, and thanks to the weight, it will get a considerable speed without becoming too fast for you to handle.
You should also consider the material the bag is made of and its durability. Leather or synthetic leather bags are generally considered the best quality and will last longer, but they can be more expensive. Finally, make sure to choose a bag that comes with a sturdy and well-constructed platform so that it will be stable and secure while you're using it.
What is the best speed bag size?
The best size for a speed bag depends on who is working with it. If the user is inexperienced, the best option would be a large bag, so he can get used to it and develop the required skillset. When the user has had some practice and knows his way around the speed bag, that's when a medium size bag is the best option to work with, as it will help him develop further.
In the case of an advanced user, the small bags or extra small if available are the option to go, as they are the most challenging and fastest moving bags, which means that they will help the user push himself farther and keep becoming better.
Why is speedbag training so important?
A speedbag is an essential training tool for boxers because it helps improve eye-hand coordination, reflexes, and punching speed. The bag bounces back after being hit, so the boxer doesn't only have to focus on throwing fast punches, but to get the angle right so that the bag doesn't shift direction, ad also adjust to the right timing according to how fast the bag is moving at any given time.
If a double end bag is being used, punching power needs to be controlled in order to not have the bag bounce way to violently, and footwork is essential to dodge the bounce and hit again.
Is a speed bag a good workout?
Of course, speed bag workouts are great, as they not only help your physical attributes, like muscle endurance, and hand speed, but they also improve your cognitive skills, like reaction time and reflexes. An extended session can also work wonders on your endurance and stamina as it is basically a cardiovascular session. All of this can be benefitial for any casual trainee or journeyman, and when it comes to actual fighters who look to add up to their routine, the speed bag is wonderful.
Punching speed and accuracy are crucial in the ring, and then, incorporating all the other benefits of the list, simply is too much of a positive reinforcement to pass out on. Overall, incorporating a speedbag into your training routine can provide a full-body workout and help you become a more skilled and effective boxer.
Do you hit speed bags with gloves?
NO, you don't. For speed bags, all you really need is the bag, as you can work it out without using any boxing gloves. It is however reccomended to hit the bag using hand wraps. You can see it in movies on in training reels, it's all about some good hand wraps and fast hands. The reason you do not use gloves for the speed bag, is that the extra weight will slow your hands down when throwing punches, and also will make it difficult to hit the bag in the right angle.
For Speed bag use, lighter is better, and you do not have to worry about damaging your hands, as these bags are not really sturdy enough to cause any issues, it is basically a leather balloon, which allows you to hit as hard and fast as needed with little to worry about.
Comparing the Best Speed Bags for Boxing
When it comes to boxing speed bags, there are many options to choose from, but three products stand out as the best: the Pro Impact Speedbag, the TITLE Boxing Gyro Balanced Speed Bag, and the Contender Fight Sports Speed Bag. The Pro Impact Speedbag is the most durable option, made of genuine glove leather and built to last. However, it may not be the best option for beginners still learning the techniques of hitting the speed bag. The TITLE Boxing Gyro Balanced Speed Bag is well-balanced and uses gyro technology for enhanced stability and a consistent, reliable bounce, making it ideal for intense training sessions. Users appreciate the quality materials and secure attachment system, making it an excellent choice for beginners and experienced boxers.
Finally, the Contender Fight Sports Speed Bag is the best option for beginners, designed to help develop boxing speed and precision with its precision-balanced design and lightweight latex bladder. While it may not be as durable as the other two options, it is an affordable option that provides good value for the money. In summary, the Pro Impact Speedbag is the most durable, the TITLE Boxing Gyro Balanced Speed Bag is well-balanced with advanced technology, and the Contender Fight Sports Speed Bag is the best option for beginners looking to develop their speed and precision.
Enjoy Your New Speed Bag
If you have found the Best Speed Bag to add to your inventory, go for it, it will be a significant positive boost to your training routine, and the benefits will start to show in a short time. It will be a great option to mix in with heavy bag work when you feel like focusing on hand speed and accuracy instead or when you need an .
Just remember to keep checking and filling up the air and making sure that the rig where it is mounted is steady and holding up properly in order to get the best performance out of your Speed Bag.
Our Verdict – Best Overall
TITLE Boxing Gyro Balanced Speed Bag
After trying the TITLE Boxing Gyro Speed Bag, I was impressed by its balanced weight and durable construction. The gyro technology made it stable, and the bounce was consistent, perfect for intense workouts. The secure attachment and quality materials make it an excellent choice for anyone looking to improve their boxing skills.
Pros
Fast and responsive.
The construction is of good quality.
Suitable for use by people with different levels of skill.
Stable and holds up well under daily use.
Cons
Bladder may fail after a few months of use.
Lace tends to come undone.
May be too slow for some users.