Weapons are a common feature of most martial arts. Training with these pieces of equipment will assist you to build up strength in your arm and shoulder and helps you keep a better fighting distance.
In this article, we'll be looking at the best martial arts weapons used across the world.
Note: this list is not ordered in any way.
Nunchaku
MENOLY Nunchucks Safe Foam Sponge Training Nunchucks
Crafted with safety in mind, these nunchucks are made of a sponge core and surrounded by soft padded foam, ensuring a safe training experience. The durable rope securely connects the sticks for reliable performance. With a length of 28 cm and a diameter of 3.2 cm, these nunchucks provide the perfect size for effective and controlled use. They are lightweight and come with an oxford cloth bag for convenient storage and portability. Whether you're a beginner or an experienced practitioner, these training nunchucks are easy to grip and control, minimizing the risk of injury during practice sessions. Improve your flexibility, coordination, and agility with these nunchucks and enjoy the exercise and entertainment they bring.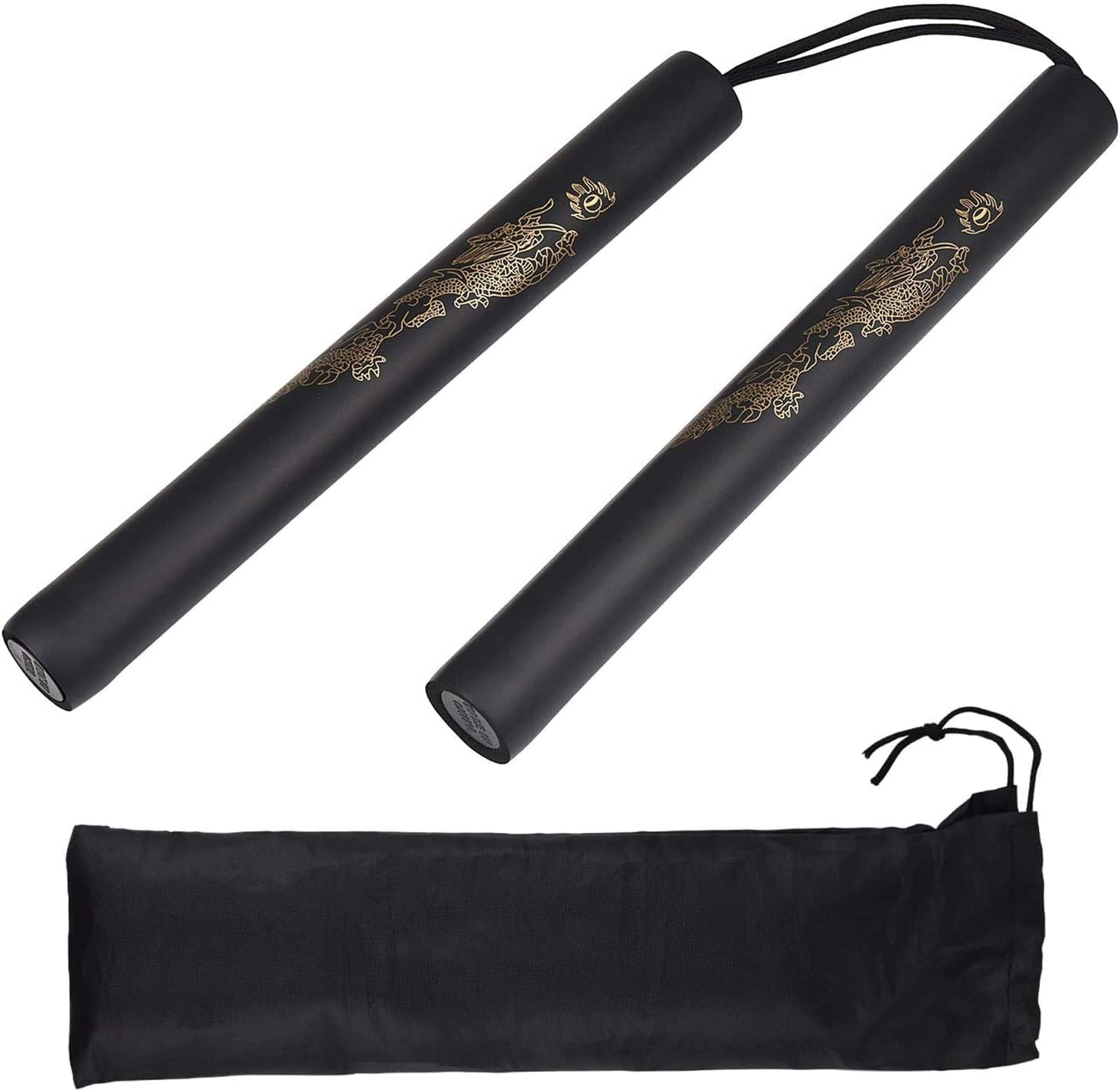 Pros
Safe Construction
Weight and Feel
Suitable for Pretend Play
Gift-Worthy
Soft Impact
Nunchaku, also known as "Nunchuck" or "chainstick", is a martial art weapon that's originally developed in Okinawa, Japan. The weapon is designed to have two sticks (made of harder wood), usually connected by a short thin chain or nylon rope and hooks.
Nunchaku has been around for a very long time but it started gaining popularity after the martial artist and icon, Bruce Lee, and his martial arts student started using it in movies in the early 1970s.
Today, the Japanese weapon is used by several different styles of martial arts, including Okinawan Kobudō, Karate, Taekwondo, Aikido, and Eskrima. Furthermore, the basic technique of handling Nunchaku is often based on a centrifugal force, which occurs as a result of swinging the weapon.
In any training session, the use of Nunchaku helps to enhance posture and boost the development of hand movements.
Spear/Qiang
Hand-Built Warrior Spear – Traditional Chinese Weapon 
This traditional Chinese weapon, crafted by SV, embodies the essence of cold weapons. With a total length of approximately 56.3 inches and weighing about 3.2 pounds, it is a formidable tool. The steel blade and handle ensure exceptional hardness and resistance to rust. The knife handle consists of two sections that can be connected by rotation. Available in red, silver, gold, and black, this spear is not only a symbol of power but also a striking decorative piece. Whether for collection, display, or gifting, the Hand-Built Warrior Spear is a tribute to martial arts heritage. Channel your inner warrior and embrace the artistry and craftsmanship of this extraordinary weapon.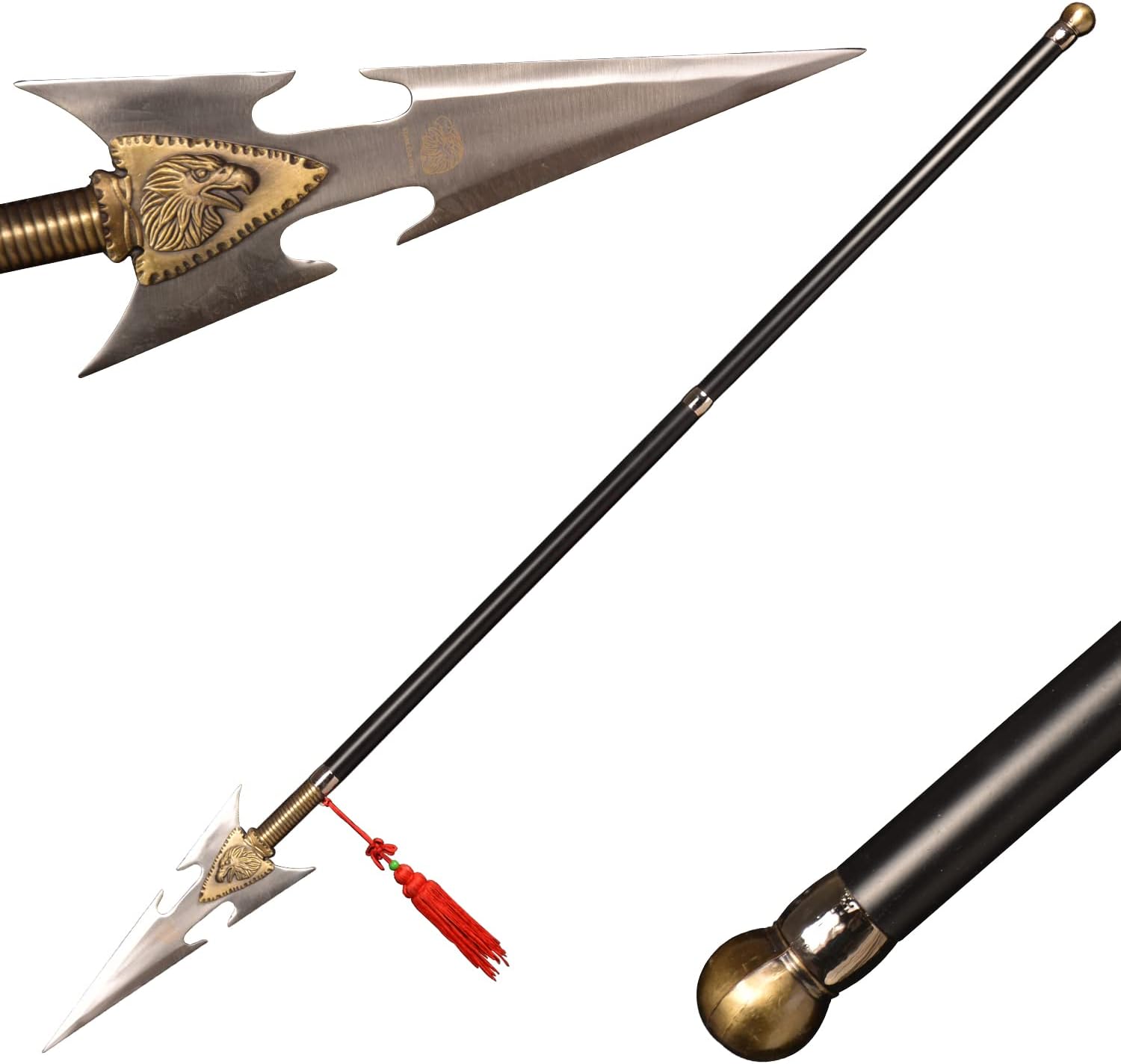 Pros
Authentic appearance and design
Sturdy construction
Easy to hang and display
Impressive showpiece for decoration
Provides a sense of security and intimidation
Cons
Blade slides off the eagle piece
Potential concerns about durability and longevity
Occupying the second spot on the list of the best martial arts weapons is Spear or Qiang (in Chinese).
A spear is a martial art pole weapon that compromises a shaft (usually made of wood) and a pointed head. The pointed head is either the sharpened end of the spear itself or an attachment. The attachment can be made of several different materials, such as steel, iron, bone, flint, obsidian, and many more.
Martial arts spears are categorized into different types, depending on their sizes. For instance, the Ming military categorized the spears with a length of 14 feet and more as long spears. As for those above 9 feet, they are called short spears while those below 9 feet are spiked staffs.
Today, several different styles of martial arts use spears. Some popular ones are Sojutsu, Tai Chi, and Kung Fu.
Hook Swords
MAKOTO Chinese Hook Swords Set
This set of two silver swords embodies the essence of Chinese weaponry. With their distinctive hooked ends and stainless steel construction, these swords showcase both style and functionality. The cloth-wrapped handles provide a comfortable and secure grip, allowing for precise control during your training or performances. With an overall length of 33.25 inches, these swords offer a formidable presence. Whether you're a martial arts enthusiast or a collector, the MAKOTO Chinese Hook Swords are a striking addition to your arsenal. Channel the spirit of traditional Chinese martial arts and master the art of the hook sword.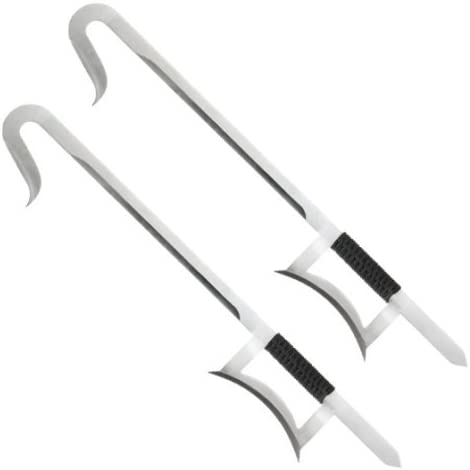 Pros
Sturdy and well-made construction
Designed to be light and have a slight amount of give
Hooks are sharp and can easily penetrate thick cardboard
Can be used for swinging tricks when hooked together
Good price for the product
Cons
Handles are rough and uncomfortable
Wrapping on the handles is cheap and prone to unraveling
Hook swords, also called "twin hooks" or "tiger head hook" is a type of martial arts weapon originally designed in China. Initially, this weapon is only used by the northern styles of martial arts in China. Today, however, the weapon is widely used by both the northern and southern styles of Chinese martial arts.
Hook swords are usually characterized by five common components; the hook, back, sharpened end, crescent guard, and link. The hook is used for slashing, tripping opponents, or catching their weapons.
The back of a hook sword is often used as a sword. As for the crescent guard, it has several different functions, including slashing, blocking, and trapping.
Tonfa
With its traditional design and innovative features, these tonfa offer a safe and effective way to practice your techniques. The shock-absorbing foam and sturdy PVC core provide durability and protection, allowing you to train with confidence. Designed for comfort and ease of use, these tonfa are sold as a pair and are suitable for practitioners of all levels. Whether you're mastering your forms or honing your self-defense skills, the Tiger Claw Foam Tonfa will help you elevate your training to new heights.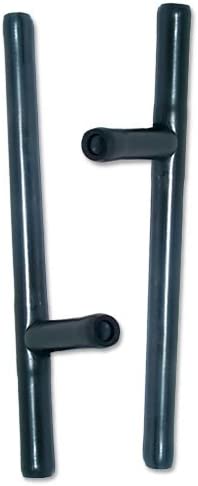 Pros
Suitability for Practice
Comfortable Grip
Sturdiness
Seller Responsiveness
Ideal for Cosplay
Cons
Durability.
Weight.
Fragility.
Tonfa, also called tong fa, is a type of weapon that is commonly used in Okinawan martial arts for blocking and striking. The weapon, which is usually designed with a stick, comes with a perpendicular handle. The handle is attached about one-third of the entire length of the stick.
Furthermore, Tonfa sticks can be made of different materials, such as oak, hardwood, rubber, and polypropylene.
As earlier mentioned, Tonfa can be used for blocking and striking, depending on how you handle it. For instance, by holding it along the forearm area, you can use it to protect yourself. Moreover, gripping the weapon by its shaft will allow you to use it as a hook. That's not all; Tonfa can also be swung out to strike your opponent.
Bo Staff
Foam Padded Training Bo Staff with Armory Carry Bag Case
This lightweight practice staff is perfect for honing your skills and mastering different techniques. With a 1 3/4″ diameter, it provides a comfortable grip and optimal control. The foam padding surrounds a durable plastic tube, ensuring safety during training sessions. Available in 4′, 5′, and 6′ lengths, you can choose the size that suits your training needs. The bo staff comes with a free carry bag for convenient transportation and storage. Whether you're a beginner or an experienced martial artist, this foam padded training bo staff is an essential tool to enhance your martial arts journey.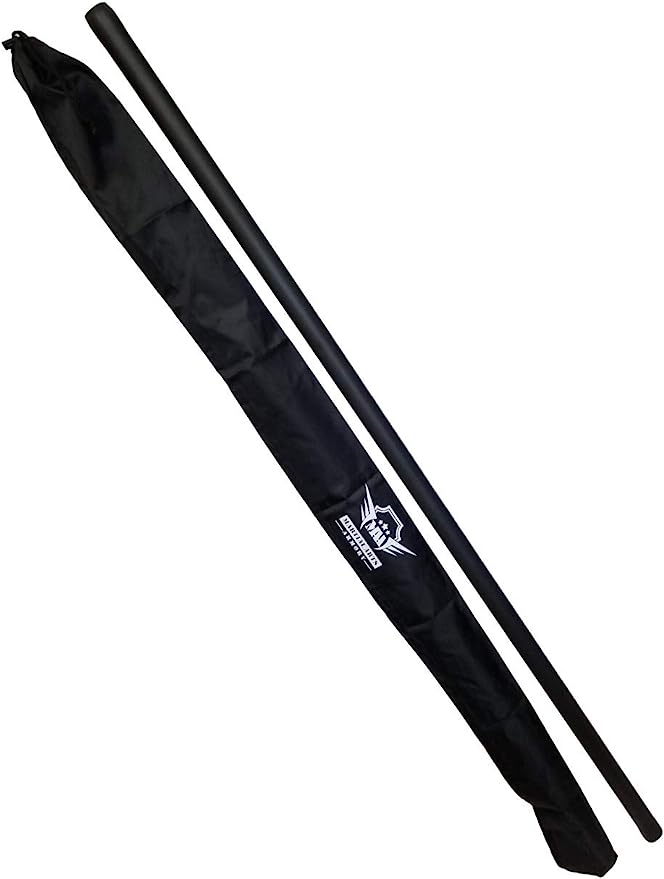 Pros
Padded and safe design of the staff, which allowed their children to practice without the risk of injury.
Enjoyable to handle and use.
Cons
Price too high for the quality offered.
A Bo staff is one of the most common weapons used in Okinawa martial arts. This staff is usually long; to be precise, the weapon is about 6 feet in length. A Bo Staff is made of oak wood and utilized for a couple of functions, such as striking an opponent, thrusting, blocking, sweeping, and entrapping.
Furthermore, a Bo Staff can also be made of foam and metal materials. The foamy type is what people use when training. As for the metallic type, it's often used during demonstrations.
Katana
Auicx Sword Real Weapons Samurai Sword Handmade Katana
Crafted with precision and care, our swords are Full Tang/Battle Ready, ensuring exceptional quality and performance. The fittings of this katana are made of robust and strong alloy material, guaranteeing durability without worrying about discoloration or oxidation. The handle is crafted from wood and wrapped in non-slip, sweat-absorbing cotton wires, providing a secure grip during your martial arts practice.
The scabbard is also made of wood and adorned with intricate patterns, adding to the sword's aesthetic appeal. The blade, made of high carbon steel material, exhibits superior hardness and toughness. Through meticulous manual grinding, we've created a distinctively beautiful irregular texture on the blade, showcasing the artistry and craftsmanship.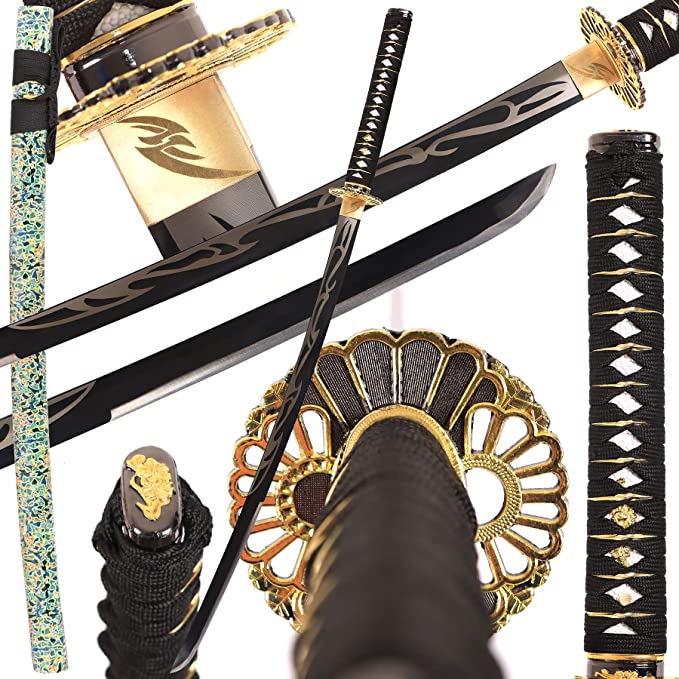 Pros
Good quality for the price.
Beautiful appearance.
Functional and well-balanced.
Great craftsmanship.
Cons
Scabbard is too tight, making it difficult to draw the blade easily.
A Katana is a type of sword that originates from Japan. This martial weapon is different from the regular sword because of its features. In case you don't know, a Katana sword usually comes with a curve and a single-edged blade.
That's not all; a Katana sword also comes with a guard (circular or square) and a long grip, which allows people to comfortably hold it with two hands.
Originally, the Katana swords were designed to be carried by the Samurai warriors in feudal Japan. The weapon can be used for cutting, striking, and blocking battles. In practice, however, the sword can be utilized for learning different styles of martial arts.
Tekko-Kagi
This weapon, also called hand claws, was commonly used by the ninjas for farm purposes. Speaking of the shape of Tekko-Kagi, they are hand claws that come with four iron nails. They are often used by the Ninjas to attack and scratch enemies.
Furthermore, you need to understand that there are two different types of Tekko-Kagi. First, one is designed in such a way that allows the edges to come on the back of the hand. The second type has the edges coming in the palm.
Apart from being used to mark enemies, Tekko-Kagi can also be used for defense and offense.
Nine Section Chain Whips
PHYSKOW Rope Dart Meteor Hammer Exercise Ball
Designed for both competitions and daily exercises, this meteor hammer is a must-have for martial artists. The hammer head is expertly crafted from high-quality 304 stainless steel, ensuring durability and precision. The special cotton rope provides a secure grip without knotting, allowing for seamless movements. With a hammer head diameter of 8cm and a weight of 300g, along with a 4m rope length and 0.8cm rope diameter, this meteor hammer offers the perfect balance of size and weight.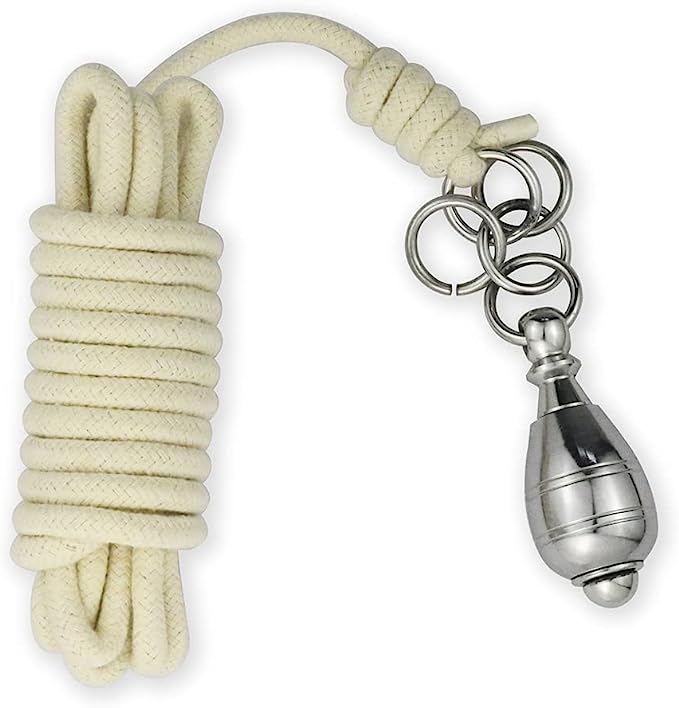 Pros
Great tool for learning beginner techniques
Quality and durability
Unique mechanics
Cons
Initial setup can be challenging for beginners
Nine section chain whips, also called chain whips, are a type of martial arts weapon designed with several metal rods. These rods are often connected end-to-end with the help of rings to form flexible chains. As with the name, this type of weapon is made of nine different sections, including two end pieces.
Furthermore, nine section chain whips are made of steel and grip materials. It's often used in Wushu and Shaolin Kung Fu for different functions, including striking and slashing.
Wakizashi
Cold Steel Dragonfly Wakizashi Sword
This Japanese-style sword pays homage to the samurai warriors of feudal Japan, specifically those of smaller stature. The deeply curved and hand-polished 1060 steel blade is designed for ultimate cutting potential, terminating in a long iris leaf point. This blade showcases the perfect balance between hardness and pliability, making it a favorite among the sword-making community.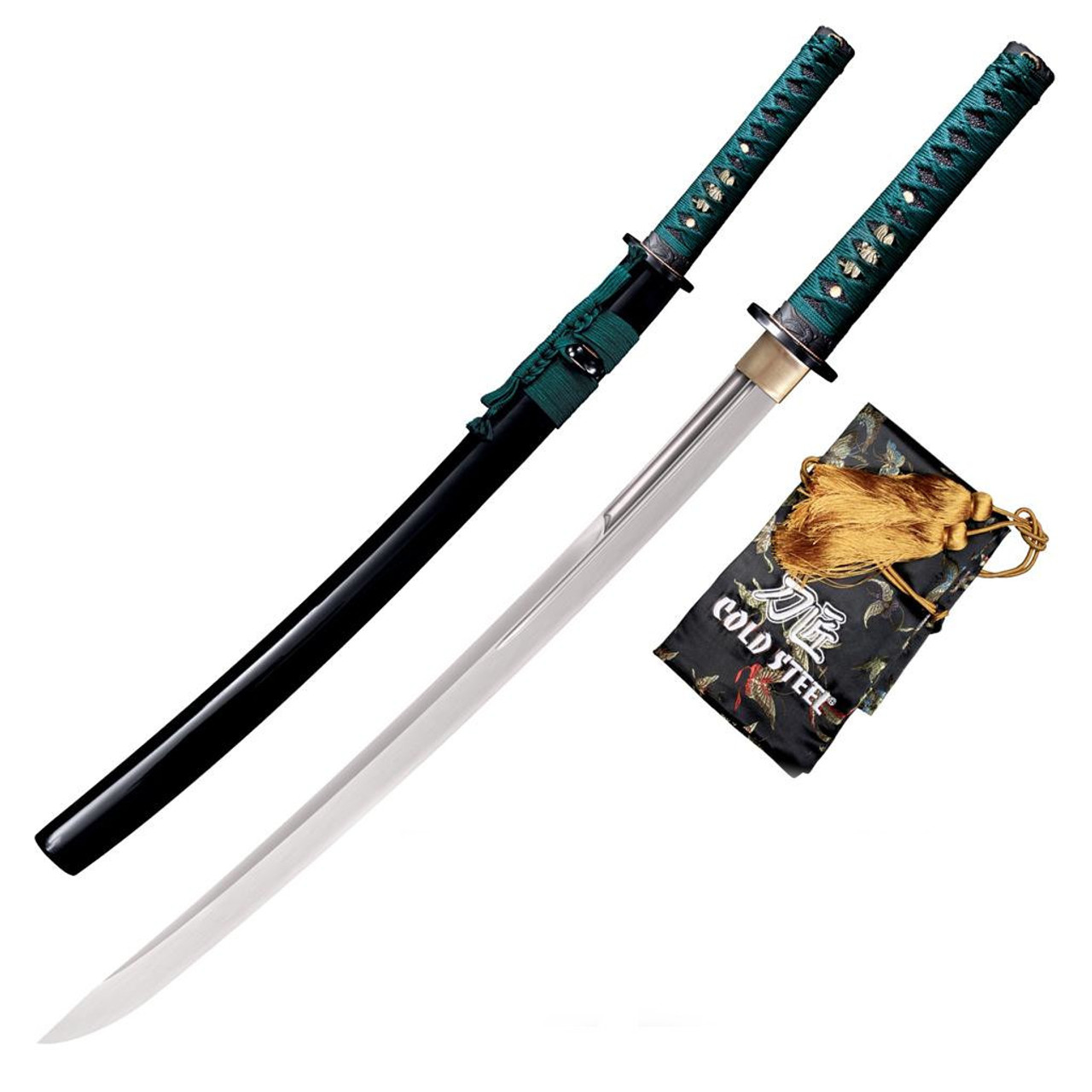 Pros
Broad and well-crafted blade
Thick and intimidating cutter
Good fit and finish
Impressive blade design
Cons
May present some imperfections in the blade
Wakizashi was commonly used by the Samurai warriors in Feudal Japan. The Japanese weapon is more of a sword but different from the regular ones and the Katana sword.
Here's a brief description of what the sword looks like; it has a blade, which is usually about 12 and 24 inches in length. Furthermore, there are two types of Wakizashi. Those that come with almost the same length as the Katana Swords are called ō-wakizashi.
As for those that have a similar length as the tantō swords, they are often called ko-wakizashi.
In terms of usage, Wakizashi swords are worn by Samurai of feudal Japan as backup or auxiliary swords. They are also utilized to behead any defeated opponent in the 15th and 16th centuries.
Sai
Superdo Octagon Metal Sai
Crafted for martial arts enthusiasts, these Superdo Octagon Metal Sai boast a unique octagon shape and a sleek nickel finish. Made from high-quality materials, they are forged to withstand intense training sessions. The rubber bandage handle provides a secure and comfortable grip, with built-in shock absorption and anti-skid properties. With no sharp edges, these Sai prioritize safety while allowing for precise movements and strikes, being the perfect weapon for training and demonstrations.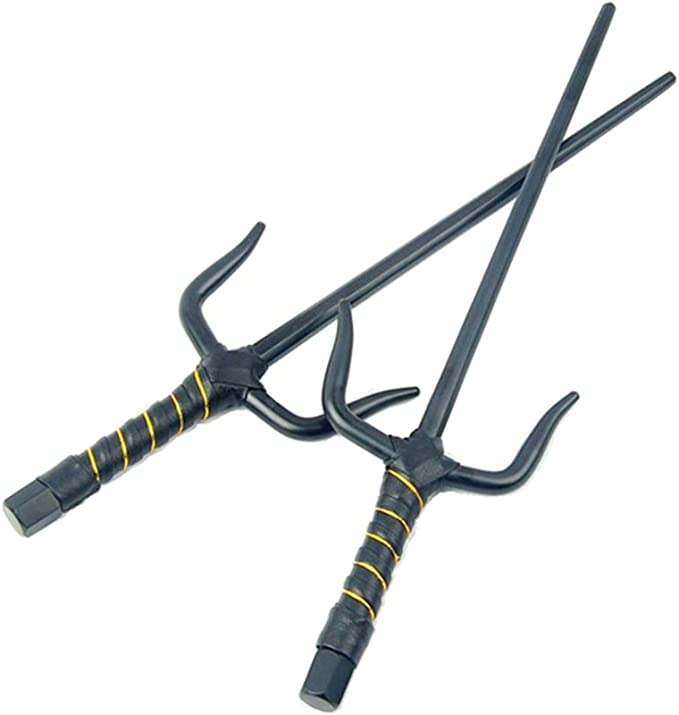 Pros
Good weight and balance
Excellent grip, suitable for combat or practice
Strong and durable
Good value for a little expense
Up next on the list of the best martial arts weapons is Sai. In 1668, the equipment was used by the domestic police in Okinawa, Japan. Sai is a type of martial art weapon used mainly for blocking and stabbing enemies.
Furthermore, Sai is typically made of metal. It often comes with a blunt metal prong, which also has two curved side prongs. These side prongs project directly from the handle of the traditional Okinawan weapon.
Sao has several different components; one of them is called Monouchi. This is the main cutting portion of the traditional weapon. Furthermore, Sai's monouchi can come in two different shapes; faceted or round.
Other components of the Sai weapon are Yoku, Tsume, Moto, Tsuka, Saki, and Tsukagashira. "Yoku" represents the two shorter prongs projecting from the handle. "Tsume" represents the tip of the curved side prongs.
As for "Moto," is the center, where the main prong and the curved side prongs (Monouchi and Yoku) converge. Furthermore, Tsuka is typically the handle of the weapon. "Saki" is the sharp tip of the Sai weapon while "Tsukagashira" is the handle's butt end.
Shurikens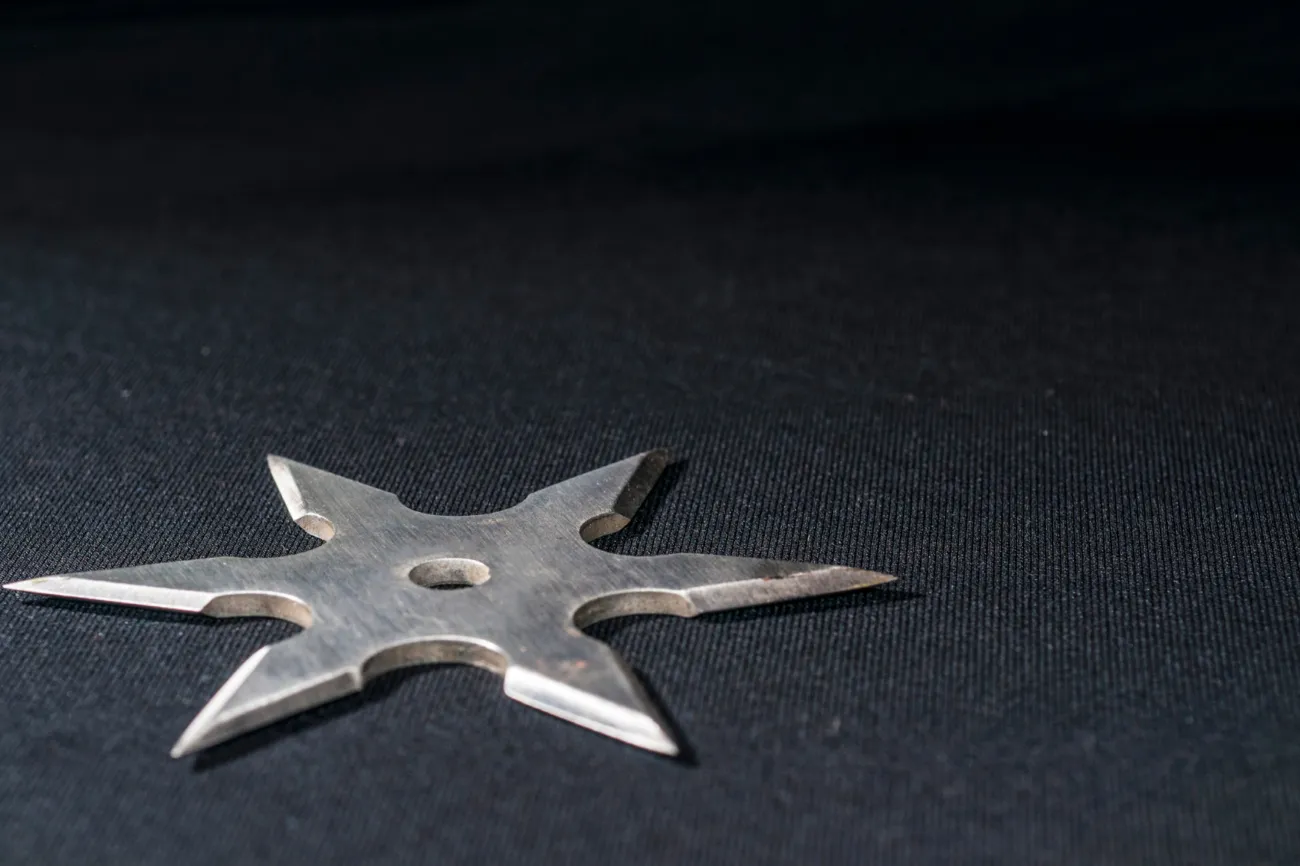 Another type of weapon that's commonly used for martial arts is Shurikens. In case you don't know, this fighting equipment originates from Japan. The weapon is more of a concealed dagger used to distract enemies.
Here's a fun fact about Shurikens; they are illegal in some states in the US. For instance, according to Penal Code 22410 PC, the government says that it's a crime for anybody to manufacture, sell, give, or own a shuriken or ninja star.
That said, Shurikens, also called "ninja stars" are dangerous weapons used by ninjas and Samurai. They make use of the weapon to target the eyes, face, and other exposed parts of the enemy's body.
Rope Darts
ICNBUYS Traditional Rope Dart
This ICNBUYS Traditional Rope stainless steel Dart features a captivating diamond-style design that enhances both its aesthetics and functionality. It comes with a free 13 ft rope and a red flag, providing you with everything you need to start your training. With a length of 4.9 inches and a weight of 0.33 pounds, this rope dart strikes the perfect balance between agility and control. Whether you're practicing traditional Chinese martial arts or exploring the captivating world of weapon manipulation, the ICNBUYS Traditional Rope Dart is a must-have for any martial artist seeking to expand their skills.

Pros
Good balance
Perfect control during use
Allows smooth movements
Made with good materials (solid steel dart and thick, yet not heavy, rope)
Suitable for learning, provides good introduction to rope dart techniques
Cons
May broke after a relatively short period of intense use
Rope may cause irritation to hands
Rope darts or "rope javelins" are another type of traditional weapon used in different styles of martial arts. Just like its name, the weapon is designed with a long rope. Furthermore, the rope, which is at least 10 feet in length, often comes with a metal dart attached to one of its ends.
Rope darts offered tons of benefits to the fighters. For instance, they can be used to hitting, piercing, and slashing enemies. That's not all; the weapon is also effective for several other techniques, including twining, binding, and tightening.
Using this weapon isn't an easy thing to do. Anybody using the equipment must have a pretty great balance and coordination when shooting it.
Kama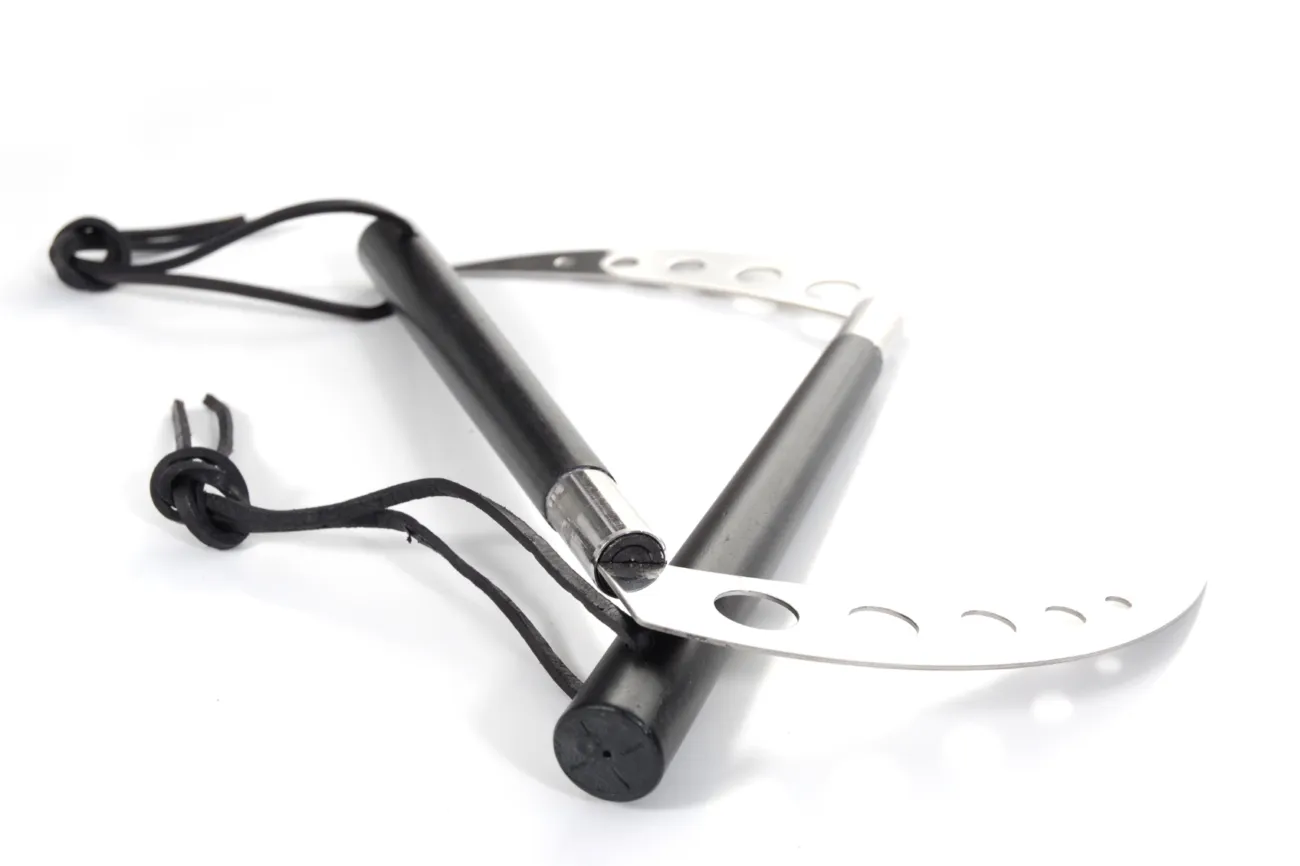 The Kama is a type of martial arts weapon that originates from Japan. The equipment looks more like a sickle and is designed primarily for farming purposes. Apart from that, the weapon is also essential for several other things, such as blocking, trapping, and collecting an enemy's weapons.
Furthermore, the weapon comes in pairs; you can either decide to use it that way or utilize it as a single half.
Kunai
Whetstone Cutlery 12 Piece Set of S-Force Kunai Knives
This set of 12 Whetstone S-Force Kunai Knives is perfect for martial arts enthusiasts and knife enthusiasts alike. Crafted with stainless steel double-edged blades, these knives offer durability and precision. The full tang construction and cord-wrapped handles ensure a secure grip and optimal control during your training or hunting sessions. The set comes with a convenient nylon carrying case, featuring Velcro closures and a belt loop for easy transportation. With dimensions of 4.75 x 8.125 x 1.5 inches, the case comfortably holds all 12 knives. Each knife measures 6.5 x .375 x 1 inches, with a blade length of 3.125 inches.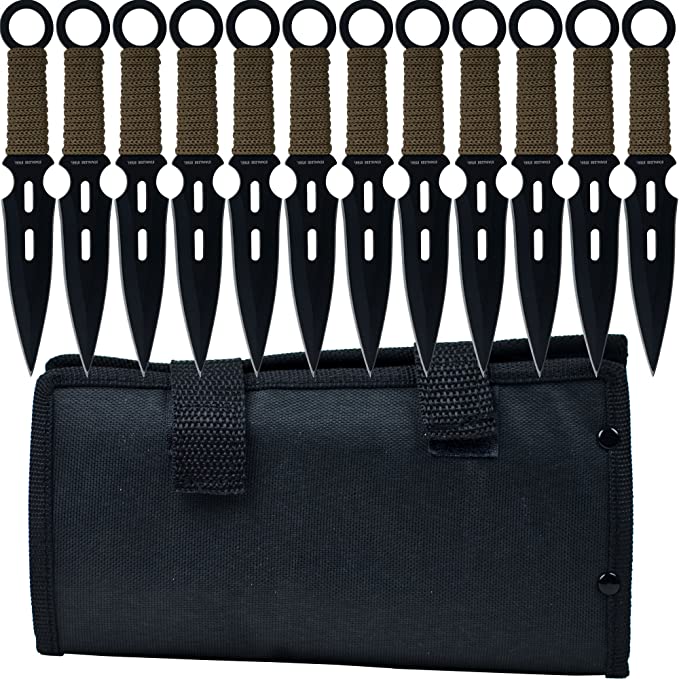 Pros
Maintain sharpness over time with regular use
Beginner-friendly
Suitable for children
Affordable price
Pleasing aesthetic with a professional look
Cons
Tips bend and break easily
Small and lightweight, more suitable for short-distance throws
A Kunai is another martial arts weapon that comes from Japan. Originally, the design of the fighting equipment was based on a masonry trowel, a hand trowel used in brickwork for leveling and shaping concrete.
A Kunai looks more like a Shuriken. The difference, however, is that the former is larger and heavier than the latter. They can be used for stabbing and throwing.
Podao
Podao is a Chinese weapon that's still in use to practice several different martial arts in the country. Also called a "horse cutter sword," Podao usually comes with a sharp blade, which takes the shape of Dao, a Chinese broadsword.
Apart from the blade, the traditional Chinese weapon also packs a long handle, which is usually about 6 feet in length (max).
What Is the Most Effective Martial Arts Weapon?
Spears are the most effective martial arts weapon because they are pretty easy to use and dangerous to attack enemies while also keeping a better fighting distance.
What Is the Hardest Martial Arts Weapon to Master?
Nine Section chain whips are the hardest martial arts weapon to master. It requires you to learn how to use both the flexibility and solid parts of the weapon. When using the weapon, as you try to go from one move to another, the chain whips often become pretty much difficult to control.