If you have a friend or a family member into kickboxing, you can't go wrong getting them something kickboxing-related as a gift for any occasion. There are so many things you can go with, from clothes and protective garments to training and exercise equipment.
When choosing what to go for, though, you should keep some things in mind. For instance, most kickboxing practitioners will already have a gym bag for their equipment. It is something everybody needs, but everybody has, too, so it might not be useful to buy that as a gift.
It would be best if you went for stuff that usually gets worn out, and it is not a bad idea to have a second pair. If you aren't sure what size the person you're buying the gift for is wearing, aim for a gift that doesn't come in different sizes and is equal for everybody – things like bandages, mouthguards, etc. We made a list of the best kickboxing gifts to give you a few great ideas.
Kickboxing gloves
If you are buying a kickboxing gift for somebody, you can never go wrong with a nice new pair of gloves. There are a few reasons why this is usually the top choice for a kickboxing gift.
Firstly, although they are something that every kickboxing practitioner already has, you use your gloves almost the entire time during practice, sparring, or in a real match. Therefore, there is a lot of wear-and-tear. They rarely give in on the outside padding, but the entire friction and squeezing with your hand inside the glove causes it to get damaged over time. So, it's never a bad thing to have an extra pair on the side.
Secondly, you don't have to worry about size, as they are usually one-size-fits-all. The only question is the weight of the gloves. They can be 8 oz, 10 oz, or higher. The more the gloves weigh, the more padding they have.
Everlast Pro Style
Everlast Elite Pro Style Training Gloves, Pink/White, 8 oz
Experience the pinnacle of training gloves with the Everlast Elite Pro Style Training Gloves in Pink/White, 8 oz. Crafted with premium synthetic leather, these gloves offer exceptional durability and functionality. The innovative Evercool technology provides ventilation and breathability, while the Evershield technology offers advanced wrist protection and a comfortable fit. With an adjustable Velcro closure, these gloves ensure optimal snugness. Available in various colors and sizes, the Everlast Elite Pro Style Training Gloves are designed to enhance your training experience and deliver superior performance. Upgrade your gear and unleash your potential with these elite gloves.
Pros
Lighter than other 16 oz brands
Good price
Protects knuckles and wrists well
Mesh lining keeps hands cool during workouts
Cons
Seam near the right thumb may come undone
Fingers slot initially folded, causing difficulty in fitting
The Everlast Pro Style gloves are one of the best selling models on the market. They are made from premium synthetic leather and come with an ever-fresh treatment to prevent foul odor and make the gloves more breathable. Also, they have the patented Thumb-Lok technology that keeps the thumb and the entire hand in an anatomically fit position. It's a simple but high-quality product that's usually a go-to model of kickboxing training gloves.
Everlast Women's Pro Style
Everlast Elite Pro Style Training Gloves 8 oz
Crafted with premium synthetic leather, these gloves offer exceptional durability and functionality. The innovative Evercool technology provides ventilation and breathability, while the Evershield technology offers advanced wrist protection and a comfortable fit. With an adjustable Velcro closure, these gloves ensure optimal snugness. The Everlast Elite Pro Style Training Gloves are available in various colors and sizes to enhance your training experience and deliver superior performance.
Pros
Good color options and stylish appearance.
Good overall quality.
Fit for women and youth.
Comfortable.
Beginner-Friendly.
Cons
Difficult to put on.
Knuckle Protection not ideal.
There's also the Everlast Women's Pro Style Training Gloves if you are purchasing a gift for a female kickboxer. The material and quality are virtually the same, only the colorway is different, and the gloves are slimmer around the wrist and palm to fit smaller hands better.
Sanabul Essential Gel Bag Gloves
Sanabul Essential Gel Boxing Kickboxing Punching Bag Gloves
Designed for beginners and those starting their training journey, these gloves are the #1 popular choice with over 100,000 pairs sold. With a professional look, great quality, and endorsement from top athletes, these gloves offer the perfect combination of style and functionality. Engineered with gel-infused padding, they provide maximum impact absorption while protecting your hands. The powerful hook and loop closure system ensures wrist support and a secure fit. Designed for hard use, these gloves are built to last and withstand countless rounds.


Pros
Great value for the price.
Comfortable fit.
Good protection and padding.
Suitable for beginners.
Cons
Lack of extra wrist support.
Stiffness during break-in.
If you're going for a bit more advanced model, choose Sanabul Essential Gel Bag Gloves. The model is incredible for many of its features and was tested by professional fighters. There's also gel infusion that absorbs all the impact force, lowering hand pain and injury risk by a considerable margin. They are durable, breathable, and can be a part of your friend or family member's training gear for years. You would be buying them professional-caliber equipment for a very decent price.
As the name suggests, they are perfect for heavy bag workouts and suitable for sparring, as they are well-padded. They have a unique arch design that helps them fit perfectly regardless of the size of the hand. The fit is almost instant; you don't have to break into them to make them work.
One of the best features this model has to offer is the wrist protection it provides. The robust closure system keeps the wrist tight and fixed but not too tight to be a nuisance. Finally, they come in various colorways, so there will surely be one that's perfect for your gift.
Mouthguard
While it's evident that anybody that practices martial arts already has a mouthguard, it's a piece of equipment that should always be at a peak condition. And, a mouthguard takes in a lot of damage over time, even if it's of the highest quality. Therefore, mouthguards should be changed from time to time, making them a convenient and useful gift.
To add to it, you shouldn't worry about the size and fit the least, because virtually all mouthguards nowadays come with boil-and-bite technology. What you get is a mouthguard mold with instructions on how to make them a custom fit for your teeth precisely, so there's no worry about buying the right size. Choosing the right model, however, could be tricky, so here are a few excellent options.
Venum Challenger Mouthguard
Venum Challenger Mouthguard
Featuring a Nexfit Gel Frame, it provides a secure fit and optimal comfort. The advanced design allows for optimal breathing during fights, ensuring you stay focused and perform at your best. The High Density Rubber Frame effectively manages shocks, offering top-level protection. For added convenience and hygiene, the mouthguard comes with a protective case.
Pros
Comfortable to wear.
Sturdy.
Easy to fit.
Good quality.
Affordable.
Cons
Size limitations.
Fit issues
The Venum Challenger Mouthguard is a highly-popular model among regular kickboxing practitioners and professional martial artists. The Nexfit Gel Frame is perfect for maximizing comfort and allowing more effortless adjustment on the teeth. The boil-and-bite-system makes it a perfect custom fit every time – just make sure to carefully follow the provided instructions.
The outer frame is made out of high-density rubber, which provides excellent protection for your teeth. Also, it absorbs and distributes every impact in the direction of your strongest teeth, no matter where the strike landed. That will lower the pain you feel and will protect you from jaw injury as well.
You'll also get a protective hygienic case that matches the colorway you pick. There are over a dozen colorways, guaranteeing you'll be able to find the one that matches the person's preferences.
Champs Breathable Mouthguard
Champs Breathable Mouthguard
Designed specifically for combat sports such as jiu-jitsu, muay thai, boxing, and MMA, this mouthguard features a next-gen gel that forms to your mouth, ensuring a perfect fit. Its high-impact, rigid outer-layer provides exceptional durability to withstand even the hardest blows, while the soft-gel inner layer offers a comfortable extra cushion. With 3 central air holes, this mouthguard allows for optimal oxygen flow, enhancing your performance in the ring. Don't settle for less when it comes to your safety.
Pros
Mouthguard significantly improves breathability and oxygen intake.
Comfortable for braces.
Good protection.
Easy to customize according to their preferences.
Cons
Mouthguard is considered bulky and too large.
The system fits the person's bite perfectly and provides them with rigid layered protection. The first layer is a high-impact hard rubber that can sustain even the hardest blows, while the inner layer is gel-based, making it much softer and shock-absorbant.
The breathability factor sets this model apart when compared to other models within the same price range. If you want the best quality/price ratio, this has to be the way to go.
Shock Doctor Gel Max Mouthguard
Shock Doctor Gel Max Power Carbon Convertible Mouth Guard
The new gel-fit liner easily molds to your teeth and gums for extended use. With its heavy-duty Exoskeletal Shock Frame, it provides unparalleled protection against even the toughest impacts. The integrated breathing channel ensures easy airflow, enhancing your breathing and maximizing performance.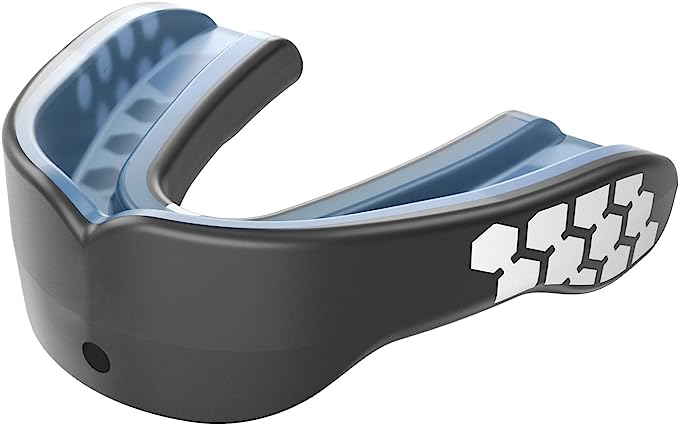 Pros
Comfortable fit.
Easy to shape.
Good protection.
Wide color selection.
Long-lasting.
Cons
Not suitable for braces.
Size issues for young children
It also integrated a breathing channel, allowing the best performance every time. Still, the best feature about this mouthguard when comparing it to others is the comfort and fit inside the mouth. There's a much thinner hard external layer. That way, you won't lose the protective properties while reducing the risk of cheek and tongue injury when in combat.
Shorts & compression t-shirts
If you know what size the person is wearing, a new pair of shorts or a compression t-shirt will always come in handy for them in practice. The compression t-shirts keep the body at an optimal temperature through the entire training session but don't get into the way to limit performance as regular baggy t-shirts do.
On the other hand, you should look for shorts from light yet durable material. Most fighters train in shorts that are above the knee for extra mobility and comfort. And the best part is that they come in countless colors and patterns, making it a very personal gift to buy somebody.
Anthem Athletics Infinity Shorts
Anthem Athletics Infinity Shorts
Designed to be the best on the market, these shorts feature lightweight, tear-resistant fabric that is 100% machine washable and dryer safe. With a modern mid-thigh length and aggressive side slits, they offer maximum mobility and a sleek look. Whether you're training or competing in Muay Thai, kickboxing, or boxing, these shorts are optimized for the fight. Available in a range of styles and sizes, including unisex options, the Anthem Athletics Infinity Shorts are the top choice for serious martial artists.
Pros
Great for general workouts.
Good quality shorts at an affordable price.
Versatile and subdued styling, suitable for both training and casual wear.
Comfortable fit with ample leg space, enhancing kicking performance.
Suitable for bigger individuals with larger waistlines, offering a comfortable and proper fit.
Cons
May be shorter than expected
Lack of stretch and comfort during leg movement.
If you want to gift something top quality yet affordable, take a look at the Anthem Athletics Infinity Shorts. These high-quality shorts are up to par with the biggest brands on the market, but they come at a much lower price.
The reason behind the lower price is the Anthem Athletics policy – they never hire celebrities for merchandise endorsements, allowing them to save money and be able to sell at a more reasonable price. The product speaks for itself, and so do countless satisfied customers.
What makes the model so popular is the simple yet highly efficient design. The waistband is elastic, making the shorts seamlessly fit any body type. With an above-the-knee cut and a deep side cute, the shorts will never feel too tight or bother you while performing kicks.
They are also machine washable and made out of high-quality materials designed to reduce friction and endure long training hours.
Hawk Sports Unisex Workout Athletic Shorts
Hawk Sports Athletic Shorts
These shorts provide 360-degree freedom of movement with a Y-vent design and reinforced seams. The stretch micro fabric with sweat-wicking capabilities keeps you comfortable and dry during intense training sessions. The hook and loop closure with a rope drawstring ensures a secure and comfortable fit. With a hidden pocket for your mouthguard and versatile use across various martial arts and workouts, these shorts are a versatile choice. Available in multiple waist sizes, these quick-drying and machine-washable shorts are a must-have for any athlete.
Pros
Comfortables.
Good fit with adjustable drawstring and Velcro closure.
Lightweight and Breathable.
Great durability.
Affordable price point.
The Hawk Sports Unisex Workout Athletic Shorts are great not only for kickboxing but also for other activities such as running, grappling, or only going to the gym. The unisex model and its simple design make it a safe bet when it comes to kickboxing gifts.
The shorts are made out of micro stretch fabric with a hook-and-loop velcro closure system. Also, there's a drawstring on the inside so you can adjust the fit correctly, and it won't bother you in practice.
One more great thing about these shorts is the double stitching, making them very durable even for grappling where there's a lot of friction and chafing. And, the best part – there's a five-year replacement guarantee, so if they tear off by any chance, you'll get a new pair entirely free of charge.
TUFF Sport Retro Shorts
TUFF Sport Retro Shorts Classic Slim Cut
Made from 100% polyester and featuring an elastic and drawstring closure, these shorts offer a comfortable and adjustable fit. Suitable for various combat sports and fitness training, these shorts are perfect for both men and women, as well as kids. With unique and original designs, including Thai-inspired patterns and a gladiator theme, these shorts stand out from the crowd. Crafted with the highest hand-made quality and utilizing Sublimation Printing Technology, they are lightweight, sweat-free, and quick-drying. Hand wash cold and drip dry for maximum longevity.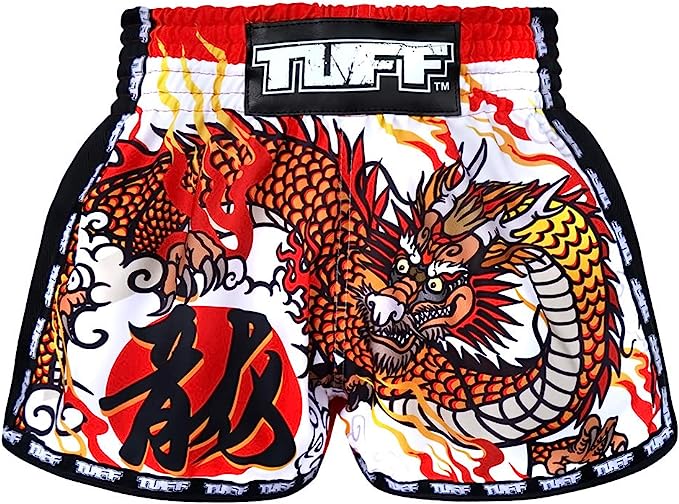 Pros
Affordable price.
Good quality materials.
Sturdy construction.
Attractive design with vibrant colors and appealing patterns.
Good fit.
Cons
Waistband is a bit stiff and challenging to put on.
shorts smaller than expected.
If you are looking for something a bit more personalized and stylish, look no further than TUFF Sport Retro Shorts. Back in the day, every fighter used to wear these shorts with a custom design and a great slim fit. These shorts come in many cool prints for you to choose from.
The fact that the design is highlighted doesn't mean this model sacrificed comfort and efficiency, though. The classic slim cut above the knee allows maximum comfort, while the elastic waistband keeps the shorts fit and in place.
You can rest assured that these shorts will live long because each unique design is hand made and sewn from the best microfiber fabric available. The only downside to this is that they should be hand washed to maximize durability, but they will surely put a smile on every kickboxing practitioner's face.
Venum Nogi 2.0 Rashguard T-shirt
Venum Nogi 2.0 Short Sleeves Rashguard
Designed with reinforced seams and Venum compression technology, it improves blood circulation and accelerates recovery. The sublimation printing ensures maximum durability, while the athletic fitted cut provides a comfortable and supportive fit.
Pros
High quality durable product.
Excellent material.
Comfortable fit.
Aesthetic appealing style.
Cons
Size runs small than usual
Expensive.
Waist elastic tightness.
You can find Venum Nogi 2.0 Rashguard T-shirt in every other martial arts practitioner's bag. It's made out of 87% Polyester and 13% Elastane, providing a perfect combination of compression and longevity.
Many grapplers use this t-shirt in practice, too, because it fits seamlessly while protecting you from chafes and cuts. Also, the compression technology improves blood circulation, giving you the ability to perform at your highest level.
The price might be a little high compared to similar products, but if you aim for the highest quality, this is the t-shirt you want. Many professional fighters use it in practice, so it will surely be a nice gift for a Kickboxer.
CompressionZ Quick Dry Long Sleeve Shirt
CompressionZ Mens Quick Dry Compression Long Sleeve Baselayer Athletic Shirt
Designed to deliver superior compression to the shoulder, chest, back, and abs, this lightweight and comfortable shirt supports your muscles for optimal performance. The 4-way stretch fabric allows for maximum mobility and comfort, while the breathable and sweat-wicking properties keep you dry throughout your workout. Whether worn as a base layer or on its own, this shirt provides added insulation and protection.
Pros
Good level of compression provided.
Comfortable to wear, with soft and expandable materials.
Versatility.
Breathable and helps wick away sweat.
Cons
Difficult to remov.
Not suitable for cold weather.
See-Through.
In numerous sports, athletes use this shirt because of its very high-quality, light-weight material and breathable compression technology. The company producing these shirts specializes in compression garment technology, allowing this long-sleeved shirt to provide the perfect compression on your shoulders, chest, abs, and back. The stretch fabric is exceptionally durable and has an integrated quick dry technology, avoiding foul odor and prolonging fabric freshness.
The CompressionZ Quick Dry Long Sleeve Shirt comes in all sizes, from S to 3XL, which means you'll surely be able to find the right fit. There are also several colorways for you to choose from, making this a truly incredible piece of equipment to have in your training equipment. And, the best part – it comes at only a fraction of price when compared to other brands that offer products of around the same quality, if not lower.
More Kickboxing gift ideas
While these were the most popular options for kickboxing gifts, there are plenty more options for you to choose from. Like any martial art, kickboxing has much gear used as bodywear or as exercise props.
Strength and technique builders
Bowflex SelectTech 552
Bowflex SelectTech 552 Adjustable Dumbbells
These versatile dumbbells replace 15 sets of weights, offering adjustable options from 5 to 52.5 lbs. The weight selection dial allows you to easily switch between various weights, accommodating your fitness goals. Experience the advanced JRNY Mobile-Only Membership, which provides motion tracking technology, rep counting, and real-time form tracking using your phone or tablet's camera. With compact dimensions and sold as a pair, these dumbbells are the ultimate fitness companion for effective and efficient workouts.
Pros
Easy weight adjustment.
Great build quality.
Versatility and convenience.
Space-saving design.
Comfortable grip.
Cons
Screw and nut become loose over time.

Length of the dumbbells can be problematic.
Every Kickboxer needs some strength-building equipment, so you can always go for a dumbbell set as a nice gift for any athlete. The Bowflex SelectTech 552 Adjustable Dumbbells are among the most popular options on the market because you can adjust the weight quite quickly, making them a perfect pick both for beginners and pros.
Odoland 6-In-1 Punching Bag
Odoland 6-in-1 Punching Bag Unfilled Set
Perfect for adults, this set includes a 4ft unfilled punching bag, 12oz boxing gloves, hand wraps, a punching bag hanger, ankle protective sleeves, and a rotation 3-panel steel chain. The high-quality PU leather punching bag is built to last, with reinforced straps, double stitching, and multi-layer shock-absorption foam padding. The 12oz boxing gloves provide excellent protection with extra-thick foam padding and a secure velcro wrist closure. Hang the punching bag easily with the 360° rotary bag hanger and the 4 rotating stainless steel chains.
Pros
Good quality leather and good material.
Easy to fill.
Durable and built to last.
Good value for the price.
Cons
Zipper and stitching broke easily.
If you want the person to work on their kickboxing outside of the gym, buy them a punching bag of any sort. If you know they have an oversized garage or a training area where they could hang a heavy punching bag, go for a high-quality bag such as the Odoland 6-In-1 Punching Bag that comes with all the necessary hanging and mounting parts.
Everlast Power Core Fit Bag
Everlast Power Core Fit Bag
Made with durable synthetic leather construction, this training aid is built to last. It is designed to increase both upper and lower body strength, helping you achieve your fitness goals. With multiple hand positions, you can enjoy a wide variety of workout options, adding versatility to your training routine.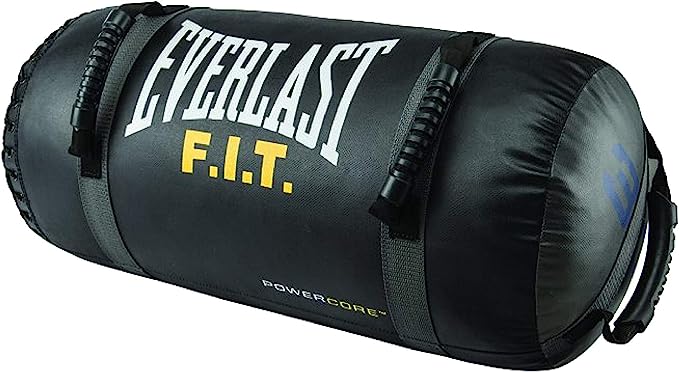 Pros
Durable .
Versatile.
Good construction quality.
Suitable for various fitness goals.
Good material, overall great quality.
Cons
Weight not evenly distributed.
Size Limitation.
You can always go for something smaller to make sure they'll have somewhere to use it. The Everlast Power Core Fit Bag is smaller and easy to use- so you should check it out as well.
Hand & Foot Bandages
When it comes to safety and protection, it's never a bad idea to buy an extra set of hand bandages or foot wraps as a kickboxing gift. Every fighter needs them, and they often succumb to wear-and-tear, so it's always good to have a couple of sets.
Venum Boxing Hand Wraps
Made from elasticated stretch cotton, these hand wraps provide unmatched comfort during training sessions. The Velcro fasteners ensure a perfect fit, allowing you to customize the level of tightness. With Venum Boxing Hand Wraps, you can enjoy ultimate hand protection while maintaining flexibility and mobility.
Pros
Comfortable.
Snug fit providing with the desired support.
Durabile.
Breathable material firm and comfortable on the knuckles and wrists.
Good quality and performance for the price.
Cons
Can have significantly different lengths, making it difficult to wrap both hands evenly.
Sewing on the Velcro happen to come undone after only a few weeks of use.
When buying bandages, make sure they have a thumb loop for extra grip, allowing them to stay entirely in place and maximize wrist protection. Venum Hand Wraps are great for kickboxing because the elasticated fabric provides a perfect fit every time.
Moreover, the thumb loop makes them ideal for Kickboxers, as the bandages can be used as foot wraps. Just put the thumb loop over the big toe and proceed to wrap them around the foot to protect the instep, the heel, and most importantly, the ankle.
Hawk Padded Inner Gloves
Hawk Padded Inner Gloves Gel Elastic Hand Wraps
These gel-infused hand wraps provide ultimate shock absorption, keeping your fists and hands injury-free during intense training. The carefully stitched finger and thumb holes, along with precise knuckle positioning, offer ample support for powerful punches. Available in two sizes and three colors, these fingerless gloves offer a modern and dynamic look. Simply slip them on, tighten the hand wraps, and secure them with the Velcro strap for a snug fit. With foam padding, they can be used for various martial arts disciplines.
Pros
Beginner-Friendly.
Great Fit that ensure comfort and stability.
Comfortable cushioning allow to train without discomfort or soreness.
Time-Saving.
Cons
May have issues with sizing, particularly between the S/M and L/XL options.
Gloves can be too bulky when worn inside boxing gloves.
If you are looking for a more unadorned, more straightforward wrist and ankle protection system, choose a one-piece under glove hand compression garment such as the Hawk Padded Inner Gloves set. You can simply pull it onto your hands under the fighting gloves, making preparation time for practice a lot shorter.
Shin Guards
Finally, every kickboxing practitioner can benefit significantly from using shin guards in practice. They are an excellent way for beginners to ease into kicking without hurting their shins. They reduce the force of every impact while gradually strengthening the legs at the same time, avoiding gnarly injuries that can happen in any contact sport, especially one as forceful and aggressive as kickboxing.
Venum Kontact Shinguards
Venum Kontact Shin Guards
Crafted with high-quality cotton, these shinguards offer strategic reinforcement for maximum protection. The Velcro closure ensures a customized, no-slip fit, allowing you to focus on your training. Plus, these shinguards are machine washable for easy cleaning and maintenance.
Pros
Comfortable and secure slip-on style keeps them firmly in place.
Light weight makes them comfortable during extended periods of use.
Provides great protection when worn correctly.
Good amount of padding for adequate protection.
Suitable for beginners and casual training.
Cons
Not as padded as other shin guards, which some may find unpleasant.
Material near the ankle may rip after a short period of use.
The strap at the top does not secure the shin guard well.
Starting with thicker shin guards and working your way to softer models is a great way to progress slowly and avoid injury. One of the most popular beginner models is the Venum Kontact Shinguards. They have substantial padding and instep protection, which is where most kickboxing injuries occur.
RIMSports shin Guards
RIMSports Shin Guards Premium
Made from quality cotton with reinforced stitching, these professional-grade shin guards offer durability and withstand strikes, kicks, and blocks. Constructed with comfort in mind, the blend cotton material ensures breathability and moisture-wicking performance. The non-slip design and adjustable velcro strap provide a secure and comfortable fit. With four-way compression and high-impact protection foam, these shin guards offer calf support and muscle stabilization during intense training sessions.
Pros
Good quality and fit provide adequate protection during kickboxing without compromising mobility or traction.
Great price/value ratio.
Great for beginners.
Comfortable and well-fitting, ensuring a snug and secure fit during training.
Cons
Thinner compared to other pads, which may not provide enough padding for advanced kickboxers.
Thread can came off easily.
If the practitioner is already more advanced in their training, they might benefit from thinner shin guards such as the RIMSports Shin Guards. They still provide excellent protection, but you'll feel the impact a bit more, conditioning your shins better. Many professional partners still use them in practice because of their incredible durability and a comfortable fit that makes them seamless when wearing them.
Buying kickboxing gifts can be a lot of fun, so make sure to explore a bit before making the final decision because there's a ton of great stuff out there to check out.