Karate training is tough, especially when you are training at an academy that focuses on a lot of fighting, as it can be a flurry of punching, kicking, blocking, and even throwing. Sparring in martial arts is a lot of fun, as it not only puts your skills to the test, but it can also be is very educational and useful.
Best Karate Sparring Gloves: Editor's top picks
| | | | |
| --- | --- | --- | --- |
| Product | WKF Karate Gloves | WKF Approved Karate Mitts | Boxing Hand Wraps Inner Gloves |
| Brand | Wesing | Arawaza | RDX |
| Material | Faux Leather | Faux Leather | Leather |
| Size | Large | Large | Various |
| Fit | Competition | Sparring | Sparring |
Best Overall
Wesing WKF Sparing Karate Gloves Without Thumb Protection Blue Red
The first option are the Wesing WKF Sparring Karate Gloves, which are the Best Overall option in my opinion. They are your regular Karate gloves, with focus on being light, while keeping enough foam to offer secure protection to your wrist and knuckles while keeping an open palm.
This glove aims to cover all the essential details, with optimal functionality, and no thumb protection, while remaining pretty comfortable for any person, and makes a great example of what you should be looking into for any pair of Karate Gloves, be it for beginners or advanced practitioners.
Best High-End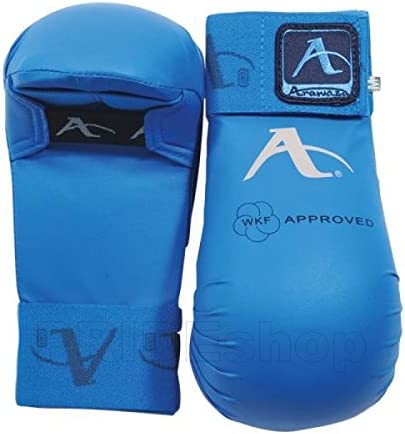 Arawaza WKF Approved Karate Mitts
The second option for me are the Arawaza Karate Mitts, which are also an outstanding option for anyone looking into Karate training gloves, and I consider as the Best High-End option, as it is an excellent option for those who have a higher budget at hand. You can go hard in your sparring with these gloves, and do not have to worry so much, as you get the feel of it's quality right off the bat. You still have to sort out getting them on both blue and red for competitions, but they will definitely cover both wrist and any bone in your hand from harm when you throw your punch to the body or contact into your opponent's headgear.
Most Versatile
RDX Boxing Hand Wraps Inner Gloves for Punching
These RDX Gloves are the Most Versatile option, as they can be used for multiple different training optiones, be it MMA training and light sparring, inner gloves under your regular boxing glove for whenever you want to work on the bags, and of course, use them for light sparring in Karate Class. When it comes to using other gloves, you must not forget that they should be approved for competition, as Karate gloves have their own category, but these inner gel gloves are pretty good in order to not break the bank and have a ton of options, like bag work or using them for boxing and mma training on the side. They may not have as much foam in the front, but they do cover your palm without limiting your hand's movement, which is essential for Karate Practice.
At the end of the day, it can also be very dangerous, as full contact is usually involved, and knocking someone out isn't the worst part, instead, that can be attributed to the breaking of jaws, the consequences of concussions, and also other types of bone fractures, internal damage, etc.
This is the reason that most modern sports tend to have some sort of protective gear; it is imperative to protect the people who are taking part in any martial arts or combat sports training as much as possible.
In today's article, we will be looking into one of the key components for martial arts protection gear, which are the best sparring gloves that you can find for Karate. I tested multiple different karate gloves through my years and path from white belt to first degree black belt, and I personally believe that the Wesing (WKF Approved) Sparring Karate Gloves should be the best option for Karate Sparring you are going to focus on Kumite.
With years spent in Karate, along with other martial arts, you start to realize that you need to put some time into finding the right gear, as it will help you out through years and years of training sessions, but testing multiple options can get quite expensive over time. When it comes to martial arts gloves in general, you need something that offers enough protection, while being comfortable and having enough padding for your hand to be safe. But when it comes down to the Karate Glove characteristics, however, you'll see that they are called "Mits", and come either in red or blue, as they are required for competition.
These Karate Mitts, as they are called, have some extra padding on the knuckles, and do not really cover the palm. They are completelly different from most other sports, as the focus is for them to be both lightweight and have durable foam to protect your wrist and hands when you throw a punch. As headgear is usually worn every time practitioners spar, they only need to keep your hand protected during the punch.
The Karate gloves are not quite as durable as your regular mma gloves or boxing gloves when it comes to rigurous training, or bag work, but they are designed for Karate and their particular approach to sparring and training.
This is the reason I particulary chose the Wesing Karate gloves as the best overall option, as it highlights all the needs for the sports Karate practitioner and competitor, without breaking the bank, as it is essential that you shop for them in both blue and red color for any official tournament.
Besides the best overall, I will also point out a great "higher end" option for those that have a bigger budget to shop for their gear, and of course, a "versatile" option that you can keep in your gear bag to use in other martial arts, like training with boxing bags or even doing light mma sparring.
If you are interested in finding the best gear to put into your training bags for every situation, we encourage you to continue to read into this article.
Best Karate Sparring Gloves Complete List:
Wesing WKF Sparing Karate Gloves Without Thumb Protection Blue Red (Best Overall)
Arawaza WKF Approved Karate Mitts (Best High-End)
RDX Boxing Hand Wraps Inner Gloves for Punching (Most Versatile)
Pro Force Gladiator Karate Sparring Gloves
Pro Force Lightning Karate Sparring Gloves
Pro Force Thunder Double Layered Karate Sparring Gloves
RDX MMA Gloves Hybrid
Hayabusa T3 7oz Training Sparring MMA Gloves for Men and Women
Everlast 7773LXL Train Advanced MMA 7-Ounce
Liberpulus MMA Gloves for Men & Women
1.Best Karate Sparring Gloves Overall
Wesing WKF Sparing Karate Gloves Without Thumb Protection
The Wesing WKF Sparing Karate Gloves are perfect for international competitions. Made with qualified extinction PU leather sewing and a polyurethane foam inner, they offer great cushioning and protection for your peak. The elastic velcro strap ensures a perfect fit for any trainer. With a professional design that doesn't include thumb protection, these gloves provide better protection while you spar like a pro.
Pros
Great padding for sparring activities
Good quality material that ensures durability
Fits as expected
Good value for the price
Comfortable to wear during long training sessions
Cons
May not be suitable for those with larger hands
Not suitable for heavy bag training
The Wesing Karate Gloves are my go to option for Karate Sparring, as they are both Approved by the World Karate Federation and they feel both comfortable and light, with a nice foam to protect your hand without breaking the bank. Like any other approved karate gloves, you can have these gloves in blue or red to have them ready for your tournament gear bag, be it on small, medium or large size.
The foam is light and provides enough cushioning, and it won't affect your wrist's movement if you throw a punch. The elastic velcro strap will keep things tight, and having no thumb guard means that you do not have to worry on which direction the velcro goes too, you can quickly put them on without worrying about getting them on the wrong hand. The glove itself is not meant to hit hard surfaces like a heavy bag, but that is sort of the point in this case; lets not forget that their focus is on Karate Sparring, so they should be fine if they contact your opponents body or headgear.
The great thing about Karate gloves in comparison to the ones used in other martial arts is that the simpler they are, the better, unlike boxing gloves that come in multiple different materials and ounces, or MMA gloves, which are either 4 oz or hybrid 6-7 oz, the Karate gloves follow the same pattern for competition, which makes them easy to spot. It's the simplicity of the pattern and requirements in Karate gloves that makes this such a great option for all practitioners, be them beginners or experts, as they cover everything that is needed to perform well, while keeping things budget-friendly. Keeping them clean is also pretty simple, all you need to do is spray the surface with disinfectant spray and then just wipe them dry afterwards, or use antibacterial wipes instead.
2. Best Karate Sparring Gloves High-End
Arawaza WKF Approved Karate Mitts
Protect your hands like a champion with Arawaza WKF Approved Karate Mitts. These gloves are WKF approved, meaning they meet the rigorous standards of the World Karate Federation. Designed for sparring, they are the choice of champions for martial arts equipment. With free 2-3 day shipping within the USA, these gloves will arrive in no time. Don't settle for anything less than the best when it comes to protecting your hands during sparring. Choose Arawaza Karate Sparring Gloves and get the best protection for your hands.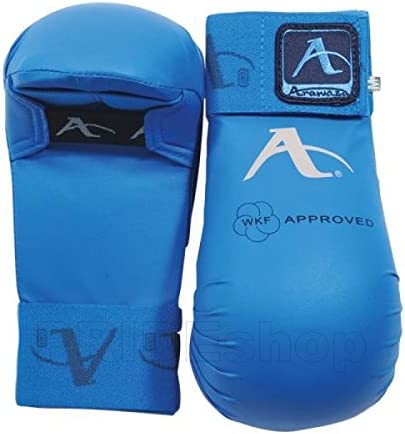 Pros
Great for tournament
High quality materials
Good hand protection
Good Stability
Great wrist freedom in movement
Cons
Price almost duble than other gloves
Snug fit and odd 4 finger grip, may not be suitable for everyone.
The second option in my list are the Arawaza Mitts, which may look just like the Wesing Sparring gloves at first glance, but the difference between them is the quality. As I mentioned before, this gloves are the best "High-End" option for those that focus on Karate Tournament gear, as the cost for a pair of these is almost double from the Wesing option. The reason behind the notable cost diference lays in the stitching, material and quality of the padding, offering all the benefits of other karate mitts models, with high quality foam to secure your hand as you focus on doing the most with each punch.
Keeping a pair of these bad boys in your tournament gear bags is quite a good investment, and they should pretty much make it through any regular sparring and training session. Most Martial arts need reliable equipment, and a pair of these for Karate along with decent headgear should do the trick as long as it doesn't break the bank, while also being approved by the World Karate Federation. If you are hitting the shop in order to upgrade into a high quality pair of Karate gloves, considering to get a pair of Arawaza gloves as an option is definitelly going in the right direction.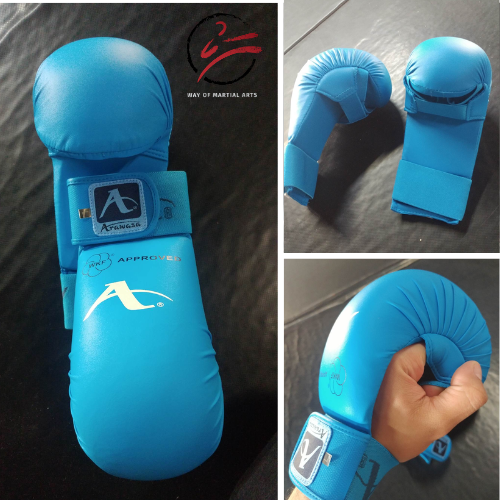 As it is the case for other Karate Mitts, they keep your palm free so you can grab if necessary, while offering enough stability to secure while offering good wrist movement. They, like other karate gloves, are also pretty easy to clean, all you need to do is to use antibacterial wipes on the surface after training to keep them clean and ready to go again.
3. Most Versatile Karate Sparring Gloves
RDX Boxing Hand Wraps Inner Gloves for Punching
Protect your hands and enhance your punching with the RDX Boxing Hand Wraps Inner Gloves. These gloves are made with high-quality Maya Hide leather, providing you with long-lasting protection for your fists during heavy bag, kickboxing, and multi-purpose training. The inner gloves offer additional padding, making them perfect for MMA, Muay Thai, martial arts, and combat sports. Designed by the experts at RDX, these gloves provide ultimate protection for your hands and knuckles. Suitable for both adults and kids, these gloves are a must-have for any serious boxer or martial artist. Upgrade your training with the RDX Boxing Hand Wraps Inner Gloves.
Pros
Good fit and easy to clean
Provides good wrist support
Comfortable and protective
Helps with the impact
Great for sparring session
Not fit for tournament
Doesn't offer much finger support
Knuckle and middle finger joint support can be lacking
For this next option, which I consider to be the most versatile option in the list, we are going a little bit outside of boundaries, as this option is not World Karate Federation Approved, and it actually goes more towards other martial arts gear instead of Karate. RDX offers plenty of excellent options in Boxing gear and MMA training gear, along with other sports, but for this option, we are going to take a look at their Inner Gel Gloves, as they fit the bill a little closer for what is required in Karate. You may want to ask your Karate Sensei before taking these into your sparring sessions, but these gloves will help you keeping your hands safe during rounds, while also protecting your teamates if you punch their headgear or take body shots.
Being inner gloves, they will not restrict you if you attempt to grab on your opponent in case your Karate school practices throws or takedowns instead of pure striking. They will also offer you the choice of being worn under boxing gloves before you hit the heavy bag for a session, or offer enough cushioning for you to do some light mma sparring. These gloves will NOT be allowed into any Karate Tournament, but they can get you through sparring and training sessions without any issues as long as your Sensei allows for them to be used in class.
The RDX Inner Gel Gloves do have an advantage over other gloves, and that is being able to be machine washed when necessary, but you do have to hang dry them as they will hold on to moisture for a bit. The neoprene material which it is made of provides just enough so that the impact of hitting a sparring partner or a bag doesn't hurt at all in the way it would with bare hands. It feels really comfortable and also really fresh since the fabric is 4-way breathable, so your hands won't sweat like in an all-leather glove. The light padding makes it almost feel like sparring is a bare-knuckle fight, but it provides enough protection for one to be able to hit confidently and with power.
4. Best Armguards Karate Sparring
Gloves Pro Force Gladiator Karate Sparring Gloves
Experience the perfect balance between protection and flexibility with the Pro Force Gladiator Karate Sparring Gloves. The shock absorbing molded curved foam structure and separated foam padding at wrist reinforce ergonomic protection for your hand, while the non-thumb design and elastic finger grips provide a comfortable, snug grip. With a 2″ elastic wrist strap and hook and loop attachment, you can achieve the perfect fit every time. ProForce has also added an extra crease mid glove for better performance with open hand techniques. These gloves are a lower cost alternative to other karate gloves and are not officially WKF or NKF approved, so check your tournament and school rules before purchasing. The handling fee is already included in the shipping costs displayed on Amazon.
Pros
Comfortable and stable feel, with durable foam padding.
Attractive design, with better-looking pads than other gloves.
Holds up well and has good stitching.
Good value for the quality.
Easy to put on and perfect for youth karate.
Cons
Padding is harder than expected and may not be ideal for light sparring.
May run on the smaller side, size chart should be consulted before purchase.
Pro Force is a Brand that will be taking the spotlight in this article, because they offer good options for those that are looking into Karate gear, and the first of the three options they bring to the table is the Gladiator Glove. Like other Karate Mitts, their shock absorbing molded curved foam structure reinforces the ergonomic protection of your hand. It offers a Non-thumb design with separated foam padding at wrist in order to provide for a more flexible movement. It comes with a 2″ elastic wrist strap with hook and loop attachment and the Elastic finger grips and hand cover keeps a comfortable snug grip. One thing to consider is that they offer this gloves in both red and white, and offer your regular variety of sizes, including small, medium and large.
ProForce has added an extra crease mid glove to allow for better performance with open hand techniques, because the glove is able to pivot with your hand and you do not have to force the glove open, which is a tendency with other mitts, as they are made to protect your knuckles and secure your hand, but they do not tend to allow for a sort of open hand techniques. These gloves should feel good right off the bat and after testing them myself, I have to say they are pretty good, especially for their cost. These gloves do have a setback, and that is not being officially WKF or NKF approved so you do have to check your tournament and school rules before you secure your purchase if you aim towards competition gear.
5. Best Karate Sparring Gloves Options for Kids
Pro Force Thunder Double Layered Karate Sparring Gloves
The Proforce Thunder Double Layered Punches Karate Sparring Gloves offer excellent flexibility and movement, making them the perfect choice for any serious martial artist. These gloves come in black and are designed with a hook and loop closure for a secure fit. The size medium is suitable for knuckle widths of 3-3/8″ – 3-5/8″. With the added handling fee, you can be assured of better handling and shipping. Get your pair today and experience the comfort and durability of these gloves for yourself.
Pros
Very good quality which should stand up to regular sparring.
Nice and thick extra padding for more protection.
Nice and thick with great quality material.
Great price for higher design and quality.
Nice fit and perfect fit as well.
Cons
Finger holder hook can get slippery
Wraps can repeatedly come undone during sparring.
The second and third options from Pro Force in this list are quite close to each other, the first of them is branded "Thunder", and is quite the interesting twist to the regular and old fashioned Karate Mitts. This gloves could also be used for sparring in other traditional martial arts, as they offer Double layered padding over high-impact and sensitive areas, and hook and loop closures in order to provide a snug fit.
They, however, are not approved for tournaments, so you would have to look a little deeper into things if you plan on doing your purchase. These Pro-Force gloves are pretty good as they not only cover your hand, but they also extend to part of the forearm, a detail that could come in handy whenever you block an incoming punch or kick. They may not be heavily padded but they will allow you to catch a break if blocking kicks has become something you begin to dread in sparring.
As the name suggests, this pair of lightweight gloves allow for you to go at it and punch or block with confidence. Besides their protective advantages over the regular karate mitts, Pro Force also opened up ventilation holes in the back of the hand, so that your hands cool down nd you do not sweat too much during rounds. As a neat extra, they also offer these gloves in multiple colors, including unusual options like Black, White and even Pink, which should be appealing for those who are buying them for their children, and want their gear to stand out a little bit.
6. Most Resistant Karate Sparring Gloves
Pro Force Lightning Karate Sparring Gloves
Looking for high-quality karate sparring gloves that offer maximum protection during training? Look no further than the Pro Force Lightning Punches Karate Sparring Gloves. With 1/2″ thick vinyl covered foam, these gloves protect your entire fist and wrist, including double layered padding at the knuckles and part of the forearm. The reinforced vinyl strap ensures a secure fit, while the elastic strap fastens with a hook and loop closure. These gloves are perfect for child medium size and offer unparalleled protection and comfort during sparring. Order now and take your training to the next level!
Pros
The foam on the top of the glove and knuckle is thick and comfortable.
Good value for the price.
Good fit and nice material.
Good Quality
Cons
Not the best option for intense sparring.
Some users found the wrist strap to be too short.
There is one more high-quality option of karate gloves from Pro Force. This are the Pro-Force Lightning Punches, which have a really interesting metallic silver finish to it. It is a good-quality pair which either you or your child will definitely be happy about getting. It is pretty close to the aforementioned Thunder variant, with an open palm-area and holes for one's fingers as well.
The strap also holds the hand in perfectly, so your won't have to worry about the glove falling off, but these do not offer the same ventilation in the back of the hand as their Thunder counterpart, so sweaty hands may become a thing after a few rounds. However, Pro-Force does offer the Lightning variant in multiple colors, including their Metallic Silver, which is not a regular option for their Thunder Model. Just keep in mind to check their size charts, since they might be different for one model than they are for another.
Showing up to train with a pair of Pro-Force Lightning gloves will definitely catch the eyes of a few of your fellow teamates, just remember that they are not tournament approved so they will likely be the ones you use to show off at your Dojo during sparring sessions. Thankfully, the lightning variant of these training gloves keeps most of the benefits that come with the Thunder model, except for a small change in the hook and loop strap, and the ventilation holes in the back of the hands; but it does cost a few less bucks, so it is up to you to choose which may fit you better.
7. Best Karate Sparring Hybrid Gloves
The RDX MMA Gloves Hybrid are the perfect choice for serious martial artists. These gloves are made with high-quality Maya Hide leather, and are SMMAF approved for professional use. The ventilated open palm design helps keep your hands cool and comfortable during intense training sessions, while the long wrist support provides extra stability and protection. With a hook and loop closure system, these gloves stay securely in place during sparring or grappling. Whether you're practicing Muay Thai, cage fighting, or any other martial art, these padded punching mitts will help you perform at your best. And with an age range that includes adults, anyone can benefit from the quality and durability of these gloves. Choose the RDX MMA Gloves Hybrid and take your training to the next level!
Pros
Goof for versatile use during workouts.
Good durability.
Well-designed with Maya leather and great ventilation.
Good value for the price.
Enough padding for safe sparring while still allowing for grappling and all-around game focus.
Cons
The leather loops that hold the gloves to the fingers may cause discomfort.
The punching surface may start to scuff after extended use.
RDX is a big name in the combat gear as they make some top notch quality equipment in the industry, and cover a wide arrange of products. One of the categories that the shine with their high-quality products are hybrid gloves, and the pair of RDX Hybrid MMA Gloves they offer is quite a good option if your Karate school allows them. They will help out on striking and in case necessary, they keep the palm open, which allows for a good grappling feel whenever there is a need for a takedown or ground fighting.
I personally enjoy using these leather gloves for my MMA sparring rounds, as they are both reliable and comfortable, but they tend to be my back-up plan as Karate training gloves, as there are always those times when I do not have my regular Mits available, but due to them being as durable, I hardly doubt switching them to my other training bag and taking them for a dance in the Karate school Mats. The reason they are not higher in the list, is that these are MMA gloves, and will not make it past any tournament, but they will offer enough cushioning for a comfortable feel when you punch, so you do not have to worry about anything during Karate Sparring Sessions as long as your Sensei approves their use.
If you are interested in buying a pair of gloves that will definitely be able to last you up to a couple of years, and that you could very well use in cross training between traditional martial arts and MMA training, then you should definitelly check out the RDX MMA Hybrid gloves for MMA and Grappling martial arts.
8. Best Karate Sparring Gloves and MMA option
Hayabusa T3 7oz Training Sparring MMA Gloves for Men and Women
The Hayabusa T3 7oz Training Sparring MMA Gloves for Men and Women are the perfect gloves for combat sports training. They are designed for comfort with a pre-formed curve to reduce hand fatigue and fully-adjustable velcro wrist wraps closure. These gloves also provide hand and wrist stabilization with the Dual-X Closure and high-density padded foam. The Microfiber Vegan Leather material ensures durability and superior tear strength. These gloves are perfect for sparring, krav maga, kickboxing, martial arts, and boxing. Available in sizes S, M, L, XL, and colors Black, Black/Blue, Black/Green, Black/Grey, Black/Purple, Black/Red & Black/White. Get ready to dominate the competition with the Hayabusa T3 MMA Gloves.
Pros
Materials and construction are top-notch.
Good fit and finish.
Excellent combination of substantial leather around fingers and open palm for grabbing others' wrists.
Great gloves for quality light sparring.
Good durability and well-made.
Cons
The gloves need some serious breaking in, and the padding is stiff.
Tight fit, even with two sizes bigger.
The gloves absorb sweat easily.
Hayabusa is also a known brand in the MMA business, and these Hybrid MMA Gloves are quite an interesting option to look at if you want to find an alternative to Karate mitts, as these keep a close resemblance to those mits, and will serve as a nice glove to work on boxing bags, mma sprring rounds and of course, Karate training and sparring.
As most hybrid gloves, this may not be as heavy and bulky as other boxing gear alternatives, but they have the padding you need for heavy bag work with the flexibility of an open palm glove. These pair of gloves allows you to go from striking to grappling with ease while staying in place the whole time. Which is ideal in Karate sessions for that quick takedown to finish your opponents with a three points chest tsuki on the ground. The Dual-X Closure provides Hand & Wrist Stabilization while the high-density padded foam absorbs impact & dissipates energy so your hand is ready to land the next strike.
If you consider getting a pair of these babies, you need to consider something crucial, and that is that Hayabusa is considered a high-quality brand, and it charges their cost as such. This option is the one with the highest cost on the list, but if we exclude the thumb protection, these MMA 7oz gloves may be the ones that resemble official Karate Mitts the most, without losing their purpose as gear for multiple Combat Sports, and well, they will look stunning as they go right into your opponents headgear.
9. Best Karate Sparring Gloves for Durability
Everlast 7773LXL Train Advanced MMA 7-Ounce
The Everlast 7773LXL Train Advanced MMA 7-Ounce gloves are the perfect choice for serious MMA practitioners. Made of 100% polyurethane, these gloves offer durability and protection for your hands. The anatomical thumb padding provides increased protection without decreasing mobility, while the closed cell Durafoam padding and reinforced finger loops with anatomical thumb padding provide additional support and protection. With an 18″ hook & loop wrist strap w/ tri-sect closure, these gloves provide extra support and protection for your wrists during sparring sessions or training. Importantly, the gloves are sized properly to ensure a comfortable and snug fit, so you can focus on your technique and training. Get yours now to take your MMA game to the next level!
Pros
Good value for money
Fits well for large hands
Allows more hand movement and feels less restricted
Good wrist support and foam over the knuckles
Open palm and fingers allows for other activities like push-ups and phone use
Cons
Stitching and leather-like material over the foam wears out over time.
Gloves are less stable on the hands due to the design with black finger loops on the red palm.
Everlast is another brand that always pops up when we are talking about good combat sports gear options, and this is not the exception, as they also offer a nice Hybrid MMA glove that could double down and make it into your Karate Gear Bag in order to replace your mitts as a durable option for regular sparring.
The brand doesn't have to use a lot of words to explain their equipment, as the name "Everlast" makes waves and showcases the main feature you will have at hand, as their gear is made to last, no matter how hard combat sports get, and they went at it, adding anatomical thumb padding, closed cell Durafoam padding and their hook & loop wrist strap w/ tri-sect closure for extra support, along with reinforced finger loops to keep them reliable.
A pair of Everlast Hybrid gloves could easily become one of your best allys at both Karate and MMA sparring sessions, and double down as a great option for boxing bag work, so you can keep mixing things up if you are not only a traditional martial arts practitioner, but a combat sports entusiast like most of us on the site, and it won't put your budget on red numbers as the Hayabusa option might do, while offering reliable performance.
10. Best Karate Sparring Gloves Women's Option
Liberlupus MMA Gloves for Men & Women
Looking for a durable and high-performance MMA glove? Look no further than Liberlupus MMA Gloves! Made with premium 0.8 mm synthetic leather and 10 mm EVA fist padding, these gloves provide maximum protection and shock absorption during sparring and training. The cross-cut design on the back enhances flexibility and grip, while the half-finger style is perfect for a variety of martial arts and training activities. Plus, with a 30-day no hassle return policy and 12-month replacement warranty, you can purchase with confidence. Order your Liberlupus MMA Gloves today and take your training to the next level!
Pros
Good protection for knuckles.
Great value for the price.
Good for punching bag and moderate usage.
Wrist support is good without additional wraps.
Durable padding that does not wear down easily.
Cons
Takes more time to put on than other gloves.
Not suitable for palm strikes.
May cause occasional knuckle bruising during hard strikes.
The last option that made it into the list of hand protection for your Karate sessions is definitely not any less appealing than the others higher on the list, as Liberpulus is offering a great option in these regular MMA Gloves, and they might be the ones for you as they kept the cost pretty close to some of the most budget friendly options in the list.
Their synthetic leather build promises long-life, durability and good performance for these MMA gloves, against wear and tear. And in the case that there are some issues with the stitching, they can be returned and replaced as they come with a 12 months replacement warranty. These MMA gloves include thick 10 mm EVA fist padding, that plays a key role in efficient shock absorption during boxing training, martial arts sparring, and of course cage activities. Just remember to keep the hand wraps close by just to secure your wrist a little bit better for your sparring rounds.
These mma gloves come on a nice cost and should have you covered for most of your training needs, but take the time to exchange words with your Karate Sensei for their use in class, as they are totally diferent from what you'd expect to bring in your gear bag for Karate, and as there is no way this would be approved for tournaments, you might want to make sure that everyone is comfortable with you wearing them as you show up to exchange blows on the mats.
Karate Sparring Gloves Buying Guide
Why are Karate Sparring Gloves so Important?
Protecting the hands:
Karate sparring gloves provide crucial protection to the hands during sparring and training. Just like Boxing gloves do, your protective gear will help to reduce the risk of impact injuries, cuts, and abrasions that can be caused by repeated strikes to the hands or accidental collisions.
The focus on Karate gear is to absorb the impact when your tsukis make contact, so you can be sure that you wont get hurt, no matter how aggresive you get on your training and sparring rounds.
Comfort:
There is a reason behind Karate mitts having the same build from brand to brand, and that is to keep the padding and ergonomic design as a constant, as it can help to increase comfort and reduce strain on the hands during extended periods of sparring or training. They may also help to prevent fatigue and cramping, allowing athletes to focus more fully on their technique and performance.
Unlike big and bulky boxing gloves, the Mitts keep things light, while offering good cushioning, in order to not restrict any movement for your hands and keep your wrists well secured while training with their hook and loop design; eliminating the need for hand wrapping under the gloves, and keeping the open palm for good ventilation.
Performance
Karate sparring gloves help to improve overall performance by enabling athletes to train and spar more effectively and safely. They keep a simplistic design, so you can get used to them pretty quick on training, and they provide enough protection and comfort to allow athletes to focus more fully on their technique and strategy, which can lead to better overall results in competition.
While your regular Karate mitts may not handle as many intense training sessions as boxing gloves can, especially if we factor in bag work and such, the Karate gear is excellent at it's job, allowing for your performance to be as close as what it'd be if you were training without any protective gear.
Wesing has what we believe are the best Karate Sparring Gloves
As we previously mentioned, we are sticking with the Wesing Sparring Karate Gloves, as we believe they are the best option for those that are looking to get Karate focused protective gear, without spending too much and having excellent performance.
As we stated, Wesing keeps things simple, sticking perfectly to a tried and proved formula with nice stitching, good foam, and a reliable hook and loop strap that will keep you covered when training and sparring to your heart's content, making this option an example of what you'd be looking into when you search for Karate Gloves.
Features to Look for In Karate Sparring Gloves
The Best karate sparring gloves have some simple details you should be looking into, like having sufficient padding for protection, breathability for comfort, and a snug fit for optimal performance, along with nice durability for long-term use, and wrist support to prevent injury.
Padding
When it comes to the padding, your gloves should have sufficient foam over the knuckles in order to protect the hands during sparring and training. The padding should be thick enough to absorb impact without being so bulky that it interferes with the athlete's grip or movement, which is a detail you can check if you try to open your hand all the way while wearing your glove, as it should offer some resistance to the movement, but without restraining you from comfortably doing so.
Breathability:
Good karate sparring gloves should be breathable to help keep the hands cool and dry during use. This can help to prevent discomfort and reduce the risk of skin irritation or infections. As the Mitts only cover your wrist due to their hook & loop systems, along with the top of your hand to keep your knuckles covered, you should pretty much see your bare palm, which will allow for ventilation, unlike your regular boxing gloves, in which your full hand is inside, heating up and sweating during your training session..
Fit
The gloves should fit snugly and comfortably, without being too tight or too loose. The hook and loop system that all mitts use should provide a good fit can help to improve performance and reduce the risk of injury by ensuring that the gloves stay in place during sparring and training.
The hook and loop system has been adopted by multiple combat sports hand protective gear, including MMA gloves, Hybrid 7oz gloves, and in the last decades, even Boxing gloves, which now are using the velcro hook & loop straps instead of the old fashioned laces. With this in mind, and the simplicity of Karate gloves in design and functionality, this is one of the details that they simply have to master, in order to be competitive in the market.
Durability
The gloves should be made from high-quality materials that can withstand frequent use and regular wear and tear. This is particularly important for athletes who train or spar regularly, as low-quality gloves may wear out quickly or lose their protective properties over time.
As they only come in contact on the padded part of the glove, you will begin to notice the durability of your gear when you check out different details that other practitioners tend to overlook. One of this includes the elastic finger hooks, as they start to stretch a little bit if you constantly close your hand hard when fighting; over time they might start to feel slightly loose, and you should definitelly take a look into the velcro straps every now and then.
Wrist support
Some karate sparring gloves come with additional wrist support to help stabilize the wrist and reduce the risk of sprains or other injuries. This is also a feature that the Hook and Loop feature should cover and that can be particularly useful for athletes who have weak or unstable wrists or who engage in high-impact sparring or training on a constant basis.
Common Questions About Karate Sparring Gloves
What oz gloves should I be using for sparring?
If we go to the regular sizes for most Karate mitts, we are taking about 4oz gloves, but their construction is different, as they tend to be made with PU leather sewing, and inner polyurethane foam, which makes the protective area slighly bulky, while keeping them pretty light.
Do not think that these 4oz are equivalent to the 4oz you get from regular MMA Gloves; to be honest, it's the hybrid 7oz mma gloves that give a closer resemblance to Karate gear.
Are karate sparring gloves machine washable?
Your competition approved karate mitts are NOT machine washable, but you do not have to worry too much about that detail, as all you need to clean them are simple antibacterial wipes that you should use on the surface, or well, you could also use disinfectant spray and then wipe it off the surface with any paper tissue.
Do karate sparring gloves affect my grip during sparring?
For those that practice throws and grappling techniques in their Karate school, as it is the way that it is meant to be trained, should not have to worry about the sparring gloves affecting their grip.
As the palms are open on competition mitts and they only cover the back of the hand (mostly the knuckles), there should be nothing to restrict you from grabbing and using your palms to their full extent when you are aiming towards a throw or holding down your sparring partner.
How do I properly care for my karate sparring gloves?
Things are pretty simple when it comes down to taking care of regular Karate Mitts, as it is just a matter of keeping them clean after training sessions and making sure to use them for their intended purpose, as they are not meant to get you through multiple rounds of heavy bag training, so you should focus on using them for Karate training and sparring if you are looking for them to last as long as they are meant to.
Just take the time to put them out of your bag after training sessions so that they do not retain any odors, and keeping a look out on details we have previously mentioned, like making sure the finger loops are not stretching too badly over time, checking that the velcro in their hook & loop system is holding up well (which in any case could be replaced if it comes down to that in the long run), and of course, keeping them clean between sessions, and you'll have your pair of gloves in excellent conditions for a long and enjoyable run.
What is the difference between sparring gloves and bag gloves?
Let's talk about the difference between sparring and bag gloves. So, first we have to clarify that there are countless different types of gloves, made out of different materials, in different shapes, and for different purposes and goals. All of these already create a large variety to choose from, but the fact that not everyone uses the same type of gloves for the same practice might complicate the situation even more.
For some people, it might be more productive and useful to use a heavy pair of gloves for bag training, as they will offer enough cushion for the hands as the throw power shots to work on their strenght and KO power on the bag, however, others might preffer to use lighter gloves for sparring in order to have a more bare-knuckles feel and more speed.
Generally speaking, however, the difference between sparring gloves and bag gloves is in the padding and the size. Sparring gloves need to have enough padding for you to not cause any injuries to your opponent, but they tend not to be as large as bag gloves are, as they still need to allow for some faster movement. The bag gloves are somewhat heavier as well, as you are going to be using them on non-moving targets that will not flinch or feel pain as you focus on power punches or speed combinations.
This is usually the case for MMA and Boxing, but in karate, however, the mitts are the only one type of pair of gloves used. Sparring has much more to it, there are kicks, body and leg shots, and punches as well, whereas, in boxing, most of what you do is punch at the head. Karate is an art form in which the arms are used as the most important weapon, legs are used somewhat less, but the fact that this art isn't as punch-heavy as boxing makes the need for high-quality gloves, or perhaps the usage of multiple gloves for separate functions, very unnecessary.
Can sparring gloves be used for bag work?
In karate, as we have mentioned, people usually use only one pair of gloves for everything. This means that in karate, sparring gloves are in fact used for bag training if any gloves are used there at all. Karate isn't as focused on punching the bag as many times as a boxer would.
Outside of karate, sparring gloves can be used for bag work and sometimes actually are, but it isn't very frequent because of how unnecessary it is. In boxing, taking the time to train with the bag is somewhat like Kata in karate. You mostly practice form, speed, fluidity amongst a lot of other things, but in this case, you require the gloves as you are constantly hitting a somewhat sturdy target. MMA and Boxing gloves tend to be big in order to defend both your hands and the person you are hitting.
In the case of Karate, the Kata is your go to method to train outside of contact sparring, and in this practice, you are not actually hitting a surface or body, so it is unlikely that you will be needing the gloves for anything else in regular practice.
But going back to the question at hand, you can indeed use sparring gloves for bag work if you want to have an intense power-workout. It is just that when it comes to Karate gloves, you might shorten their lifespan if you over-do it. Punching with the same speed and precision while wearing a the extra weight on your hand can make training at the bags more power-intensive and you can use this to strengthen the muscles even more.
Enjoy Your New Karate Sparring Gloves
Wesing WKF Sparing Karate Gloves Without Thumb Protection Blue Red
The Wesing WKF Sparing Karate Gloves are perfect for international competitions. Made with qualified extinction PU leather sewing and a polyurethane foam inner, they offer great cushioning and protection for your peak. The elastic velcro strap ensures a perfect fit for any trainer. With a professional design that doesn't include thumb protection, these gloves provide better protection while you spar like a pro.
Pros
Great padding for sparring activities
Good quality material that ensures durability
Fits as expected
Good value for the price
Comfortable to wear during long training sessions
Cons
Some customers received gloves that were too small or too big
May not be suitable for those with larger hands
When it comes to your shopping preferences for your Karate gloves, be them traditional competition approved Karate Mitts, or a versatile pair of Hybrid MMA gloves that you can use in other combat sports, just make sure that you are getting a product that you feel comfortable with.
When it comes to your hands, it is not about the gloves being flashy and getting everyone to turn to look at them (even though it feels good to showcase them), instead, it is all about the reliability they offer as a method to protect both yourself and your partner from harm during combat.
If you have made your choice and found the gloves that are right for you, and have the chance to get them, then we encourage you to go for it, as a great pair of gloves is something a purchase you won't regret as an active martial artists.
If you liked this article and believe that it can help other people find the right gloves to use in Karate practice, then take the time to share it around so other people can find a pair of gloves that fit them best.