I tested 10 of the top boxing gloves in the market and found Top King to be the best for their high quality, superior padding, excellent wrist support, and price.
Best Boxing Gloves: Instructor's top picks
| | | | |
| --- | --- | --- | --- |
| Product | Cleto Reyes Boxing Gloves | TOP KING Training Gloves | Byakko Gloves |
| Model | Cleto Reyes Lace Gloves | Boxing Training Gloves | Byakko Boxing Gloves |
| Size | 16 oz | 10 oz | 10oz |
| Material | Leather | Leather | Cowhide Leather |
| Brand | Cleto Reyes | TOP KING Boxing | BYAKKO SPORTS |
| Glove Type | Training | Training | Training |
Best for Fighting

Cleto Reyes Boxing Gloves
Cleto Reyes is made for the killing. No wonder so many great fighters use them. They are developed to reach better speed and precision. The laces and the extended cuffs provide extra protection. If you want to knock someone out, these are your tools. However, they are very unpractical for training.
Best overall
TOP KING Boxing Muay Thai Training Gloves

Top King offers the two most essential features for training: protection and efficiency. They follow the traditional design of Thai gloves, weapons built for war, and they are especially great for heavy bag training and as sparring gloves.
Best Premium Choice

Byakko Boxing Gloves
The Byakko Boxing Gloves are a premium piece of gear designed for both seasoned professionals and fitness enthusiasts alike. 
The high-quality materials, the construction, their ergonomic design and secure wrist closure system offers the durability and safety required for even the most rigorous workout sessions. 

Throughout my 15 years as a striker and professional coach, I have used several boxing gloves on my hands. From cheap boxing gloves for beginners to the legendary items worn in the bloody battles at Lumpinee Stadium in Thailand, I had a taste of all in rings and dojos worldwide.
For this reason, it was easy to analyze the market and decide which I should test for making a comprehensive list of the best boxing gloves. Experience gives you the skill necessary to spot flaws from afar, but even the great masters cannot present a verdict before actually wearing them. The adage "you get what you pay for" can be applied here, but it's not always true. You don't have to spend all your hard-earned money on luxury items. The best-quality boxing gloves might not be the ones you've been thinking and, sometimes, they might be found for a fair price.
Top King is not the most traditional among the best leather boxing gloves, but it reached the top level within less than 15 years of existence. It ended up being the number one for its high quality and durability. And it's not the most expensive, even among the Thai gloves.
A pair of Top King is my current gear, and after a whole year of hard training, it looks like I had just bought them. Its protective features are still 100%, and this is a crucial point for a heavy guy like myself.
The competition is fierce, though, and these pair of boxing gloves are not the best at everything. Some features are incompatible with the different areas of Martial Arts. The best boxing gloves for fighting won't be the best for training, which requires more padding, a characteristic that might decrease the potential for knockouts.
After reading this list, you can define a strategy to find the beast in yourself using the best boxing gloves for each category.
Best Boxing Gloves Complete list
Sanabul Essential Gel Kickboxing Gloves
Venum Elite Boxing Gloves
Adidas Speed 50 Boxing & Kickboxing gloves
Everlast — Pro Style Training Gloves
Everlast Powerlock2 Training Gloves
Cleto Reyes Lace Boxing Training Gloves
YOKKAO Matrix Muay Thai gloves
Twins Special Boxing Gloves
Byakko Boxing Gloves
Hayabusa T3 Boxing Gloves
TOP KING Boxing Muay Thai Training Gloves
11. Best Boxing Gloves on a Budget for Beginners
Sanabul Essential Gel Kickboxing Gloves
Sanabul Essential Gel gloves are a good choice for beginners looking for an affordable option. These gloves feature a powerful hook and loop closure system, gel-infused padding, and a unique longitudinal arch design that ensures a perfect fit. The mesh palms make them highly comfortable for long training sessions, while the faux leather construction makes them lightweight.

Pros:
very cheap,
easy to find
well, that's it. I cannot point out anything else that's good about them
Cons
durability
terrible wrist support 
It feels awkward to write about these Sanabul gel gloves in a list of best-quality boxing gloves after having actually used them. By far the cheapest option among the ones tested, this item has a surprisingly reasonable rate on Amazon. They are the most sold among all gloves available on the American website.
There is no misleading here, Sanabul said it itself: these are cheap boxing gloves made for beginners.
They are gel-infused to reduce the impact on your hands. They also present a mesh palm, which makes them very comfortable for extended training.
Sanabul sponsors some of the most iconic UFC fighters of the modern era, such as Sean O'Malley and Gilbert Burns. They also pride themselves on being eco-friendly.
For this pair, the material chosen is called "faux leather." Faux is the French word for fake and this basically means that they use synthetic leather, which is considered to have a smaller carbon footprint than animal-based materials. However, it is a well-known fact that they also last much less.
The cheap material doesn't pay off. There are many complaints about the internal fabric, which, feels delicate and loose. As mentioned, a rupture would cause a disturbance in the foam distribution, and, after that, no gloves are trustworthy anymore. The so-called "infused gel" makes it even worse. They are kind of tiny beads of gel that will start leaking immediately after a rupture, making these gloves useless.
Many reported irregular foam padding and varying size, which shows a lack of quality control. The sewing is clearly of low quality. They feel like disposable gloves that cannot bear more than a few sessions. Even a beginner can destroy them quickly on a heavy bag, maybe hurting themselves.
Sanabul has definitely bet on the ultracheap cost of spreading them worldwide, suffocating the qualified reviews in a myriad of first impressions by amateurs, resulting in a 4.6 out of 5 on Amazon with almost 22.000 reviews.
10. Best Boxing Gloves for fitness classes
Venum Elite Boxing Gloves
The Venum Elite Boxing Gloves are an excellent choice for amateur boxers looking for a well-made and durable pair of gloves. The triple density foam and reinforced seams provide excellent protection from injury, while the attached thumb ensures long-lasting quality.
The palm's semi-leather construction and mesh panel offer excellent breathability and comfort during intense training sessions.

Pros:
easy to find
breathability
widely admired style
Cons
dreadful cost-benefit
durability
wrist support
Many believe Venum is among the best-quality boxing gloves in the world. Some consider them as a cheap and good professional option. Simply put: they are wrong. These are amateur boxing gloves, and they may be actually more expensive in the long run than you think.
These expensive gloves are handmade in Thailand with semi-leather, which is a fancy way to call synthetic leather. They use triple-density foam and present a mesh panel on the palm that increases breathability, keeping your hands cool and improving comfort during intense training sessions.
The nightmare begins with wrist support. In comparison with professional gloves, this is terrible. The shock absorption is not impaired, but you might have trouble if you are over 75 kg.
These features combined make these gloves risky for your hands. Some people have reported being hurt using them and, during the test, wasn't hard to imagine this happening.
They are a blast on Amazon though. Maybe because the majority of people train at an amateur level or have not felt the power of wearing a real professional pair of boxing gloves on their hands, these are accessible items, one of the most broadly spread in the world and they got that "professional aura" as a consequence of good marketing.
Complaints on Amazon corroborate this theory. It's clear that those who didn't like them got more experience than those who did. The case against them is usually built on the slight difference compared to much better options.
Overall, these could be considered reasonable but very expensive boxing gloves for beginners or terrible and not-that-cheap pseudo-professional gloves. Either way, they are not worth it. They are only US$3,00 cheaper than the Top King boxing gloves, and this makes them one of the worst choices you could possibly make.
9. Best Boxing Gloves for fitness classes (on a Budget)
Adidas Speed 50 Boxing & Kickboxing gloves
The adidas Speed 50 Boxing Gloves offer a one-piece mold that provides excellent wrist support and power, making them ideal for both beginners and professionals. The multilayer foam ensures impact absorption while the durable PU exterior promises longevity.
Pros:
easy to find
unique colors
cheap
Cons
low-quality sewing
wrist support
Adidas is a worldwide renowned brand for sports supplies but is not known for having the best-quality boxing gloves. They have an extensive range of designs though, and a best seller is the Speed 50.
The Adidas Speed 50 are made of PU exterior and a multilayer foam for shock absorption. It's a one-piece mold that supposedly can increase the user's wrist protection.
They got a great rate on Amazon (4.6 out of 5 stars), but the rule applies here: the name "Adidas" attracts plenty of beginners. Being a well-known brand, it inspires trust and it's mainly evaluated by amateur fighters.
One feature shared by most of these low-cost Adidas is the low-quality sewing. It's not unusual to bump onto reports of gloves unsewing within a couple of months. A friend of mine gave me a Speed 50 as a gift when I was living in Brazil, and it lasted no more than 3 months.
The PU, a.k.a. three synthetic leather, is not durable, but it does collaborate to reduce the cost. These are cheap boxing gloves and they might be adequate for people training for (and only for) fitness purposes.
To be fair, although they present a sober style, there are some beautiful options of colors, hardly found in other bands.
8. Good Boxing Gloves on a budget
Everlast — Pro Style Training Gloves
The Everlast Pro Style Training Gloves are the perfect choice for beginners who want a durable and comfortable glove. The full mesh palm and patented Thumb-Lok feature offer a secure and comfortable fit for heavy bag workouts, sparring, and mitt work. The gloves come in two weight sizes, 12- or 14 ounces, and have an Everfresh treatment to prevent offensive odors.

Pros:
Cheap
breathability
easy to find
Cons
lack of consistency
elastic wrist strap
With its Pro Style Training Gloves, Everlast has always made it to most lists of very good boxing gloves. They have not changed much through the years and they are the usual first choice for the beginner. In fact, those were my first gloves 15 years ago.
Everlast are well known. Some of the greatest boxers of all time used them, such as Muhammad Ali, Canelo Alvarez, and Tyson Fury. However, the gloves custom-made for these fighters are way too different from the Pro Style Training gloves. These are, indubitably, amateur gear. But they are good enough for that, so they are still out there after all these years.
The Pro Style Training gloves are made of PU and present a full mesh palm, which makes them very comfortable for long boxing training. They also offer a multilayer foam to increase shock absorption, but that's not as efficient as promised. There are many complaints by actual fighters. Even at an amateur level, people over 70 kg tend to think they do not absorb enough impact.
The cuffs are designed to put them on and off quickly. The fun fact about this model is that they have actually changed for the worse with time. Over the years, Everlast replaced the classic wrist strap with a partially elastic one with a small velcro. The consequence is a smaller limit to how tight you can adjust them, preventing a secure fit for most boxers. If you got thin arms, these good gloves will be loose and increase the risk of injuries.
Many complaints about the exterior have emerged in the last years, with some people actually questioning the legitimacy of the received Everlast gloves. However, what seems to be true is that the post-production control has been incapable of guaranteeing regular gear.
7. Best Boxing Gloves for beginners
Everlast Powerlock2 Training Gloves
The Everlast PowerLock2 Training Glove features a modern design, made of high quality synthetic leather and quad-layered foam core protection. It includes an ergonomic grip bar and a full mesh palm, with an innovative turn-back strap system and an ergonomically secured thumb. The gloves are lightweight, with a polyester foam interior lining, and come with a 120-day warranty.
Pros:
wrist support
cheap
breathability
Cons
foam padding
low-quality sewing
To improve towards the professional level, Everlast created the new Powerlock2 training gloves, which are its low-cost best gloves for boxing.
To begin with, Everlast has changed the cushion system. These gloves present quad-layered foam padding. They used premium synthetic leather for making this gear and no complaints about them have been found so far. It's still not leather, and it wouldn't outlast a pair of leather gloves, but at least they will not start to crumble on your hands a few weeks after the first use, as reported about the Pro Style.
They kept the full mesh palm, which helps control the temperature and moisture.
The highlight here is the cuffs. They replaced the flawed system present in the Pro Style gloves with a turnback wrist strap system. This is one of the most efficient hook-and-loop closures ever made for boxing gloves. There are no complaints about wrist support anymore.
The padding is better than in older versions, but some still believe it's insufficient. But, for low-cost gloves, it felt good enough on the heavy bag training. They have a 4.8 out of 5 stars on Amazon, which is well deserved.
I wouldn't recommend them for professional boxers, but these are great affordable gloves for the amateur level.
6. Best boxing gloves for fighting
Cleto Reyes Boxing Gloves
Train in style and comfort with the Cleto Reyes Lace Boxing Training Gloves. Made with high-quality leather, these gloves have a curved knuckle area for a natural feel and an extra-long cuff for support. They come in multiple colors and weights, and have a traditional lace closure. Handcrafted in Mexico under strict quality control, these gloves are perfect for boxing, kickboxing, Muay Thai, and MMA training.
Pros:
wrist support
narrow design allows great speed
durability
Cons
uncomfortable at the heavy bag
expensive
Mexico should be proud not only of the many legendary boxers the country brought to the world but also of creating some of the best gloves for boxing.
For almost 70 years, Cleto Reyes has produced gear worn by some of the greatest of all time, such as Sugar Rey Leonard, Muhammad Ali, Manny Pacquiao, Oscar de la Hoya, and Mike Tyson.
These boxing gloves are handmade in Mexico with genuine cowhide leather and high-density foam padding. This allows a compact design that favors acceleration and, as a consequence, damage. Therefore, they are perfect for fighting. They might be a little bit uncomfortable for power punching at the heavy bag, though.
They are the only ones on this list to use laces instead of velcro. Along with the extra long cuffs and the narrow design, this locking system results in outstanding wrist support.
The thing is: lace-up gloves are not practical. This means that these gloves are not ideal for solo training. You will need somebody else's help to lace them up, and once you put them on, you better keep them. Velcro gloves are way easier to deal with. This is a classic trade-off: practicality versus safety.
5. Best Boxing Gloves for professional
Twins Special Boxing Gloves
The Twins Boxing Muay Thai Training Sparring Gloves are handcrafted from premium 100% Thai leather and the highest quality cowhide leather. These gloves come in various sizes from 8oz to 18oz, making them ideal for anyone who takes their training seriously. With a unique design hook-and-loop wrist strap for complete security, they are easy to put on and take off. These unisex-adult gloves are made in Thailand and come in 43-Black/Yellow color. These gloves are a must-have for anyone looking for comfort, durability, and quality in their training gear.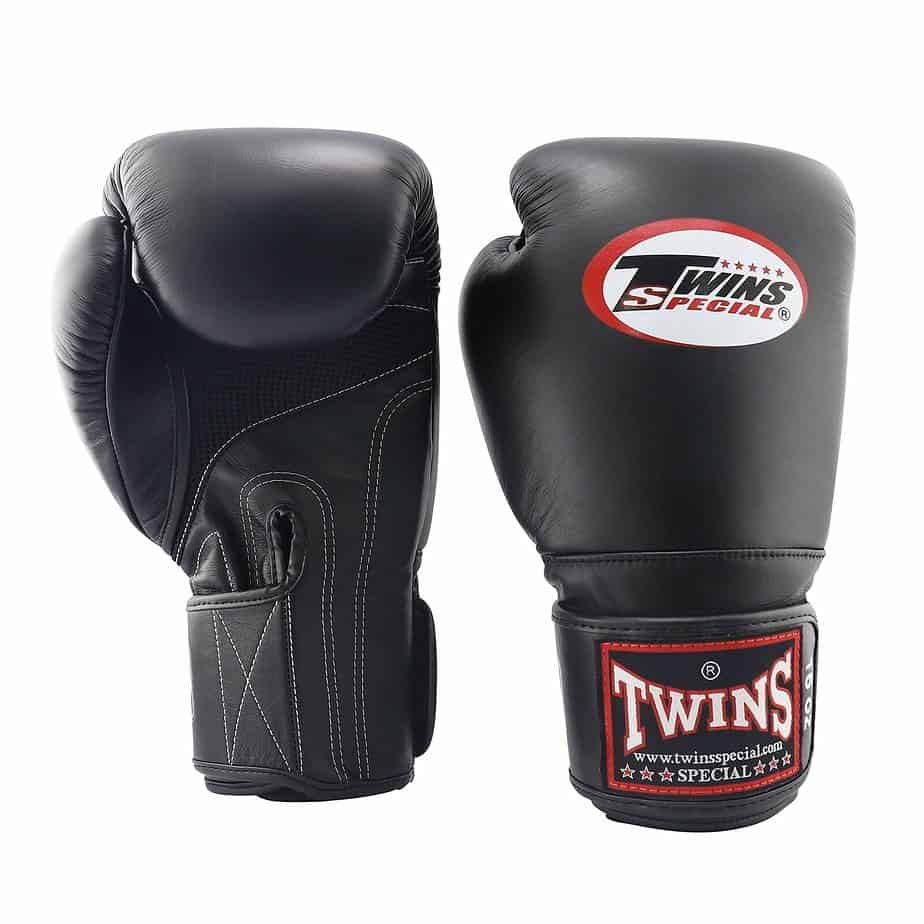 Pros:
wrist support
style variability
durability
Cons
Less easy to find than most gloves
breathability
No best boxing gloves list should be considered trustworthy without at least one Thai representative. Muay Thai is considered by many as the striking Martial Art per excellence. Thailand has forged some of the scariest strikers in the world. The gloves they used had to keep pace.
Twin is a brand founded in 1992 in Thailand, and it's known for its best-quality boxing gloves and reasonable price.
The Twins Special is made of genuine leather and has a multilayer foam shaped for best supporting the boxer's hands. The cuffs are also padded, and the design resembles its younger brother, Top King. However, the Twins' wrist support is not as great for the average hand. The reason is that the cuffs are positioned slightly farther from the joint than in Top King.
There are a couple of complaints on Amazon about them being too tight. However, these are exceptions. They usually don't feel much different from other Thai gloves on the hands. Mostly they are rated 5 stars and deserve sometfiveing close to it.
4. Best Boxing Gloves for sparring (Best Boxing Mitts)
YOKKAO Matrix Muay Thai gloves
The YOKKAO Matrix Breathable Muay Thai Boxing Gloves are handcrafted by professionals in Thailand with premium leather and double-stitched seams for extra reinforcement. Featuring an attached thumb for added support, the gloves also have a hook and loop closure for easy on and off. These 16oz gloves come in Matrix Black and are perfect for adult unisex use for Muay Thai boxing. The YOKKAO logo patch is embroidered and attached at the bottom, adding a touch of style to these highly functional gloves.
Pros:
durability
shock absorption
wrist support
Cons
expensive
not that easy to find
Yokkao was chosen because its name has risen dramatically among the best leather boxing gloves in the last few years. Since its beginning in 2010, this is probably the Thai brand that has grown the most among all boxing gloves. Many great fighters wear them, such as Petchpanomrung Kiatmookao, Singdam, Superlek, and the G.O.A.T., Saenchai.
The first time I had the opportunity of having a Yokkao covering my hands was in a Muay Thai camp in Thailand. They have some outstandingly stylish gloves, but the fact remains true: all are aesthetical variations from the "Matrix" gloves. You may pay considerably more for a shiny pair, but you'll get the same quality with their primary stuff.
I tested the Yokkao Matrix boxing gloves, and I can say: it's not only a name! A regular Muay Thai fighter in Thailand trains twice a day, two to three hours each time, six days a week. No wonder Thai gloves are so durable and so protective.
These gloves are made of 100% genuine leather and long-lasting shock-absorbing foam. They are handcrafted in Thailand, and you can tell that by each detail. The carefully sewn double-stitched seams increase its durability significantly.
The wrists are reinforced enough to protect you without restraining much of your movements. It feels comfortable and protective at the same time. There's nothing new about the cuffs. This is simply the result of a century of experimentation in glove design in Thailand. Thai gloves usually feel amazing on your hands. They might look humble, but these are weapons of true warriors.
3. Best Boxing Gloves Premium Choice
Crafted from durable cowhide leather and triple-density foam padding, the Byakko Boxing Gloves offer the durability and safety required for even the most rigorous workout sessions, while the ergonomic design and wrist closure system ensure comfortable fit. The interior is moisture-wicking with a breathable mesh, making them dry and confortable during use​​.
Their triple-density foam, reinforced palms, and long cuffs combination provides unrivaled shock absorption, protecting your hands and wrists, and potentially extending your training time.

Pros
High-Quality Materials.
Ergonomic Design.
Versatile Size Range.
Community.
When it comes to choosing the best boxing gloves, an important factor is finding a product that combines quality, durability, and a fair price. Byakko Boxing Gloves are a standout contender in the market, offering a solution that caters to the needs of various boxing enthusiasts, from beginners to professional martial artists.
The high-quality of these gloves deliver the durability demanded by serious practitioners. Their construction is designed for comfort, incorporating an ergonomic design and secure wrist closure system. Moreover, they feature a moisture-wicking interior and breathable mesh palm to ensure your hands remain cool and dry.
Beyond the build quality and design, what sets the Byakko Boxing Gloves apart are their performance features. The gloves are fitted with reinforced palms, long cuffs, and triple-density foam, which together provide exceptional shock absorption, thereby protecting your hands and wrists and extending your training time. These features make these boxing mitts ideal for both training and sparring sessions, offering a balance between protection and flexibility​​.
Overall, Byakko Boxing Gloves are a premium product that delivers on all fronts. Whether you're a beginner just getting into the sport, an intermediate practitioner looking to level up your training, or a professional in the field, these gloves are designed to support your journey and help you unleash your inner strength. Their combination of quality, functionality, and fair pricing makes them an excellent choice for anyone looking to enhance their boxing or martial arts practice.
2. Best Boxing Gloves for wrist protection
An item that appears in all lists of best boxing gloves is the Hayabusa T3. They are a piece of art when it comes to design.
Hayabusa T3 Boxing Gloves
Hayabusa T3 Boxing Mitts Gloves are the ideal training partner for both men and women. These mitts gloves deliver globally acclaimed protection and comfort through patented technology. The interior fabric offers a smooth touch on the hands while maintaining a balanced temperature. Double wrist straps with a splinting system ensure correct alignment. The 5-layer foam padding on the knuckles offers superior knuckle protection during training. Available in a 14oz version, these mitts gloves are crafted from Vylar Engineered Leather and feature a hook and loop closure system. They are perfect for disciplines like Boxing, MMA, Kickboxing, and Muay Thai.
Pros
wrist support
breathability
compact
The cleavage on the palm is as long as on some lace-up gloves, which increases breathability.
Some people complain about their size and they are right. The 16 oz, normally my choice, are smaller than most gloves of the same weight in the market. This doesn't make them worse. It's just something to keep in mind when buying a pair.
The shock absorption system is a high-density 5-layer foam, making it more compact and efficient. However, they might be uncomfortable in intense training sessions.
Another innovation is the double-strap system on the cuffs: the wrist support is absolutely uncanny! This is the main reason why these boxing gloves have been elected for two years in a row by Men's Health magazine as "best boxing gloves".
A massive downside for th."Hayabusa T3 boxing gloves is that they are costly for non-leather gear. Fortunately, it's possible to buy the very same model in leather. They won't be cheap, but they will be some of the best leather boxing gloves.
1. Best boxing gloves overall
TOP KING Boxing Muay Thai Training Gloves
The TOP KING Boxing Muay Thai Training Gloves are made of the highest quality cowhide leather with multilayer inner foam padding for superb protection during training. With extra foam padding on the wrist and climacool technology, these gloves keep hands cool and dry while offering optimal safety. The specially designed wraparound wrist strap ensures the hook-and-loop closure is in the correct position, preventing injury. These gloves come in 10 oz size, are suggested for unisex-adult use, and are perfect for anyone who takes their training seriously.
Pros:
wrist support
shock absorption
perfect cost-benefit
Cons:
only a few options
breathability is not great, but not bad either (I'm just looking for something to fill the list, honestly)
Back in Thailand, I went to each of the dozen of Thai boxing gear stores on Soi Ta-iad, the Muay Thai road in Phuket, looking for the best boxing gloves available. I tried every single brand and model before making my decision. Traveling on a budget, each Baht should count, and I could not afford to fall into a trap. My choice was a Top King pair, and, one year later, I have no regrets.
Only a year older than Yokkao, Top King is omnipresent in any Thai gym. They are a little bit better and cheaper than the former. They got the right weight, size, and material.
The wrist support of these gloves is surreal. I caught myself many times looking at them and trying to figure out why they are so good. The answer is simple: perfect shape combined with inner wrist padding.
They are handmade in Thailand with cowhide leather and present a multilayer foam system that it's very protective. This is coming from a 100 kg fighter who punches with no mercy, so believe me: they are worth it!
I've owned mine for more than one year already and they look pretty much like the very first day when I bought them. No wonder they got 100% five stars reviews on Amazon. The only problem might be the fact that there aren't many options out there. They might not be your gloves if you're looking for stylish gear. But if the quality matters to you, go for it.
The reasons why Boxing Gloves are so important
Protecting the hands
The best boxing gloves for you are the ones that fit better and have features that increase cushioning to both your knuckles and wrists. To reach the top level, you better keep yourself healthy.
Protecting the opponent
Without gloves, fights wouldn't last as long as they do nowadays, and they protect the opponent just enough to avoid a blood bath and subsequent interruption. Making fights more violent might sound like a good idea for many people, but this isn't good for sports. Gloves are why fighters must push themselves toward great technique, and the best gloves for boxing are directly responsible for a long-lasting career for all fighters.
Allowing for more powerful punches
Fighting is also about damage. Power is a critical factor for scoring in combat sports. To deliver nasty combinations and push yourself forward, you have to wear the best-quality boxing gloves capable of holding your joints in place and reducing the damage to your knuckles.
That Are the Best Boxing Gloves
The best boxing gloves are the Top King training gloves. They provide ample protection without compromising efficiency and have excellent durability and cost less than most professional gloves.
Features to Look for In Boxing Gloves
Material
Decades have passed, and one thing remains true: leather boxing gloves are the best choice! That might change in the future, and I hope it does. Leather is not the most eco-friendly material available. But the fact is that no material is superior so far. It's protective and incredibly durable.
Intended Use
Choosing the best boxing gloves also depends on the purpose. The best for fighting are the ones with which you can cause the most significant damage. This may not be true for sparring since you don't want to hurt a training partner. Most times, the best gloves for training are the ones that absorb the most impact, protecting your hands and simultaneously your partner. If you can afford more than one pair, buying different gloves for different purposes is a good call.
Fit/Comfort
It's hard to talk about fit and comfort as a general rule regarding boxing gloves. In Thailand, I tried dozens of items, and none fit as great as Top King, which I heard from a fellow athlete was "too big" for his hands. You have to find what fits better for you.
Cleto Reyes and Hayabusa T3 might be uncomfortable for people with big hands. For my hands, it felt like they were built on them: just perfect! Sanabul and Adidas were huge. Even with double hand wraps, they were still loose. The others had a similar average pattern.
Regarding thermal comfort, it's hard to beat those that use mesh palms. However, this reduces durability. It's ok for a cheap pair, but not for an expensive one. Among the best leather boxing gloves, the ones with longer cleavage on the palm were the better, Hayabusa T3 and Cleto Reyes. None of them were terrible, though.
Protection
Multilayer foam is a classic choice among the best gloves for boxing because each layer reduces the impact on the next one. This culminates in less damage to your hands, as the more significant the number of layers, the better. But that's not all. The material and density are also important.
With super-dense foam, gloves become more lethal. Therefore, dense foam is an excellent feature for fighting gloves. However, with the repetition of Martial Arts training, density might play a destructive role on your knuckles. Having more than one pair of gloves is always a good call. As your fights get closer, you can migrate to the ones you'll use at them, keeping the more protective ones for general training.
Wrist Support
Choosing the right size and model for you is the best way to get 100% of the glove's potential. More than that, the technology applied may significantly enhance the level of protection.
Cleto Reyes uses laces, a traditional but very effective way of supporting the wrists. Its superior quality when compared to most velcro gloves it's undeniable. Most Thai gloves have reached perfection at design using velcro, but they are still worse than laces.
The highlight here is the Hayabusa T3. With its double locking system and design, it's undoubtedly the best in support among all velcro gloves I've ever tried.
Velcro or Lace
There is no doubt about it: velcro is practical. However, it's also a fact that laces provide superior protection to your wrists. Velcro doesn't respect the shape of your wrists as well as lace. But one velcro system is close enough.
Hayabusa managed to reach almost reached protection of laces with higher practicality. It's possible! No wonder they are constantly figuring on the world's "best gloves" lists. They are amazing.
Ideally, keep a pair of practical gloves with velcro, one with a decent level of protection, and another pair of lace-up gloves for the moments you're planning to go nuts.
Common Questions About Boxing Gloves
What Do The Different Boxing Glove Weights Mean?
Boxing gloves are weighted in ounces. The heavier the boxer, the more serious the gloves. This happens because the cushion must enhance with power. As weight tends to reflect the size, some gloves are also more significant as they get heavier. But this is not true for all gloves.
What's the difference between boxing mitts and focus mitts in combat sports training?
Boxing mitts: Generally, this term refers to boxing gloves used by boxers during matches or training. These gloves are designed to protect the hands and wrists of the boxers, as well as to reduce the potential damage a punch could inflict on an opponent. They are made in various sizes and weights, depending on the specific needs of the boxer or the training.
Focus mitts are training tools used in boxing and other combat sports. Unlike boxing gloves, focus mitts are worn by the trainer or a sparring partner. They are small, lightweight, and curved to fit the shape of a punch. The trainer uses them to guide the boxer in delivering punches with a certain speed, accuracy, and power. They allow the trainer to control the pace of the training and to help the boxer improve his aiming ability and punch combinations.
So, in conclusion, boxing mitts and focus mitts are not synonyms. The first term generally refers to the boxing gloves used by boxers, while the second refers to training tools used to enhance the accuracy and speed of punches.
What boxing gloves do most boxers use?
Most boxers use Cleto Reyes, custom-made Everlast, or Winning gloves. Kickboxers and Muay Thai fighters, especially in Southeast Asia, favor Thai gloves, mainly Yokkao, Top King, and Twins.
What gloves did Muhammad Ali use?
Muhammad Ali has used many different gloves. But, for the biggest part of his career, he had used custom-made Everlast gloves.
What gloves did Mike Tyson wear?
Mike Tyson has also used many different gloves. In the first half of his career, he favored custom-made Everlast, changing to Cleto Reyes at the end.
Can You Wash Boxing Gloves?
You can and must clean your boxing gloves, but washing them is not a good option. Wipes and antibacterial sprays are usually a good call. Always let your gloves breathe. Ideally, keep them in a ventilated and dry place.
What boxing gloves are suitable for sparring?
The best boxing gloves for sparring protect your hands, wrist, and training partner. You can't consistently fight if you keep hurting yourself during training. Among the ones tested, Top King is the best boxing glove for sparring.
How heavy should boxing gloves be for sparring?
The heaviest the gloves, the better for sparring. Ideally, you should use 16 or 18-oz boxing gloves to get a good level of protection.
Are leather boxing gloves the best?
Regarding durability, there's no doubt leather gloves are the best option. There are no significant differences between leather and alternative materials for efficiency during training.
Do heavier gloves hurt more?
Quite the contrary, heavier gloves are more protective. The heavier the gloves, the more padding they present.
Enjoy Your New Boxing Gloves
TOP KING Boxing Muay Thai Training Gloves
If you're serious about training and need a pair of gloves that can keep up with you, look no further than the TOP KING Boxing Muay Thai Training Gloves. Handmade in Thailand with high-quality cowhide leather and a multilayer foam padding system, these gloves offer unbeatable protection and durability. But the real standout feature is the wrist support – it's like nothing you've ever experienced before. And with a perfect fit and climacool technology to keep your hands dry, you can train hard without any distractions. Plus, with a 100% 5-star rating on Amazon, you know you're getting a quality product.
Pros
Wrist support
Shock absorption
Great cost-benefit
Cons
Only a few options
Breathability is not great, but not bad either
Indubitably, there's an important personal factor in any choice. The gloves that will fit like a glove to you (pun intended) may be different from those that feel perfect to me.
However, a few features allow us to split them into great and mediocre candidates.
If you gotta choose only one pair of boxing gloves, you gotta go with Top King. These gloves are protective and versatile killing machines that will turn you into a war hero in any arena without knocking your budget out.
They are not the most spread, but they are easy enough to find.