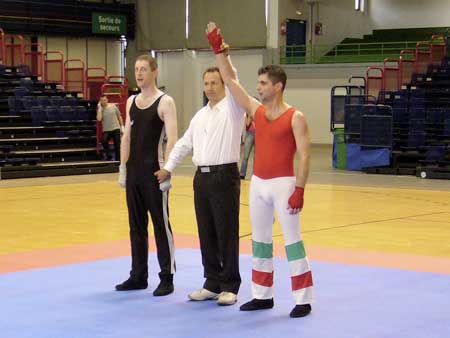 Stefano Secci
Stefano Secci was born on the outskirts of Genoa. He began practicing sports at 11 by enrolling in a Ju-Jitsu class; from there, I have not stopped playing sports until today. At 16, he switched to French Savate Boxing, which I married and has remained my first and only true love.
He has tried many sports, from the most extreme, such as skydiving, rafting, scuba diving, and climbing, to other contact sports such as boxing, kickboxing, Thai boxing, chausse fighting new French discipline, and MMA.
He also practiced other martial art, wing Chun, wushu, krav maga, Thai chi, ci gong… Of course, there has been no shortage of training by practicing disciplines such as athletics, bodybuilding, stretching, yoga, free-body street training, calisthenics, mud running, and more.
The essence of Stefano Secci's life is made up of 90 percent of sports, and today he continues to try new ones, such as horseback riding, skiing, and sailing, and the next one will be canoeing.
A passion that has become a job, which he carries out with my heart, offering to those who decide to be followed me the experience of more than thirty years of sports practice that has led him to obtain the necessary qualifications to be able to guarantee his clients the full knowledge that he take care to update periodically with professors of cutting-edge French sports.
The SID (Italian Defense System) is codified by Stefano Secci, who divulges it worldwide
Elite Sporting Club, is the center for which Stefano Secci is the sports director
Recent Articles:
In recent months, I have tested a bunch of boxing and combat sports equipment, among which were also a couple of punching dummy bags. The versatility of this product is what makes it so awesome, since you can deliver some punches and knees to it, then grab it and throw it on the ground and go into a ground-and-pound drill, where you can also specifically target the liver, ribcage, jaws or other areas on the body which are sensitive to strikes.