The best thing about podcasts is you can listen to them anywhere, anytime.
In this article, I will present you the 51 best MMA podcasts that you should follow in 2021 to get all the latest and genuine updates about the world of MMA.
Note: the order of podcasts is not ranked.
B is for BRUTAL
B is for BRUTAL is an MMA podcast that discusses the latest news and covers week to week events. Hosted by Daysia, a new MMA fan and Grayson MMA fanatic offering the perspective of both a newbie and a more seasoned fan.
On this podcast, the hosts analyze UFC events, interview local Tampa Bay fighters, and attend their fights. The shows' wide span of segments and topics make B is for BRUTAL is an awesome podcast for all MMA fans.  B is for BRUTAL is available on Spotify, Apple Podcasts, Stitcher, or wherever you get your podcasts.
Podcast: https://anchor.fm/brutalpod
The One Punch UFC Podcast
This podcast offers a unique insight into the updates from UFC and beyond. The audio show is hosted by the UK legend Brad and Bryan Lacey who capture the attention of the listeners through their comics and commentary on the fights.
Podcast: https://play.acast.com/s/theonepunchpod
IT'S TIME w/ Bruce Buffer
In this podcast, Bruce Buffer chats with different celebrities, fighters, and other individuals about pop culture. They also present the hottest news and of course mixed martial arts and the UFC. If you are getting bored with your previous MMA podcast, IT'S TIME for something more interesting.
Podcast https://player.fm/series/2198545
MMA untold Podcast
MMA Untold has something for everyone whether you are a new or old fan of mixed martial arts. Each week, this podcast focuses on the lives and careers of fighters. They present some historical moments in MMA, key rivalries, and other various topics related to sports. We suggest listening to each podcast, but if you are interested in a particular fighter or event, you can search them on their website. It is guaranteed that you will find something interesting in this program.
Podcast http://mmauntold.libsyn.com/
Half The Battle
This podcast is presented by Best Fight Picks which is the leading MMA betting podcast on the internet. The show is hosted by Daniel Levi and Shaq, who offer humorous commentary on every single UFC fight card from two confirmed long term winners and fight game insiders.
Different fights from the UFC are also analyzed here. They also present some good and entertaining discussions with the top UFC fighters and MMA personalities. Their questions from these individuals are unique which nobody has asked before. So tune in to learn about your favorite fighters.
Podcast https://player.fm/series/1016945
Between Rounds Radio
Between Rounds Radio is considered to be the only mixed martial arts radio/podcasting network all around the world. This podcast covers all the happening of the pre and post fights and other programs that are hosted by various popular personalities. The podcast is headed by former Sherdog Radio Network program director TJ De Santis.
Podcast https://player.fm/series/114560
Weighing In with Josh Thomson and Big John McCarthy
This podcast is hosted by Josh Thomson and Big John McCarthy who provide a thoughtful and analytical approach to MMA news. Josh Thomson was a Bellator analyst and fighter which gives him much experience and knowledge in the field of MMA which is why he has always had a unique perspective about things.
John McCarthy's experience as one of the top referees makes his knowledge and insight of MMA invaluable for listeners. You can get the latest updates about Bellator fights and topical MMA controversies.
Podcast https://podcasts.apple.com/gb/podcast/weighing-in/id1224455634
The MMA Podcast
If you are interested in listening to the regular updates regarding MMA and UFC news you should follow the MMA Podcast. You will get all the latest updates in your inbox as this podcast presents all the latest news regarding MMA every week.
Podcast https://themmapodcast.podomatic.com/
The Weigh-In MMA Podcast
The podcast is hosted by Big Marv, every Sunday morning on TSN 1290 in Winnipeg, Manitoba, Canada. This program presents different MMA news. The interesting part is the analysis of the events with which you can agree or disagree.
Podcast https://soundcloud.com/weighintsn1290/
GSMC Women's MMA Podcast
Based in California, United States, Golden State Media Concepts' Women's MMA Podcast covers various fighting championships. Most of the updates are from the UFC, Bellator Fighting Championship, Invicta Fighting Championship, One Championship. They also cover other championships in one episode per week.
Podcast https://www.spreaker.com/show/gsmc-womens-mma-podcast_1
Combat Sports Podcast
When you need some laugh you should listen to Combat Sports Podcasts. Since June 2015, this podcast offers a unique and hilarious take on the latest updates and headlines from all over the MMA field. It is aired for an hour every day and in each episode, they talk about different headlines and news from the MMA.
Podcast http://combatsportstalk.com/
Asian MMA Podcast
This is the MMA from Asia par excellence. It is ranked the number one Asian MMA podcast in the world. It covers almost everything from MMA in Asia. The show has offered four episodes per year since October 2018. You can listen to regular updates regarding Asian MMA here.
Podcast https://www.asianmmapodcast.com/
The Hammer MMA Radio
In this weekly podcast, the host presents his in-depth analysis of the news and fights related to the MMA landscape. The show also presents an interesting commentary on the latest news and events from the MMA including UFC, Bellator, and Strikeforce. You can tune in to listen to their fight picks, fighters to watch and comment on the hottest topics in the world of MMA.
Podcast http://thehammar.libsyn.com/
The MMA Analysis Podcast
Since June 2019, during each episode, this podcast presents an interesting analysis of the best mix of fights and bet predictions. Different MMA fights and other events are analyzed and opinions are given regarding different situations in the MMA adding some hilarity to the situations.
Podcast https://mmaanalysispodcast.wordpress.com
The Sound of Violence
If you are confused about which MMA podcasts to listen to, then tune in to The Sound of Violence podcast. Every week, the show hosts, Chris Pulver and Chris Madaffer discuss some of the great MMA podcasts available. They guide people on which MMA podcasts they should be listening to and why. Besides, they break down the previous and upcoming week's fight cards.
Podcast https://www.thesoundofviolence.com/
Drag N Fist The MMA Podcast
In their seven episodes per year, the hosts Derek Greene and The Trent discuss everyday life and MMA in general. The show has different guests in each of their episodes including fighters from organizations such as UFC, Rizn, Bellator, Cage Titans FC, and many more. The beauty of the program is that MMA is discussed with a sprinkle of everything except politics.
Podcast https://open.spotify.com/show/4PcVqy6K0jCPthL1A7PJSC?nd=1
A Few Good Fights
From the time when 'A Few Good Fights' was started by The MMA Movement in March 2019, the show has given some deep insights into MMA fights. The show hosts Rob, Noel and 'Young' Sean dig deep into big MMA stories and have hot debates on different news from the MMA landscape.
They hold exclusive interviews with the biggest stars of MMA. Additionally, they analyze and predict different fights. They also discuss some good betting tips in their four episodes per quarter of the year.
Podcast https://afewgoodfights.com/podcast/
Our MMA Show with Jimmy Smith
This is a weekly podcast hosted by Jimmy Smith, the former UFC and Bellator commentator. He is joined by his co-host Ryan Moody to recap special moments in MMA events in each episode. They discuss and give their opinions on weekly events in combat sports
Podcast https://ourmmashow.podbean.com/
The MMA Road Show with John Morgan
When interested in knowing what happens behind the scene in the MMA world you can tune into The MMA Show Podcast. You might ask, why is it called the Road Show? Well, each week, John Morgan who is a lead staff reporter of MMA discusses his travel covering the sport. In his show, he shares off-camera stories that are not shown in headlines. Morgan also shares interviews and gives access to the lives of the famous MMA fighters.
Podcast http://themmaroadshow.com/wordpress/episodes/
Phone Booth Fighting
In their twice-daily episodes, this podcast focuses on mixed martial arts. The show is hosted by Frank Mir, a two times UFC heavyweight champion, and Richard Hunter, MMA commentator/comedian. They discuss and highlight key events in MMA and share their opinion regarding the events.
Podcast http://phoneboothfighting.com/episodes-page/
Roman Raves Podcast
In his quarterly episodes, Roman Raves offers his analytical views on UFC fights and their projected outcomes. This American show interviews guests in the field who have different professional backgrounds. All these people have interesting stories to tell and you cannot miss them.
Podcast http://romanravespodcast.com/
The Co-Main Event MMA Podcast
In this podcast, different topics related to UFC, Bellator, and other promotions are discussed and analyzed. They also look at different happenings in mixed martial arts in their daily program.
Podcast http://www.comainevent.com/
Severe MMA Podcast
This podcast belongs to Ireland's leading MMA media outlet. Each week, they present the latest updates from all around the MMA world. Join this podcast to get regular updates in your inbox.
Podcast https://mmapodcast.com/severemma/
Verbal tap MMA Comedy Podcast
Two amazing hosts, Raf and Kevin host this podcast. Raf is an MMA writer/Comedian/MMA practitioner and Kevin is also a comedian/MMA practitioner. Each year, both of them come together to analyze different fights with a bit of mocking. People love listening to them for their humorous nature. They keep people in tune with the MMA world.
Podcast https://redcircle.com/shows/verbal-tap-mma-comedy-podcast
MMANUTS | MMA Podcast
This weekly Chicago-based MMA podcast was established in January 2010. It is one of the oldest MMA podcasts that walk the line between serious and ridiculous.
Podcast https://mmanuts.com/
SFLC Podcast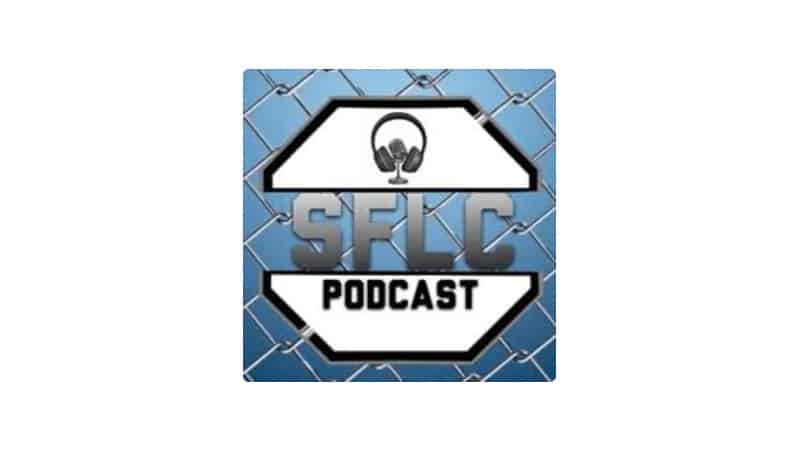 This MMA podcast brings fans closer to their favorite MMA fighters through conversations. The fans get a chance to talk to their all-time favorite fighters from UFC, Bellator, Titan FC, and others.
Podcast https://sportsfanlikeconduct.podomatic.com/
The Open Cut MMA Podcast
This unique podcast explores the ways through which MMA fans see the MMA world. They discuss a wide range of topics including fight recaps, fight predictions, betting tips, and analysis of different events.
Podcast https://www.podomatic.com/podcasts/opencutpodcast
The Fantastical MMA Podcast
Started in May 2018, this podcast is hosted by Danny, Ray J and Saku who talk about MMA. They cover various topics including the history of MMA and contemporary MMA events. In their 5 episodes per year, they discuss any relevant or irrelevant topics related to MMA such as big beautiful women, dropping acid and plenty of other topics.
Podcast https://www.buzzsprout.com/202477
MMA Meeting | Let's Talk with TheWeasle Podcast
In the monthly episodes, TheWeasle talks about the MMA world. These talks include the latest updates and opinions regarding MMA. One interesting aspect of this podcast is listener can ask a different question which is answered
Podcast https://www.listennotes.com/podcasts/mma-meeting-lets-talk-with-theweasle-EAhM3wT7XpL/
MMA Fight Picks
This is a weekly episode, where major MMA fights are picked and presented from the analyst's viewpoint. It is hard to guess who will show up to pick the winner of the world's most awaited MMA fights.
Podcast https://www.stitcher.com/podcast/aaron-says-what/mma-fight-picks
Marc the Shark MMA Show
Marc the Shark Show is again an MMA podcast that discusses different MMA events old and new ones. They also interview health experts and popular MMA fighters in their show. This podcast was started in May 2019.
Podcast https://anchor.fm/marcthesharkmmashow
Inside the Cage
This MMA podcast is pretty self-explanatory. It covers all the latest updates related to MMA. In each of their daily episodes, they present interesting news from all over the MMA world.
Podcast https://anchor.fm/insidethecage
MMA Marks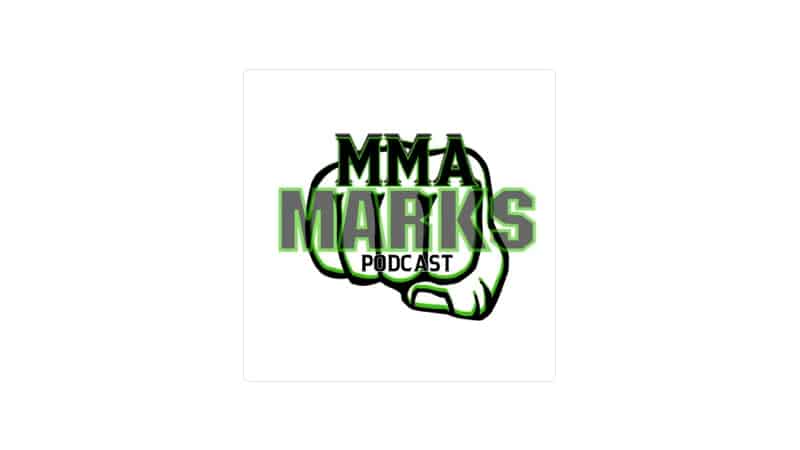 MMA Marks is another interesting MMA podcast that talks about different MMA events and fights. It covers everything about combat sports like fights, rumor, fight recaps and upcoming fights.
Podcast https://open.spotify.com/show/7hGHsb8yzJE7hwNqtmnOkH?si=N1G9jXT1SuqqwB36leMiCA
The MMA Mad Podcast
This podcast is hosted by Nick Rizner who is the editor in chief of mmamad.com. In his weekly podcast, Nick invites different MMA personalities that include top fighters, coaches and so on. There is a lot of discussion about a wide range of topics related to the MMA world.
Podcast http://mmamad.libsyn.com/
The TSN MMA Show Podcast
The TSN MMA show is loved by many people as they have thousands of followers on social media. Hosted by the recognizable Aaron Bronsteter and Bazooka Joe Valtellini, each episode of this weekly show has a guest who gives his opinion on the latest headlines and stories from the world of MMA.
Podcast https://www.tsn.ca/radio/toronto-1050/schedule/the-tsn-mma-show-1.838050
Fightful | MMA and Pro Wrestling Podcast
This is a wrestling and MMA podcast that covers everything related to wrestling, boxing and MMA. On a daily basis, the show features important professionals who discuss important aspects of boxing and wrestling. If you love boxing and wrestling this is the podcast for you as they cover everything in the ring.
Podcast http://fightful.libsyn.com/
Untitled MMA Podcast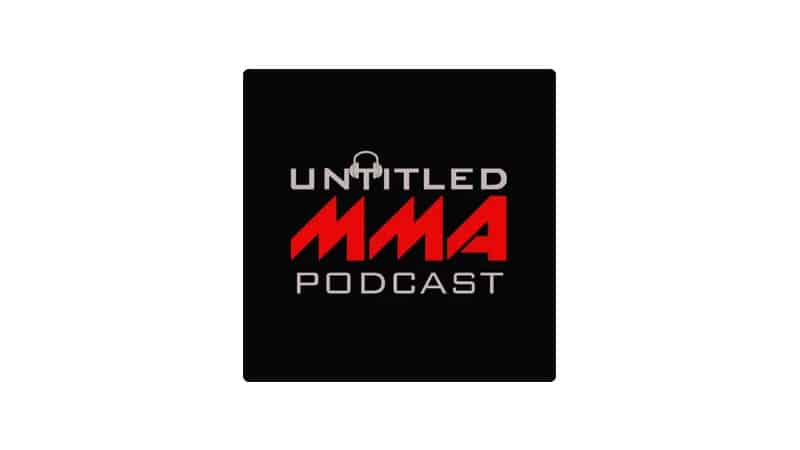 Untitled MMA podcast is hosted by three MMA fans. Each week, they talk about various topics. Their topics range from local MMA fights to UFC matches. They present their true and genuine take on everything that is part of the fight.
Podcast https://soundcloud.com/untitledmma
AMP Radio | Another MMA Podcast
In this MMA podcast, some of the biggest names of the MMA industry are interviewed. These personalities include top journalists and insiders, MMA fighters, artists and TV personalities. Hosted by Prodeus, Pam, Marco from Waco, Lerone & DJ Tony, the show becomes interesting when these guys give their take on the MMA world in a humorous way.
Podcast https://soundcloud.com/tony-radio
Pure EVil MMA
If you are interested in knowing an MMA fighter, then tune into Pure EVil MMA. In each episode of this daily show, the host interviews a top MMA fighter from the UFC Champion like Shevchenko, Mayhem Miller, Houston Alexander. The podcast also includes different latest MMA news, interviews and live results.
This podcast has also won awards and received many positive reviews from iTunes. Pure EVil MMA was founded in 2014 and since then it has been nominated multiple times for the best underground MMA podcast. It has also been ranked among the top 15 best MMA podcasts on different websites.
Podcast https://pureevilmma.podbean.com/
MMA Roasted
Another MMA podcast has gained an almost cult-like following. Thanks to host Adam Hunter, who is national headlining a comedian and an MMA fan. It is leading in the iTunes podcast chart which focuses on the amazing sport of mixed martial arts.
In his weekly episodes, he is joined by the hysterical Jason "Mayhem" Miller and long-time co-host Joe Perez A.K.A. Weendawg! Together they interview different fighters and legends who discuss MMA in an exciting way.
Podcast http://mmaroastedclns.libsyn.com/
Bloody Elbow Presents
On a daily basis, different news related to MMA is presented on this podcast. They cover a variety of topics where the hosts discuss different fights. They also present the latest news and updates on fights, sports entertainment and interviews with popular MMA figures. This is the official mixed martial arts page of the SB Nation where you can find everything related to MMA and UFC news.
Podcast https://www.bloodyelbow.com/mma-podcasts
DC & Helwani's MMA Show
Every Monday, DC & Helwani present new episodes where he has an interesting conversation with the biggest names, discusses the latest updates and reviews or previews important fight cards from the MMA world. Daniel Cormier is a UFC legend while Ariel Helwani works with ESPN.
Together they address the hottest topics and review different fights. On Wednesdays, ESPN's Ariel Helwani's MMA show presents conversations with the popular personalities of the MMA world.
Podcast http://www.espn.com/espnradio/podcast/archive?id=16787314
Submission Radio Australia
This podcast is one of the biggest MMA shows in Australia and New Zealand. The show is aimed at connecting the MMA fans with the world therefore they have a long list of interesting guests. They have conversations with the biggest names in MMA, share opinions on different fights and cover almost all MMA fights and events, including their recent interview with Ben Askren, Dan Hardy and others.
This show is hosted by Kacper Rosolowski and Denis Shkuratov who ask interesting questions that fans want to know about their favorite fighters. Their mantra is to promote MMA, bring positivity to the sport, help fighters connect with their fans and have fun.
Podcast https://www.submissionradio.com/episodes/
The MMA H.E.A.T
The MMA H.E.A.T. podcast is hosted by expert journalist Karyn Bryant. Previously she has worked as an ESPN MMA anchor which gives her an elevated knowledge about MMA. She is co-hosted by Alan Jouban who is UFC welterweight and model. Both of the hosts have much experience in front of the camera which can be seen in their articulation and eloquence in presenting their podcast on MMA topics.
Podcast http://mmaheat.com/podcast
MMA Junkie Radio
Based in Nevada America, this MMA podcast has some in-depth conversations with the prominent figures of UFC and Bellator like MMA fighters, promoters, trainers and managers. This radio show belongs to MMA Junkie, which has won the 'Best Media Source' World MMA Awards five times.
In this podcast, the host discusses news related to the world of boxing and wrestling in their weekly episodes. This show goes out five times a week where you have a chance to call and air your views.
Podcast https://audioboom.com/channel/mmajunkie-radio
Believe You Me with Michael Bisping and Luis J Gomez
Fighting and comedy are two different fields but in this podcast, Michael Bisping, a UFC middleweight champion, and Luis J Gomez, a stand-up comedian, bring them together. They cover the MMA topics with the added thoughts and views of co-hosts. They have hilarious commentary on different MMA fights which entertains their audience.
In their weekly shows, the hosts take you behind the scenes of the MMA world where they discuss the career and life of UFC champions. Generally, they cover a lot of topics that include MMA news, pop culture stories, parenting, philosophy and life.
Podcast https://gasdigitalnetwork.com/gdn-show-channels/believe-you-me/
Luke Thomas Live Chat and Podcast
This monthly podcast is hosted by Luke Thomas who is considered as one of the best leading voices and analysts in sports. He himself had been an enthusiastic fan of MMA since 2004. Previously, he has worked in different podcasts such as podcaster at MMA Fighting where he hosted the Monday Morning Analyst and Promotional Malpractice Live Chat podcasts.
In his live chats, he provides a more personal approach to MMA news while maintaining unwavering professionalism. He has also hosted The MMA Beat and The MMA Hour.
Podcast https://soundcloud.com/thelukethomas
The Joe Rogan Experience
This podcast is hosted by Joe Rogan who is a former martial arts fighter. In this show, he interviews different personalities from the MMA community and has many discussions with them. Many of his works are downloaded million times per month and his podcasts are loved by many people.
He interviews a variety of people that include MMA fighters and UFC stars, pop culture personalities and guests from other martial arts. He has also interviewed the most popular Youtube stars and this is the reason why this podcast is loved by people, even people who are non-MMA fans.
Podcast https://www.youtube.com/channel/UCzQUP1qoWDoEbmsQxvdjxgQ
You are Welcome! with Chael Sonnen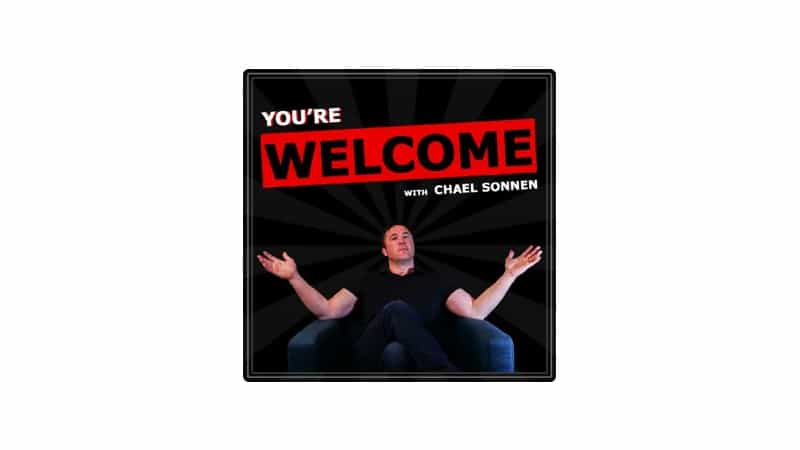 This podcast is hosted by Chael Sonnen. He is the UFC superstar who invites important MMA guests to his show and interviews them. The guests are mainly MMA legends and stars which helps the host create an interesting conversation about the world of MMA.
He is famous for his saying 'I do the thinking so you don't have to. Listen, learn, and then follow me blindly as I show you the world as it ought to be.' So follow his podcast which to be in the world of MMA
Podcast https://www.podbean.com/podcast-detail/7gyfu-2f2ba/You're-Welcome!-With-Chael-Sonnen-Podcast
The Fighter and the Kid
This is a weekly podcast hosted by Brendan Schaub and Bryan Callen who represent two different worlds. Brendan Schaub is a comedian and former professional UFC fighter. They discuss important topics from the MMA world adding humor to it.
They are joined by important figures from the UFC community where they discuss important topics of the MMA world. One of the great episodes was recorded in Texas with special forces soldiers, business owners and MMA fighter Tim Kennedy. It is a popular show which keeps its listeners on their toes.
Podcast https://mmapodcast.com/deathsquad/tfatk/
MMA Fighting
Every Tuesday, Peter Carroll and Niall McGrath present the most happenings in the world of MMA. MMA Fighting is one of the top MMA podcasts where you can get all the updates, analyses of different fights you want.
They will bring to you all the latest MMA news in Europe on 'Euro bash'. And every Wednesday, you can get the weekly hottest topics on 'The A-Side Live Chat' hosted by Jose Youngs and other hosts.