Most of us have at least one friend who is a martial arts, more specifically a karate enthusiast. Maybe they are an instructor, master, philosopher of karate, or in some position or job which is deeply connected to karate, where the person can totally express their passion for the art. Well, the fact is, these people also have birthdays. They also have Christmas, large exams, name days, weddings, welcome baby parties, and a number of other occasions, where one should get them a gift. Now, with someone who has a deep passion for something, it is much easier to get a gift than to someone who doesn't, because you are aware of the general direction in which you should be looking, but you still might have trouble picking the right gift for them or even coming up with ideas. In this article, we will give you 20 amazing karate gift ideas for that karate enthusiast you want to surprise!
1. A Premium Gi
Seishin Premium Adult Karate Gi
Experience the ultimate in karate uniform excellence with the Seishin Premium Adult Karate Gi. Crafted with unparalleled quality, this gi is made of a unique 9.5 oz premium 100% cotton fiber, engineered to feel light but look heavy. It offers lightweight comfort with its silky smooth and breathable natural cotton fabric. The Seishin Gi provides full unrestricted range of movement in all planes of motion, allowing for low stances and high kicks. Its snappy design is perfect for kumite and everyday training, with reinforced sleeve cuffs for extra snap. Developed and refined on the birthplace of karate, Okinawa, this gi is the result of a quest for the ultimate karate uniform. With the Seishin Gi, karate practitioners now have a gi made by karate people, for karate people. It's time to elevate your karate experience with Seishin.
Pros
Large range of sizes options, including larger sizes suitable for bigger individuals.
Lightweight feel while still providing the desired snap on punches and kicks.
Suitable for various karate techniques and movements.
High-quality fabric, impeccable cut, and appealing design.
Cons
Relatively expensive compared to other options in the market. The higher price tag may deter price-sensitive buyers or those looking for more affordable options.
A gi is the outfit karate practitioners wear, the iconic white robe-like dress. Anyone who is seriously into karate will want a high-quality gi, for the training experience, the durability, and also for the heritage and legacy of the product. This is why one of the absolute best things you can buy a karate enthusiast is a premium, Seishin Gi.
Seishin gis are regarded as some of the (if not the) world's best gis. They are extremely high-quality products, made from 100% cotton and delivered to you straight from Okinawa, the birthplace of karate itself. They are extremely durable and are the industry standard for someone who actually plans on becoming a master. We talk a bit more about in our best karate gi article, which is also focused on how to buy and maintain a gi, so if you are interested in that, do check it out. These will definitely be some of the more expensive gifts if you plan on giving them to someone, since a standard Seishin gi, male or female, comes at around 250 USD.
2. Bruce Lee Outfit
COSFLY Men's Chinese Martial Arts Costume
This COSFLY Men's Chinese Martial Arts Costume Jumpsuit is made of polyester. It features a yellow one-piece bodysuit, perfect for martial arts enthusiasts, stage shows, sportswear, and photo props. Ensure a proper fit by referring to the size chart provided in the product description before making your purchase.
Pros
Authentic design with great resemblance to Bruce Lee's iconic jumpsuit from the movie "Game of Death".
Good material quality.
Adequate length, accommodating taller individuals and allowing for comfortable movement.
Cons
Challenging zipper placement (on the back) make it difficult to zip and unzip the costume.
This one is a quirky and somewhat funny gift, for the enthusiast who has everything else you might get them. Bruce Lee's most iconic outfit is the yellow jumpsuit, which he wore in the hit film Game of Death. This gift is one of those prank-gifts, which will certainly result in a lot of laughs.
There are many available options on Amazon, but we think Amazon's Choice, the COSFLY Men's Chinese Martial Arts Costume is the one you should choose, should you decide to surprise your friend with this gift. It does cost around 40 bucks, but will surely impress your friend!
3. Ip Man Outfit
Kung Fu Suit Chinese Martial Arts Uniform
The Men's Cotton Linen Kung Fu Suit is a traditional Chinese martial arts uniform designed for comfort and relaxation. Made from a breathable blend of 80% cotton and 20% linen, it features a mandarin collar, handcrafted frog button closure, and roll-up sleeves. The set includes 1 shirt and 1 pair of pants. Perfect for yoga, workouts, and day-to-day wear around the house. Hand wash in cold water and iron on low heat if needed.
Pros
Comfortable fit.
Versatile use thanks to its suitability for training, meditation, exercise, and even costume parties.
Good material quality with great lightweight fabric, appropriate for martial arts activities
Cons
The uniform runs small.
Price and quality balance it's a little off site.
Another very famous martial artist was Ip Man, who was portrayed in a series of films recently by Donnie Yen. Ip Man is always shown wearing a tangzhuang, which literally translates into "Chinese suit". It originated hundreds of years ago but is still worn today, especially by men.
This gift is not only a throwback at the cinematic experience of watching Ip Man, it is also a heritage piece, one with a lot of martial arts history and legacy to it. If your friend is enthusiastic about karate, they will definitely find this piece of clothing very interesting.
4. Nunchaku
EVA Nunchucks for Kids Foam Martial Arts Practice
MARCOLO Upgraded EVA Nunchucks are corded foam nunchaku designed for child and beginning martial artists. Made with upgraded foam material, they are odor-free, lightweight, and offer a superior grip. The parecord connector ensures smooth and quiet swinging, while the high-density EVA foam is easy to clean. With a length of 9.8″ and weighing 4.9 ounces, these nunchucks are perfect for practicing karate techniques.
Pros
Durable and safe, made with a foamy material that is lightweight and great to use without causing harm or injuries.
Good for beginners, providing a safe and comfortable grip that helps prevent self-inflicted injuries during practice.
Sturdy and well-made, of good quality and value for the price.
Nunchaku, otherwise known as nunchucks, is probably the most iconic Eastern martial art weapon alongside the katana. Countless martial artists (including Bruce Lee) have used it, and countless martial arts have adopted it and developed techniques for it. Not many people know that nunchaku are originally Okinawan, just like karate. Some forms of karate even teach the use of nunchaku, though these types of karate are quite rare. If your friend is interested in Eastern martial arts, karate, and weapons, a nunchaku will definitely be something they are happy to see. However, wooden or metal nunchaku are very dangerous and are illegal in many countries and U.S. states, so we will only recommend foam nunchaku, which is just as good to practice.
5. Breaking Boards
Rebreakable Boards Martial Arts – Karate Boards for Breaking
These rebreakable karate boards are designed to enhance your martial arts skills while providing convenience. Offering easy reusability, allowing you to break it, slide it back together, and break it again. Crafted with high impact molded plastic, they are built to withstand powerful strikes. The rubber padding on both sides ensures a secure grip for the holder, allowing for precise and controlled breaks. The board progression system includes yellow, blue, red, and black boards: you can match the thickness of the board with your belt level to ensure an appropriate challenge.

Pros
Challenging experience great for practicing breaking techniques similar to real wooden boards and prepare for tests or competitions.
Offer different levels of difficulty, allowing users to progress gradually.
Designed to withstand repeated strikes and can be easily put back together after breaking, making them a cost-effective and sustainable option for home practice
Cons
Limited suitability for young children, requiring significant force and technique to break.
One of the most famous practices in karate and many other martial arts is board breaking. There are even board breaking competitions and championships worldwide. Anyone interested in karate is most likely to be interested in breaking boards, since it is very satisfying to do, and it also conditions the hands. There are different types of boards available, we will link to two different types on Amazon, one a plastic, re-breakable board, and another will be a set of traditional wooden boards. The receiver of this gift will definitely try it out the day you give it to them, maybe even at the party itself, since they are so tempting to try!
6. Cat Sensei Fighter Quote T-Shirt
The Cat Sensei Fighter Quote T-Shirt is a delightful blend of humor and motivation, perfect for any karateka. This tee, part of the Animal Fighters Collection, showcases a cat, clad in a karate gi, striking a Sensei pose. It's not just the amusing image that catches the eye, but the inspiring quote, "Fall Seven Times, Stand Up Eight," that adds a layer of depth. This shirt is not only comfortable for training sessions but also a hilarious conversation starter outside the dojo. It's a gift that combines style, comfort, and a dash of humor, making it a fantastic choice for any occasion!
7. Shotokan Karate Kumite Hands – Karate T-Shirt
During my personal journey in martial arts I've come to realize that the love for karate extends beyond the dojo and permeates everyday life. One of the best ways to do this is through what we wear. This karate-themed t-shirt, for example, is not just a piece of clothing, but a statement of dedication to the art and a celebration of Shotokan Karate, a style known for its emphasis on kumite, or sparring. The design reflects the essence of traditional karate, capturing the moment when all the training comes together, and the karateka becomes a warrior forged in kumite.
This T-shirt is definitely a gift that any karateka would appreciate.
8. Foam Roller
Foam Rollerfor Muscles 3 Year Warranty High Density
Foam Roller, LuxFit Speckled Foam Rollers are designed for physical therapy, exercise, and deep tissue muscle massage. With high density and extra firmness, these rollers relieve muscle tension, prevent injuries, and aid in balance and coordination. Available in 4 sizes, including a 36-inch option, they offer versatility for various needs. Made in the USA with a 10-year warranty, these foam rollers ensure long-lasting durability and maximum relaxation relief.
Pros
Effective muscle relief, providing help with sore muscles and improved flexibility.
Versatile use.
Sturdy, with solid construction, ensuring long-lasting performance even with frequent use.
Cons
A bit stiff. A softer option could be preferred for those new to foam rolling.
Size and width too wide, making it difficult to use or maintain balance during exercises.
Karate consists of many things, one of them being strenuous exercise. Usually, every karate practitioner's muscles are sore the day after training, even with proper nutrition and stretching. One way to enhance blood flow, muscle recovery, and flexibility, is by giving yourself a massage with a foam roller. It is one of the best tools in this domain, so if your karate enthusiast friend doesn't have one, definitely get them one as a present, they won't only thank you at the birthday party when you give it to them, but also months later for helping them. It is not only fun and pleasurable, it is insanely useful and functional.
9. Drawstring Bag
The journey of a karateka extends beyond the physical training to include the gear that supports us on this path. A prime example of this is the often-underestimated drawstring bag. These bags are not just practical items for carrying essentials, they can also be a reflection of the spirit and personality of the karateka.
Moreover, they can be a canvas for some truly awesome and inspiring designs, like the ones on the Electric Warriors – Blazing Speed Drawstring Bag or the Black Karate Silhouette Modern Trendy Chic Name Drawstring Bag.
These drawstring bags serve a dual purpose. They are not only functional, aiding in the transport of karate gear, but they also embody the spirit of the martial art itself through their designs. So, whether you're considering a gift for a seasoned karateka or someone just starting their journey, a themed drawstring bag is a thoughtful and practical choice that combines utility with a celebration of the art form.
10. Karate Mug
Martial Arts Coffee Mug 11 oz
The Bubble Hugs Martial Arts Coffee Mug is a sturdy ceramic mug with an 11 oz capacity. It is microwave and dishwasher safe, featuring a high-quality print on both sides. Individually boxed, it makes a perfect gift for martial arts enthusiasts. Suitable for various occasions, this mug is designed to complement your morning coffee or tea and showcase your passion for martial arts.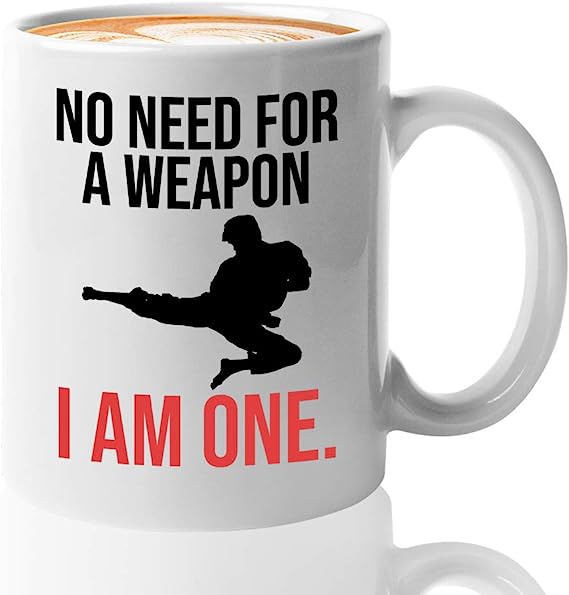 If you aren't all that into buying large gifts, or you are dealing with a person who has everything else you can think of and loves coffee or a nice Asian green tea, buying a mug with some funny, cool, or poetic karate quote or design might be your best option. There are a lot of very good karate mug ideas on Amazon to choose from, so you can adjust to the personality of the person you are buying!
11. Compression Underwear/Compression Shorts
Runhit Compression Shorts (3 pack)
Designed for men, these shorts provide targeted support for the glutes, quads, and hamstrings, increasing blood flow and promoting better bone alignment. The flatlock stitching enhances durability and prevents chafing, ensuring optimal comfort during workouts. The elastic waistband and thighs offer a secure fit that easily snaps back into place. Made of moisture-wicking material, these shorts release heat and wick away moisture, keeping you cool in summer and warm in winter. Suitable for various sports activities such as yoga, cycling, basketball, tennis, and weight training, the Runhit Compression Shorts are the perfect choice for athletes seeking both performance and comfort.
Pros
Comfortable to wear during workouts, runs, and sports activities.
Fit well and were true to size, providing a supportive and secure feel during physical activities.
Durable.
Cons
Limited compression compared with more expensive options.
A great way to enhance a karate training experience is by investing in some compression underwear or compression shorts. They have been scientifically proven to improve blood flow, increase stamina, and thus better your overall performance in any sort of training. Aside from these benefits, they are usually more hygienic, and always a lot more comfortable than your standard boxer briefs or panties. They are, as the name suggests, compression clothes, so they hug your body really neatly, they don1t slide up and down or move from their place, so you won't have to worry about them being uncomfortable or adjusting them!
12. Bible of Karate Bubishi
The Bible of Karate is an invaluable resource for researchers and practitioners of Okinawan martial arts. Researched and compiled by renowned authority Patrick McCarthy, it offers a comprehensive English translation of the Bubishi, accompanied by insightful explanations and notes. McCarthy's groundbreaking research on Okinawan and Chinese history enriches this tome, making it an indispensable reference for understanding the true origins and spirit of classic karate. No other work has had a more significant impact on the development and shaping of karate than the Bubishi.
Bubishi is another one of those absolute must-reads for any serious karate practitioner, who wants to reach master levels. You cannot be serious about becoming a karate master without reading this book. It is legendary, it has been passed on in secret from generation to generation by Okinawan people, and it describes the art, techniques, history, philosophy, and other topics which have to do with karate-do!
13. Tiger Fighter Quote Towel
The Tiger Fighter Quote Towel is an intriguing and well-crafted product that serves as more than just a tool for drying off. Imagine you're in the midst of an intense workout, and as you wipe the sweat from your brow, your gaze falls upon an empowering message: "Failure is Only Temporary. Quitting Makes it Permanent." This powerful quote, coupled with the fierce illustration of an anthropomorphic tiger, provides the motivation needed to push through the burn and keep going.
It's not just a towel; it's a source of inspiration and a testament to the resilience inherent in every karateka. Whether you're considering a gift for a seasoned karateka or someone just starting their journey, a karate-themed towel is a thoughtful and practical choice.
14. The Twenty Guiding Principles of Karate
The Twenty Guiding Principles
"The Twenty Guiding Principles of Karate: The Spiritual Legacy of the Master" is a hardcover book by Gichin Funakoshi, the renowned "father of karate." Published in 2013, this illustrated book delves into the essence of karate, emphasizing that its true purpose lies in the development and perfection of the character of its practitioners, rather than mere victory or defeat.
Another book for our karate nerds. It was also written by Gichin Funakoshi, the legendary founder of Shotokan karate and with this, modern-day karate as a whole. One of the most famous quotes from this book is "The ultimate aim of karate lies not in victory nor defeat, but in the perfection of the character of its participants.". This is the type of thinking and philosophy you can find in this masterpiece. It dives into the philosophy and the principles of karate, which have been all too much forgotten by modern schools. If you want to provide a valuable read for your friend, this book should definitely be near the top of your list of potential gifts!
15. Standing Punching Bag
Everlast Unisex Power Core Freestanding
The Everlast Unisex Power Core Freestanding Punch Bag is a versatile indoor training bag that offers an extensive workout. It eliminates the need for chains and ropes, making it easy to set up anywhere. With its compact design, it fits in smaller workout rooms and is perfect for home use, even in apartments. The tri-disc foam structure and PowerTransferRing (PTR) collar provide maximum energy dispersion, impact absorption, and recoil.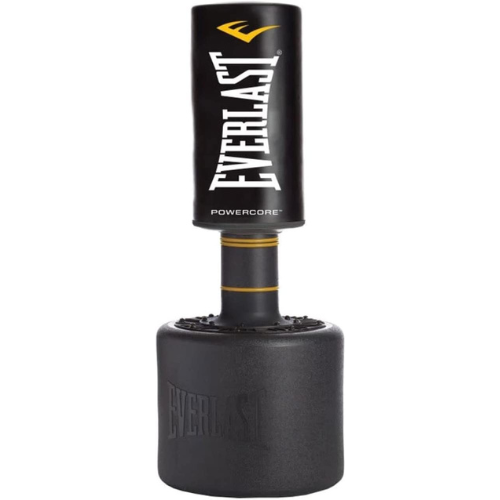 Pros
Convenience of home training.
Easy to assemble, with straightforward instructions and minimal effort required.
Durable and suitable for light to moderate training sessions.
Cons
The base stability is not ideal, and bag tends to move or wobble during intense workouts, particularly when filled with water. Sand is recommended for better stability.
Many karate instructors and masters stress the importance of training at home. Without doing so, you only train on training sessions, which is good enough, but if you want to get as close to perfection as you can, and if you take karate seriously, you cannot afford to not train at home. One way to train striking accuracy, power, and speed while also training technique is to buy a standing punching bag. This is a great gift for any karate practitioner since it is functional. It is a gift they can use for a long time and thus get a lot of value out of!
16. Striking Pads
Valleycomfy Boxing Curved Focus Punching Mitts
Valleycomfy Boxing Curved Focus Punching Mitts are versatile and portable, perfect for developing punching and defensive skills. Made with high-quality PU leather, these pads are soft, comfortable, and durable. The 1.5-inch dense foam provides excellent cushioning and resistance to hard punches. With adjustable wrist straps and breathable design, they fit most hands comfortably. Suitable for various martial arts and striking practices.
Pros
Soft and sturdy, providing a comfortable yet durable surface for training.
Versatile, designed to be ambidextrous.
Good quality and value, great product for the price.
Cons
The mitts can be too small or uncomfortable to wear.
Finger slot positioning is not ideal, which can impact comfort and performance.
Another great way to practice karate at home is by using striking pads. For this, one does need a training partner, but the training can be almost as valuable as a proper karate session if done correctly. Striking pads can also help you develop your defense and evasive movements, and you can create a dynamic training environment with various strikes, high or low. If you have someone you could possibly train with, or who has someone you know they can train with, getting striking pads for a karate practitioner will definitely be a well-received gift!
17. Board Holder
UMAB Gorilla Board Holder
The UMAB Gorilla Board Holder is designed to securely hold rebreakable Ultimate Martial Arts Boards and similar objects. Whether practicing alone or with a partner, this holder is built to withstand the force of power breaking. With its reliable grip, it eliminates the risk of finger injuries during training.
Pros
Good Finger protection for the person holding the boards during kicks.
Versatile setup options.
Potential for modifications, suggested in YouTube videos by the company, to improve the stability of the holder.
Cons
Lack of assembly instructions.
This is a piece of equipment that can come at quite expensive costs but can be useful for someone who takes karate seriously. Buying karate boards for breaking might be really cool and attractive, but with nobody to hold them, they are useless. That is why board holders were created. You can place a board, or perhaps multiple boards onto such board holders and hit them as if they were held by a training partner, sometimes even better, since the holder has less instability!
18. Wall-Mounted Makiwara
Tiger Claw 9 inch Canvas Makiwara
The Tiger Claw 9-inch Canvas Makiwara is a canvas hard hitting board designed for martial arts training. It features a solid base wood construction and sturdy mounting brackets, allowing it to be securely mounted on a wall. With a large size of 9 inches x 16 inches x 2 inches and weighing approximately 3 lbs, this Makiwara provides a durable and reliable training tool for practitioners seeking to enhance their striking techniques.
Pros
Versatile training, practicing both strength and precision techniques.
Adjustable padding.
Multiple technique practice.
Cons
Relatively more expensive compared to some alternative options.
This is another great option if you want to provide a way to train at home for the person you are getting it for. It is a wood and leather plank-like device, designed in Japan, which you can place on the wall and punch or kick. There is Makiwara which is not wall-mounted, but much rather standing ones, which can be used just as well. Not only does it allow for the practice of technique and speed, but also for the conditioning of the hands and the leg joints. It has been used for possibly hundreds of years and is a traditional element of Okinawan karate, so any karate practitioner who likes what they are training will be more than happy to receive one!
19. Karate-Do: My Way of Life
Karate-Do: My Way of Life is a captivating autobiography by a renowned master. With profound insights, it explores the evolution of karate into a true martial art. Through personal stories and accounts of famous teachers, it uncovers the essence of true karate, emphasizing the spiritual aspect. The author's dedication, perseverance, and adherence to the samurai way of life are inspirational. A must-read for martial arts enthusiasts.
The last book on our list, Karate-Do: My Way of Life is another book by the founding father and supreme master of karate, Gichin Funakoshi. It describes his more than 80 years of life. It is an autobiography in which he reflects on his impact on the world of karate, seeing as he was the one who pioneered the spreading of karate, and also its legalization in Okinawa back in the 1800s. It is a very interesting read, which is also very simple to read and understand, yet is very valuable. Any karate and Gichin Funakoshi fan would enjoy getting this as a present, especially if they are interested in the history and philosophy of the art.
20. Protective Gear
Taekwondo Foot Protector Gear
Made with high-quality PU leather, elastic fabric, and 5mm EVA pads, these foot guards offer optimal shock absorption while maintaining breathability and comfort. The unique half-finger design enhances flexibility and grip, making them perfect for training. The adjustable hook-and-loop fastener and separate toes wearing design ensure a secure and custom fit for women, men, and children. The moisture-absorbing lining keeps your feet dry and extends the life of the gear. This package includes a pair of foot protector gear suitable for Taekwondo, MMA, UFC, Martial Arts, Kickboxing, and more. Experience optimal striking protection with these durable and comfortable foot guards.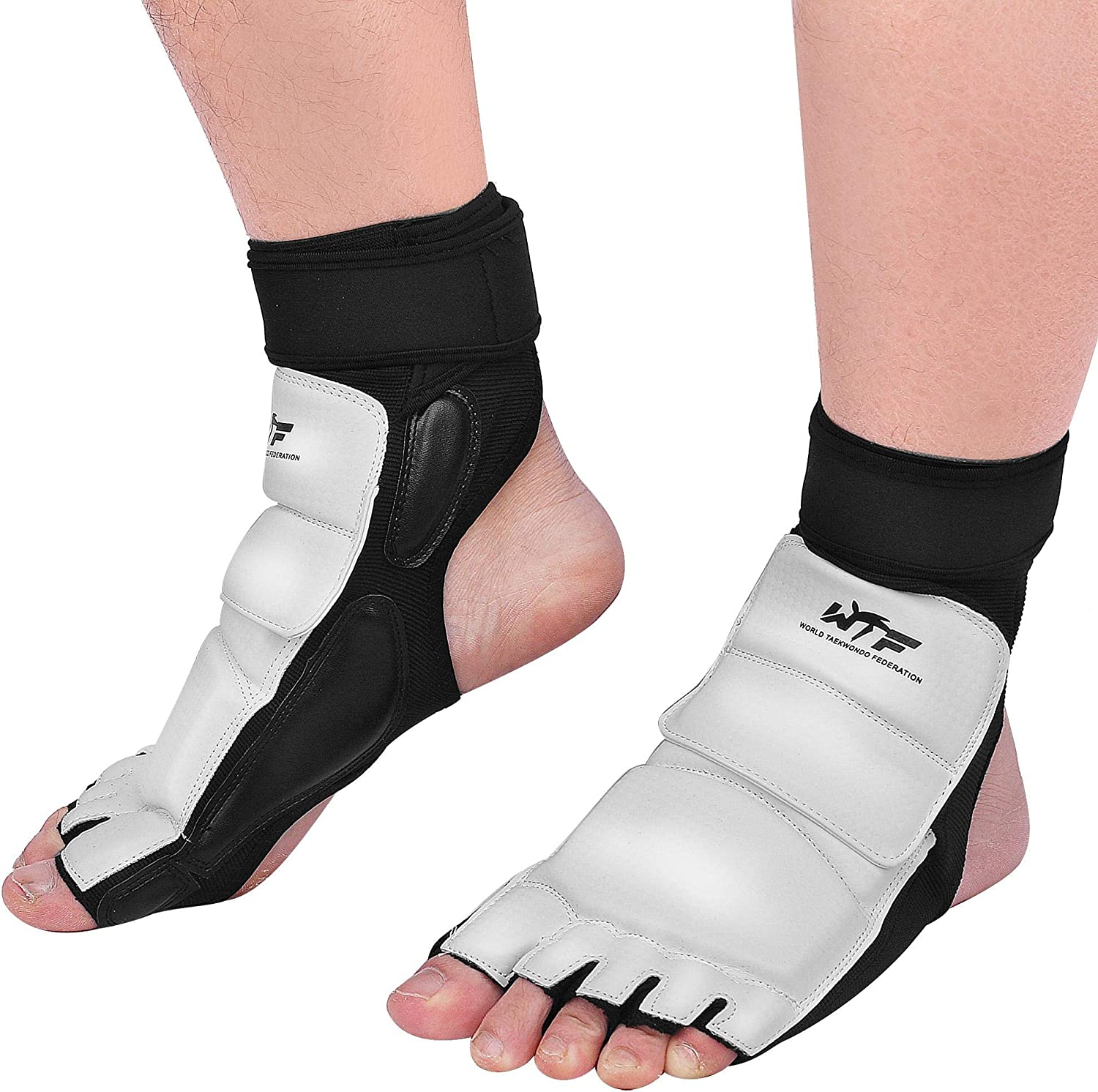 Pros
Made of high-quality materials that provide good protection for the feet during martial arts training.
Can withstand the wear and tear of intense training sessions.
Comfortable and lightweight, which is crucial for long training sessions.
Cons
Foot protectors run small and are difficult to determine the correct size.
Protective gear is used commonly in karate. Groin-guards are a must in most places, while shin-guards, head-guards, and gloves are usually bought a couple of months into training, if not more. If you have a friend or someone you know who trains karate and fights (sparring) quite often, they would probably be really happy for some protective gear, which will enable them to train better, since the threat of injury will be a lot smaller!